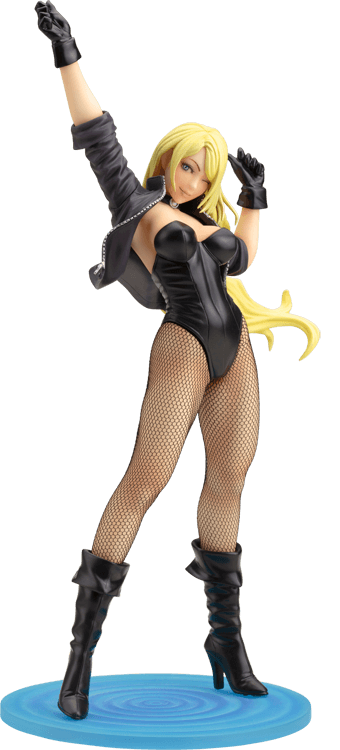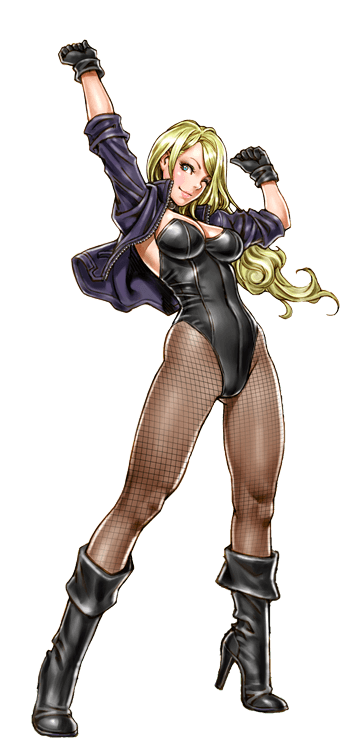 BISHOJO
SERIES

illustration by

Shunya Yamashita
BATMAN and all related characters and elements © & ™ DC Comics. (s20)
CONCEPT
コンセプト
山下しゅんやが描く、ゴッサムシティの影の守護者!!山下しゅんや氏×DC COMICSのBISHOUJOシリーズ最新作は、ドラマ「アロー」でも活躍中のブラックキャナリー! 母娘二代に渡ってビジランテ活動を続けるという特異なオリジンを持つ彼女を、ワイルド&セクシーにフィギュア化しました! 輝くブロンドヘアーにボンテージ、網タイツとハードな装いと、あどけない表情とのギャップに注目です。その武器である自身の超音波"キャナリー・クライ"は大型トラックや防弾ガラスも打ち砕く威力を持ち、街のギャングを一掃します!台座は広がる超音波の波紋を模した彼女の能力をイメージさせるものに仕上げました。発売中の「DC COMICS美少女 ハントレス」「DC COMICS美少女 バットガール」と合わせて、ゴッサムシティの自警団「バーズ・オブ・プレイ」を集結させよう!
※画像は試作品です。実際の商品とは多少異なる場合がございます。
A KOTOBUKIYA Japanese import! Kotobukiya proudly presents the next entry in their lineup of Bishoujo statues based on the superheroines and villains of DC Comics with the long-awaited BLACK CANARY! A fierce martial artist who uses an ultrasonic "Canary Cry" in her battle against evil, Dinah Laurel Lance has served alongside the Justice League, Birds of Prey, and many other famous heroes including her longtime romantic partner Green Arrow. Black Canary makes her stunning debut in the Bishoujo series with traditional Japanese "pretty girl" styling based on a new character interpretation by Shunya Yamashita!

Dinah Lance stands triumphant on the field of battle, reaching for the stars while rocking her classic costume. The Justice Leaguer is posed leaning slightly on one leg, her body angled with both hands up and her right arm held straight into the air. Black Canary's sexy costume consists of a sleek bodysuit, high heeled boots, leather jacket, and gloves, all in shiny black. Of course she also wears her iconic fishnet stockings and bright blonde wig! Dinah is intricately detailed in both sculpt and paint application with clothing elements, hair movement, and a beautiful bishoujo-styled face.

Sculpted by M.I.C., Black Canary stands 9 ½ inches tall (1/7 scale) on her specially designed display base. Display her alone or alongside other DC character Bishoujo statues from Kotobukiya like Batgirl, the Huntress, or Poison Ivy!
PROTOTYPES SHOWN, PENDING LICENSOR APPROVAL. FINAL PRODUCT MAY VARY. CONCEPT ART SHOWN PENDING LICENSOR APPROVAL.
SPEC
製品情報
Product Name

DC COMICS BLACK CANARY BISHOUJO STATUE

商品名

DC COMICS美少女 ブラックキャナリー

Price

8,250 JPY

価格

8,250 円(税込)

SERIES

作品

DC UNIVERSE

Month of Release

Oct. 2015

発売月

2015年10月

Scale

スケール

1/7

Product Size

Total Height 265mm

製品サイズ

全高 約265mm(台座込)

Specification

Pre-Painted PVC Figure

製品仕様

PVC塗装済み完成品フィギュア

Material

PVC(Phthalate ester-free), ABS

素材

PVC(非フタル酸)・ABS

Sculptor

M.I.C.

原型製作

株式会社エムアイシー