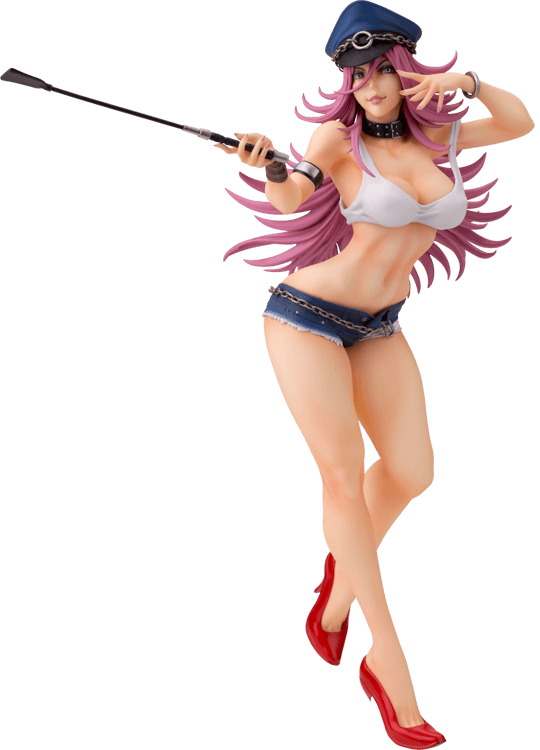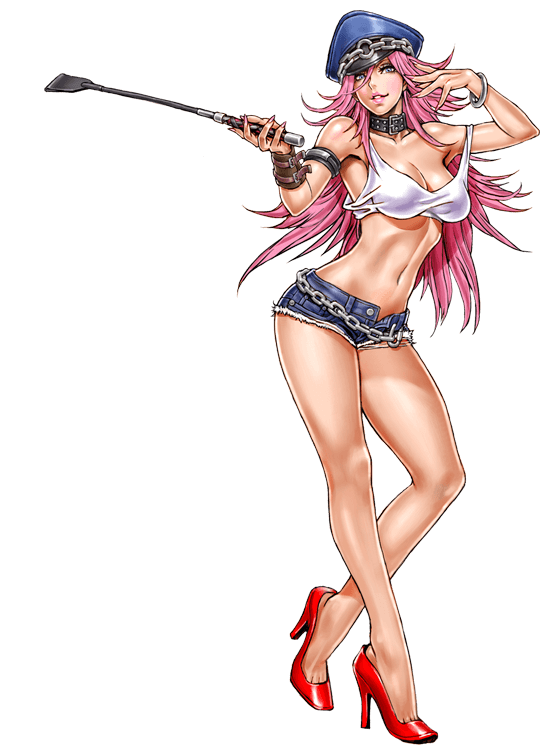 BISHOJO
SERIES

illustration by

Shunya Yamashita
© CAPCOM U.S.A., INC. ALL RIGHTS RESERVED.
CONCEPT
コンセプト
いいから黙ってあたしに付いてきな!STREET FIGHTER×BISHOUJOシリーズに、ポイズンが登場!グラマラスなボディとセクシーなコスチュームはそのままに、山下しゅんや氏×原型師:毒島孝牧(ブスジマックス)氏の黄金コンビがタッグを組んでBISHOUJO化!姉御肌な性格を伺わさせる勝気な表情やポージング、ギリギリな衣装が楽しめるのはフィギュアならでは。ホットパンツの裾の繊細なダメージ表現や、髪の表情から爪先まで、細部までお楽しみ頂けます!パーツの差し替えによって、ゲーム中でもおなじみの乗馬鞭と手錠を持った状態、お好みの姿で飾る事が出来ます。次回作には「いぶき」がラインナップ!ますます広がるSTREET FIGHTER美少女達のステージをぜひお手元でお楽しみ下さい。
※画像は試作品です。実際の商品とは多少異なる場合がございます。また、ベースは開発中のものです。
A KOTOBUKIYA Japanese import! Kotobukiya continues its hit line of incredible Street Fighter Bishoujo statues, adding another beautiful lady to the current collection of Juri, Cammy, Chun-Li, and Sakura. Up next is the controversial character who joined the Street Fighter series after appearing in the Final Fight games, POISON! One of the bestselling video game franchises of all time, Street Fighter first debuted in 1987 with its unique blend of one on one combat and international characters (and fighting styles). Poison made her debut as a playable character in Street Fighter X Tekken, though she had made cameo appearances before that. Her former career as a wrestling manager led Poison into the world of martial arts where she put her self-taught skills to the test against men and women alike. The fan-favorite character now joins the Bishoujo statue lineup based on an all new illustration by Shunya Yamashita! Poison knows how to make an entrance, and she'll catch everyone's attention with this stunning new look. The fighter saunters toward you in an exaggerated pose, showing off her unique style and outgoing personality. Poison wears her iconic outfit consisting of bright red high heels, very short cutoff jean shorts, a loose-fitting white top, and a blue and black cap. Of course, she's known for her accessorizing and shows off with chains around her waist and hat plus bracelets, an armband, and a leather choker. The sultry martial artist poses with one hand waving in front of her face and the other holding up one of her signature items; you can display her with either a crop or a pair of handcuffs! Whichever you choose you know Poison means business with it, and that's reinforced by the intense expression on her beautiful Bishoujo-styled face framed by her mane of spiky pink hair. Sculpted by Takaboku Busujima (Busujimax), Poison stands just under 10 inches tall (1/7 scale) as she walks on her high heels atop her specially designed display base. The sexy fighter will make a huge impact on your collection whether you display her alone or alongside other beauties from Kotobukiya's Street Fighter Bishoujo line!
PROTOTYPES SHOWN, PENDING LICENSOR APPROVAL. FINAL PRODUCT MAY VARY. CONCEPT ART SHOWN PENDING LICENSOR APPROVAL.
SPEC
製品情報
Product Name

STREET FIGHTER POISON BISHOUJO STATUE

商品名

STREET FIGHTER美少女 ポイズン

Price

8,250 JPY

価格

8,250 円(税込)

SERIES

作品

STREET FIGHTER

Month of Release

Dec. 2015

発売月

2015年12月

Scale

スケール

1/7

Product Size

Total Height 250mm

製品サイズ

全高 約250mm(台座込)

Specification

Pre-Painted PVC Figure

製品仕様

PVC塗装済み完成品フィギュア

Material

PVC(Phthalate ester-free), ABS

素材

PVC(非フタル酸)・ABS

Sculptor

Takaboku Busujima(BUSUJIMAX)

原型製作

毒島孝牧(ブスジマックス)