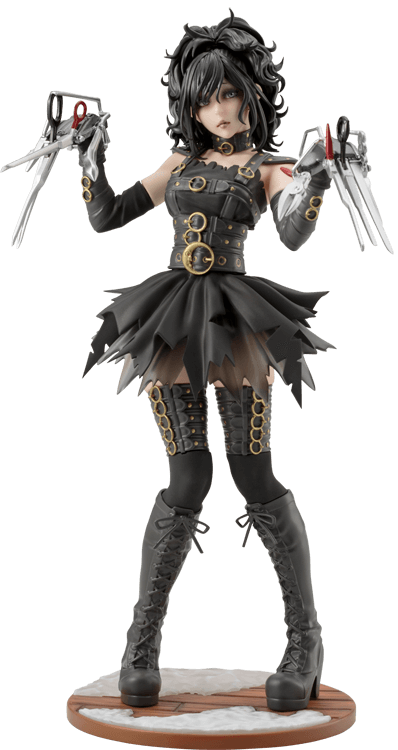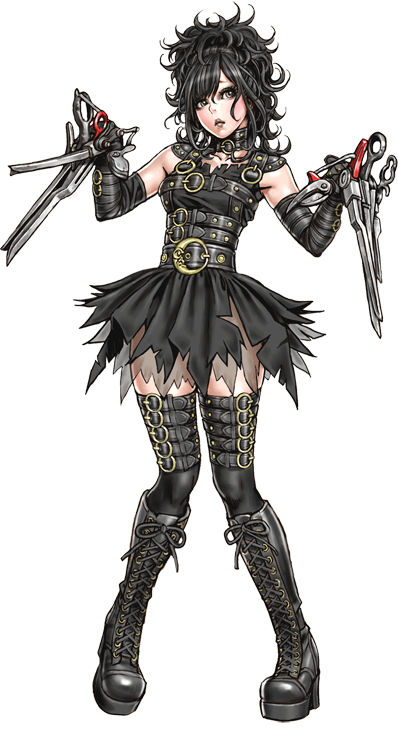 BISHOJO
SERIES

illustration by

Shunya Yamashita
Edward Scissorhands™ & © 2020 Twentieth Century Fox Film Corporation. All Rights Reserved.
CONCEPT
コンセプト
あの名作映画『シザーハンズ』から、エドワードがBISHOUJOシリーズに登場! くるくるしたパーマヘアー、ゴスメイク、ボンテージでパンキッシュなファッション、そしてハサミ型の手といったエドワードらしさをしっかり持ちつつ、大きく広がったフレアスカート、編上げのブーツなど女の子らしさが山下しゅんや氏のアレンジで加わりました! 原型はBISHOUJOシリーズ初のke(小抹香)氏が担当。 「自分の鋏で切ってしまった」設定のスカートの形状にも注目です。 スカート内側のレースはクリアパーツで再現、金具の金属表現など、質感表現にも力を入れました。 ベースは印象的な氷の彫刻を作るあのシーンをイメージしたジオラマベース。 寒い冬の日に暖炉を炊いてお楽しみいただけます。
※画像は試作品です。実際の商品とは多少異なる場合がございます。
A KOTOBUKIYA Japanese import! Kotobukiya's elite Bishoujo Statue line has brought you beautiful characters from all manner of anime series, DC and Marvel comics, Star Wars, video games, and much more. Recently the series took a totally unique turn, transforming two horror movie icons into pretty girls with Jason Voorhees and Freddy Krueger. Now a third gender-bending film star joins the party with a stunning new Bishoujo interpretation of EDWARD SCISSORHANDS! Tim Burton's classic 1990 dark fantasy introduced the world to Edward (played magnificently by Johnny Depp), a gentle automaton with unfinished scissor hands created by a mad scientist. Now that character's iconic appendages, color scheme, and style have been interpreted by Kotobukiya based on an original illustration by Shunya Yamashita that brings Edward to life as never before. The beautiful female version stands with all the awkwardness of the film character, her feet apart and knees spread, head cocked to one side, and scissor hands held up in front of her. "Edward" wears a fantastically detailed black gothic-style outfit with tall boots, stockings, a short dress with shredded skirt, long gloves, and a choker at her neck. The darkness of her clothing is offset by striking gold buckles and studs, and of course the silver blades of her scissors. Meanwhile, under her tousled black hair this unique creature silently ponders the world with a cute expression on her Bishoujo-styled face. Edward Scissorhands stands 9 inches tall (1/7 scale) on a special themed display base.
PROTOTYPES SHOWN, PENDING LICENSOR APPROVAL. FINAL PRODUCT MAY VARY. CONCEPT ART SHOWN PENDING LICENSOR APPROVAL.
SPEC
製品情報
Product Name

EDWARD SCISSORHANDS ~ EDWARD SCISSORHANDS BISHOUJO STATUE

商品名

HORROR美少女 シザーハンズ

Price

9,900 JPY

価格

9,900 円(税込)

SERIES

edward SCISSORHANDS

作品

edward SCISSORHANDS:シザーハンズ

Month of Release

Oct. 2016

発売月

2016年10月

Scale

スケール

1/7

Product Size

Total Height 230mm

製品サイズ

全高 約230mm(台座込)

Specification

Pre-Painted PVC Figure

製品仕様

PVC塗装済み完成品フィギュア

Material

PVC(Phthalate ester-free), ABS

素材

PVC(非フタル酸)・ABS

Sculptor

ke (comaccow)

原型製作

ke(小抹香)