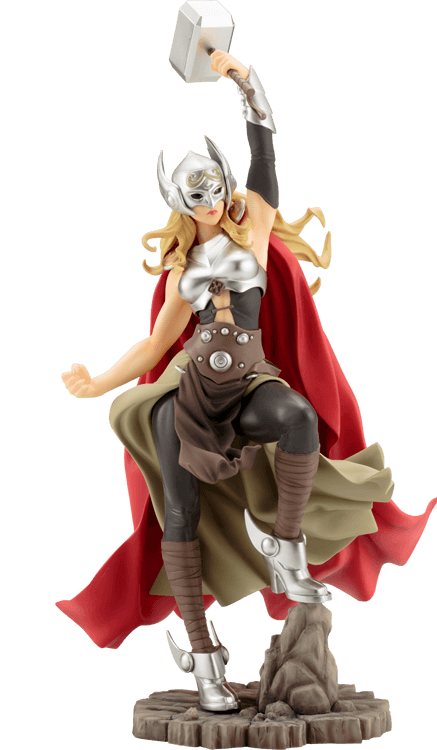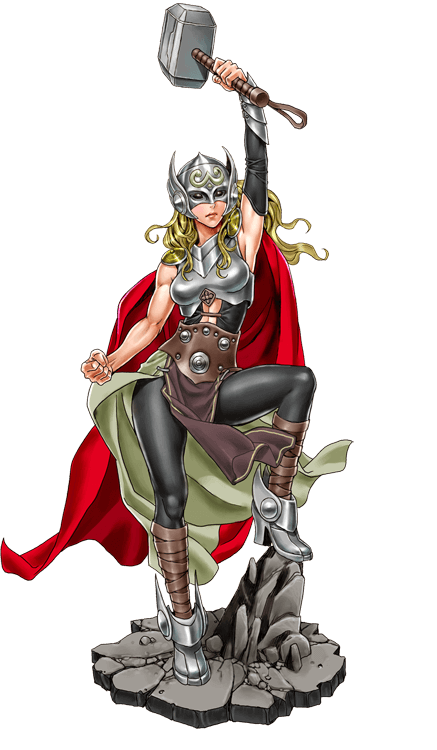 BISHOJO
SERIES

illustration by

Shunya Yamashita
© 2020 MARVEL
CONCEPT
コンセプト
コミック最新版ソーがBISHOUJO化! 2015年、今までソーとして活躍していたオーディンの息子とバトンタッチされる様に登場した女性のソー。その正体はまさかの・・・!? 驚きの事実に多くのコミックスファンを震撼させ、今も活躍中の新ソーを、山下しゅんや氏によりBISHOUJO化! 右手に握りしめたムジョルニアを大きく天にかざしたポーズは、まさに雷神。筋肉質で逞しい身体や、たなびく赤いマントなどソーならではの意匠はそのままに、兜から覗く金髪、唇は女性ならではの優雅さを感じさせます。 差し替えにより兜を脱いだ凛々しく美しい素顔もお楽しみいただけます。次回商品化が決定しているMARVEL美少女 ロキとは台座がジョイント可能な仕様です。
▼マーベル公式サイトはコチラ▼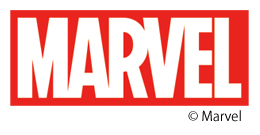 ※画像は試作品です。実際の商品とは多少異なる場合がございます。
A KOTOBUKIYA Japanese import! The Marvel Bishoujo collection brings you new interpretations of familiar superheroes and villains, and the latest addition to the line summons a character who's recently undergone quite a change in the pages of Marvel Comics, THOR! After Odinson was deemed unworthy to wield the magical hammer Mjolnir it passed on and suddenly there was a new heroine on the scene. Instantly popular with the fans, this feminine version of the iconic Asgardian deity was a mystery for months until it was revealed that she's really Jane Foster, longtime friend of the original hero! Now the Goddess of Thunder comes to you in an incredible Bishoujo Statue presentation based on a new character interpretation by Japanese illustrator Shunya Yamashita.
Thor is here to summon the lightning in a fierce pose that has her holding Mjolnir aloft! The empowered Jane Foster wears a fabulous Asgardian outfit with black leggings, silver winged boots with lower leg wraps, multiple skirts in different colors, a wide leather belt with silver accents, a silver breastplate, and a long red cape. Her garments are intricately detailed with various clothing elements as well as motion from an unseen wind. Meanwhile, Thor's mighty hammer gleams in her outstretched hand. The heroine comes with two different, interchangeable portraits so you can display her with her distinctive helmet or without it so her Bishoujo-styled face and long blonde hair are in full effect!
Sculpted by M.I.C., Thor stands 12 inches tall (1/7 scale) on a specially designed rocky display base. Add the mighty Thor to your Marvel Bishoujo Statue collection from Kotobukiya!
PROTOTYPES SHOWN, PENDING LICENSOR APPROVAL. FINAL PRODUCT MAY VARY. CONCEPT ART SHOWN PENDING LICENSOR APPROVAL.
SPEC
製品情報
Product Name

MARVEL THOR BISHOUJO STATUE

商品名

MARVEL美少女 ソー

Price

9,900 JPY

価格

9,900 円(税込)

SERIES

作品

MARVEL UNIVERSE

Month of Release

Dec. 2016

発売月

2016年12月

Scale

スケール

1/7

Product Size

Total Height 305mm

製品サイズ

全高 約305mm(台座込)

Specification

Pre-Painted PVC Figure

製品仕様

PVC塗装済み完成品フィギュア

Material

PVC(Phthalate ester-free), ABS

素材

PVC(非フタル酸)・ABS

Sculptor

M.I.C.

原型製作

株式会社エムアイシー