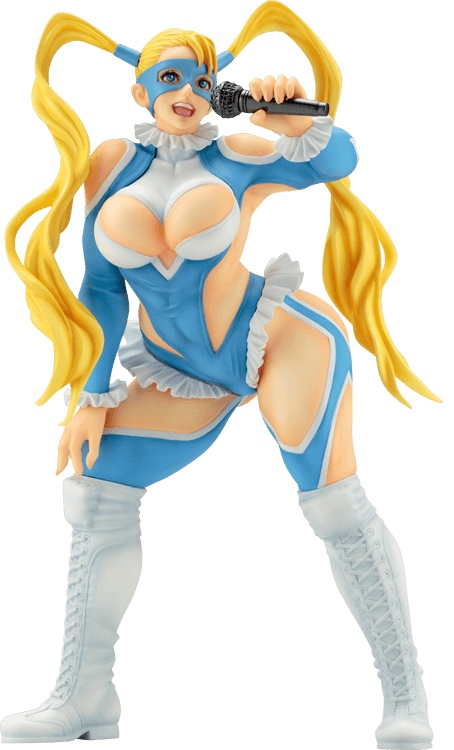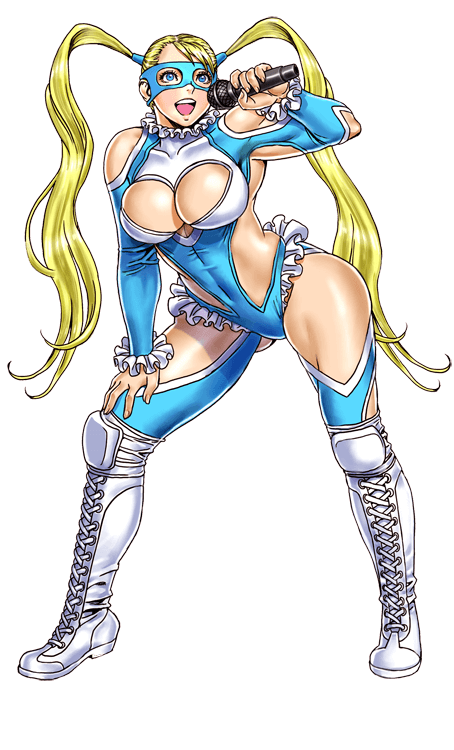 BISHOJO
SERIES

illustration by

Shunya Yamashita
© CAPCOM U.S.A., INC. ALL RIGHTS RESERVED.
CONCEPT
コンセプト
燃えるあたしはレインボーーー!!STREET FIGHTER美少女シリーズ新作は、レインボー・ミカっス! STREET FIGHTER美少女に、闘志に燃える女子プロレスラー、レインボー・ミカが加わります。 山下しゅんや氏による描き下ろしイラストと、原型師 高橋昌宏(GILL GILL)氏の手によりBISHOUJO化しました。 金髪のツインテールヘアーと、幼げな表情とは裏腹に、ユニフォームがはち切れんばかりに主張する豊満な肉体は、健康的な魅力で見る者を釘づけにします。 左手に構えたマイクでマイクパフォーマンスを行うポーズは、彼女の持つ幾つもの口上を想像させます。 ますます広がるSTREET FIGHTER美少女達のステージをぜひお手元でお楽しみ下さい。
※画像は試作品です。実際の商品とは多少異なる場合がございます。また、ベースは開発中のものです。
A KOTOBUKIYA Japanese import! Kotobukiya continues its hit line of incredible Street Fighter Bishoujo Statues, adding another beautiful lady to the current collection including Cammy, Chun-Li, Poison, and more. Up next is the enthusiastic wrestler who first appeared in Street Fighter Alpha 3, RAINBOW MIKA! Born Mika Nanakawa, the girl rose through the ranks of Iwashigahama Japan Women's Pro-Wrestling under the tutelage of Yoko Harmageddon before seeking out her idol Zangief. Rainbow Mika (also known as R. Mika) now comes to the ring in an impressive new Bishoujo Statue presentation showing off everything the fans love about her!

The flamboyant wrestler is ready to meet her opponent as she issues her challenge to the crowd! Rainbow Mika poses before her match with microphone in hand, showing off her stunning physique. Her outrageous outfit is designed for freedom of movement AND to be a crowd pleaser with its blue and white leotard that has lots of strategic cutouts and frilled edges, a matching blue mask and hair bands, and reinforced lace up white boots. Mika's impressive curves are on full display as she leans over one knee, arching her back to look up to the audience while speaking into her handheld microphone. Look closely to see the wrestler's bright blue eyes and the happy expression on her face!

Sculpted by Masahiro Takahashi (Gill Gill), Rainbow Mika stands almost 8 inches tall (1/7 scale) leaning to one side on her specially designed display base. R. Mika will dominate your shelf standing alone or alongside other Street Fighter Bishoujo Statues from Kotobukiya!
PROTOTYPES SHOWN, PENDING LICENSOR APPROVAL. FINAL PRODUCT MAY VARY. CONCEPT ART SHOWN PENDING LICENSOR APPROVAL.
SPEC
製品情報
Product Name

STREET FIGHTER RAINBOW MIKA BISHOUJO STATUE

商品名

STREET FIGHTER美少女 レインボー・ミカ

Price

8,580 JPY

価格

8,580 円(税込)

SERIES

作品

STREET FIGHTER

Month of Release

Mar. 2017

発売月

2017年03月

Scale

スケール

1/7

Product Size

Total Height 210mm

製品サイズ

全高 約210mm(台座込)

Specification

Pre-Painted PVC Figure

製品仕様

PVC塗装済み完成品フィギュア

Material

PVC(Phthalate ester-free), ABS

素材

PVC(非フタル酸)・ABS

Sculptor

Masahiro Takahashi (Gill Gill)

原型製作

高橋昌宏(GILL GILL)