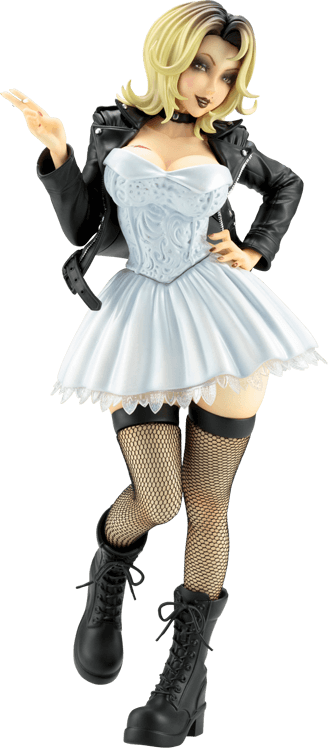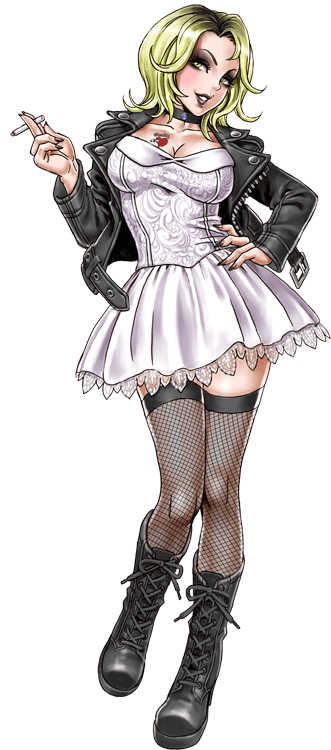 BISHOJO
SERIES

illustration by

Shunya Yamashita
Child's Play 2, Child's Play 3 and Bride of Chucky are trademarks and copyrights of Universal Studios. The movie Seed of Chucky © 2020 Focus Features LLC. Licensed by Universal Studios. All Rights Reserved.
CONCEPT
コンセプト
「あなたにはお人形がお似合いよ」
往年のホラー映画×BISHOUJOシリーズ、「HORROR美少女」待望の新作に、「チャイルド・プレイ チャッキーの花嫁」からチャッキーのパートナーであるティファニーがラインナップ。
シリーズを手掛ける山下しゅんや氏によるデザインで、ウェディングドレスにライダースジャケットに網タイツ、ロングブーツを合わせた パンクなスタイルはそのままに、可愛らしいチャッキーとは対照的に大人の色気溢れるBISHOUJOになりました。
胸元のタトゥーや指先に挟んだタバコなど、細やかな演出もお楽しみ下さい。
3月発売予定の「HORROR美少女 チャッキー」と揃えて飾って、殺意のハネムーンをあなたのご自宅で!
※画像は試作品です。実際の商品とは多少異なる場合がございます。
Kotobukiya's elite Bishoujo Statue line has brought you beautiful characters from all manner of anime series, DC and Marvel comics, Star Wars, video games, and much more. Recently the series took a totally unique turn, transforming horror and fantasy movie icons into pretty girls with Jason, Freddy, Edward Scissorhands, and Chucky. Following up on that last one is another character from the Child's Play series that was practically born to become a Bishoujo Statue: TIFFANY! The original film introduced the killer doll known as Chucky (hosting the soul of the murderer Charles Lee Ray), and in the 1998 third sequel Bride of Chucky Ray's girlfriend Tiffany first appeared. Just like her lover Tiff was killed and resurrected into a toy, this time a bride doll. But the strange woman's personality shone through and she updated her look with her favorite gothic style as you can see in this amazing statue based on a new character interpretation by master illustrator Shunya Yamashita! The saucy Tiffany stands with a hand on her hip while the other dangles a cigarette, and she balances on one foot with the other pulled up beneath her. She wears a mix of gothic and bridal with a revealing white dress full of lace and ruffles along with a black leather jacket with matching choker, fishnet stockings, and heavy boots. The living doll's outfit is fantastically detailed, as is her creamy skin with iconic "Chucky" bleeding heart tattoo on her right breast. Tiffany's alluring Bishoujo styled face is decorated with dark makeup, and her dyed shoulder-length blonde hair reveals dark roots at the top of her head. Sculpted by Takaboku Busujima (BUSUJIMAX), Tiffany stands over 7 ½ inches tall (1/7 scale) on her specially designed display base. This dark-hearted cutie will look great in your collection standing alone or alongside Chucky!
PROTOTYPES SHOWN, PENDING LICENSOR APPROVAL. FINAL PRODUCT MAY VARY. CONCEPT ART SHOWN PENDING LICENSOR APPROVAL.
SPEC
製品情報
Product Name

CHILD'S PLAY THE BRIDE OF CHUCKY TIFFANY BISHOUJO STATUE

商品名

HORROR美少女 ティファニー

Price

8,580 JPY

価格

8,580 円(税込)

SERIES

CHILD'S PLAY THE BRIDE OF CHUCKY

作品

チャイルド・プレイ チャッキーの花嫁

Month of Release

May. 2017

発売月

2017年05月

Scale

スケール

1/7

Product Size

Total Height 200mm

製品サイズ

全高 約200mm(台座込)

Specification

Pre-Painted PVC Figure

製品仕様

PVC塗装済み完成品フィギュア

Material

PVC(Phthalate ester-free), ABS

素材

PVC(非フタル酸)・ABS

Sculptor

Takaboku Busujima(BUSUJIMAX)

原型製作

毒島孝牧(ブスジマックス)