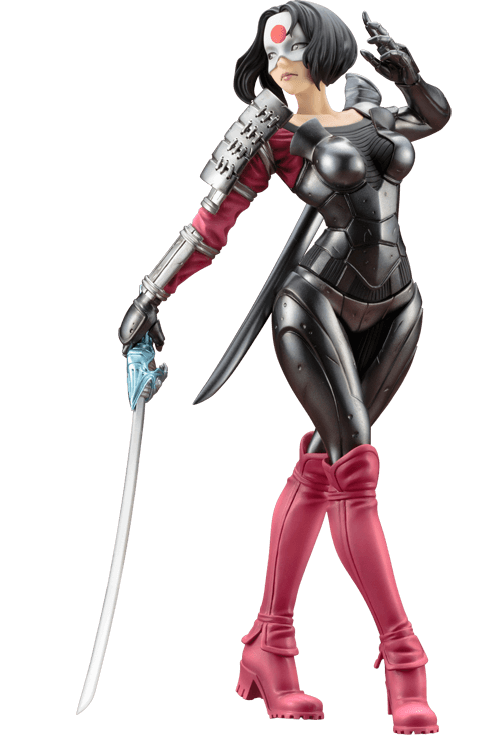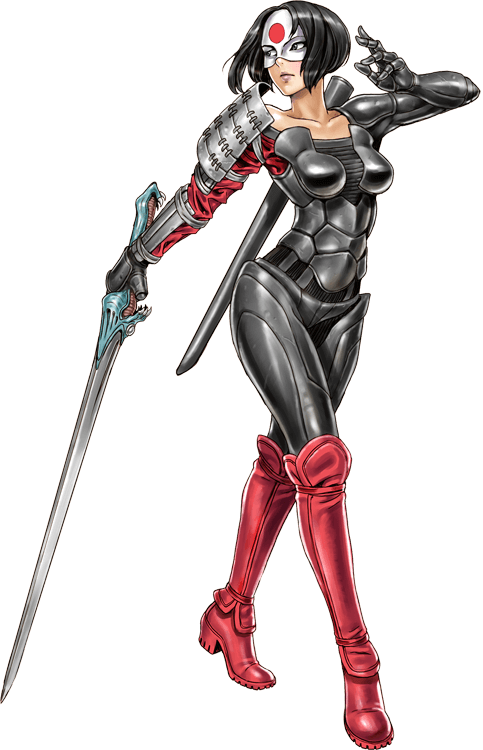 BISHOJO
SERIES

illustration by

Shunya Yamashita
BATMAN and all related characters and elements © & ™ DC Comics. (s20)
CONCEPT
コンセプト
~アメコミ界に咲く侍魂!カタナ、ラインナップ!~
卓越した武道家でありつつ超常現象の知識にも長けた剣士、カタナ。
山下しゅんや氏の描き下したイラストのイメージをそのままに、高橋昌宏(GILL GILL)氏が立体化しました!
数多の魂を宿す妖刀「ソウルテーカー」を片手に敵を睨みつける凛とした姿、重厚な鎧と女性らしいボディラインが共存したデザインにご注目ください!
コミック中で印象的な「白目」状態を再現可能なパーツも付属します。
台座は和柄プリントが施され、世界観を盛り上げます。
発売中の「DC COMICS美少女 ハーレー・クィン NEW52版」と並べてコミック版「スーサイド・スクワッド」の凸凹コンビを再現するもよし、「DC COMICS美少女 バットガール」や「DC COMICS美少女 ブラックキャナリー」と並べて「バーズ・オブ・プレイ」を集結させるもよし!
DC COMICS美少女の世界が広がります。
※画像は試作品です。実際の商品とは多少異なる場合がございます。
A KOTOBUKIYA Japanese import! Up next in Kotobukiya's incredible lineup of Bishoujo statues based on the superheroines and villains of DC Comics is the mysterious swordswoman known as KATANA! Mild-mannered Tatsu Tamashiro was a normal girl who enjoyed martial arts, but when her husband was killed by his jealous brother and his spirit trapped in the mystical blade that ended his life she took on the weapon and became a force of vengeance. Calling herself Katana after the sword she now wielded, Tatsu embarked on a mission of revenge against her brother-in-law's Yakuza boss which led her to meet Batman and through him find a larger purpose. Katana would serve on Bruce Wayne's Outsiders team and others, and recently she appeared in the blockbuster film Suicide Squad. Following Wonder Girl and all of the other amazing Bishoujo ladies of DC Comics Katana comes to life as never before in the traditional Japanese "pretty girl" style based on a new character interpretation by Shunya Yamashita!

The Japanese superhero has never looked better than she does here, captured in a unique and beautiful pose with her sword. Katana saunters forward with an exaggerated swing in her hips, her right leg crossed in front of her left. She turns to the side to look at you with one hand flipping her short black hair from her face and the other holding her iconic weapon "Soultaker" pointed down toward the ground. While she may look relaxed and alluring Katana is always ready to strike down her enemies, and she wears intricately sculpted and detailed black and silver armor with both high-tech and traditional components in addition to knee-high red boots. The Outsider can be displayed with two unique options thanks to included interchangeable heads, either with her eyes glancing to the side or replaced by milky white lenses; both peer out from her iconic white mask with red circle on the forehead. Sculpted by Masahiro Takahashi (GILL GILL), Katana stands just over 9 inches tall (1/7 scale) on her specially designed display base. Whether the superhero is guarding you on her own or alongside other DC Comics Bishoujo statues she'll look great in your display!
PROTOTYPES SHOWN, PENDING LICENSOR APPROVAL. FINAL PRODUCT MAY VARY. CONCEPT ART SHOWN PENDING LICENSOR APPROVAL.
SPEC
製品情報
Product Name

DC COMICS KATANA BISHOUJO STATUE

商品名

DC COMICS美少女 カタナ

Price

8,250 JPY

価格

8,250 円(税込)

SERIES

作品

DC UNIVERSE

Month of Release

Oct. 2017

発売月

2017年10月

Scale

スケール

1/7

Product Size

Total Height 230mm

製品サイズ

全高 約230mm(台座込)

Specification

Pre-Painted PVC Figure

製品仕様

PVC塗装済み完成品フィギュア

Material

PVC(Phthalate ester-free), ABS

素材

PVC(非フタル酸)・ABS

Sculptor

Masahiro Takahashi (GILL GILL)

原型製作

高橋 昌宏(GILL GILL)