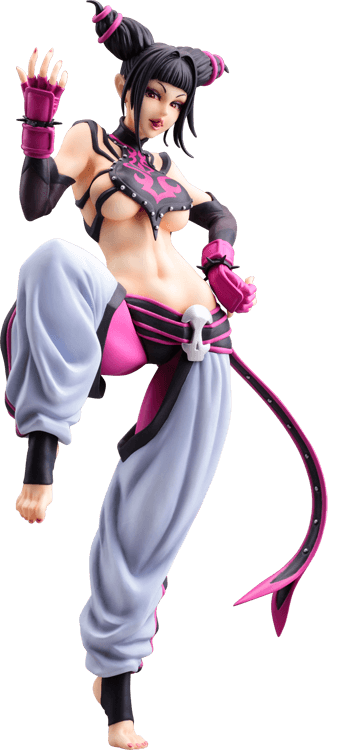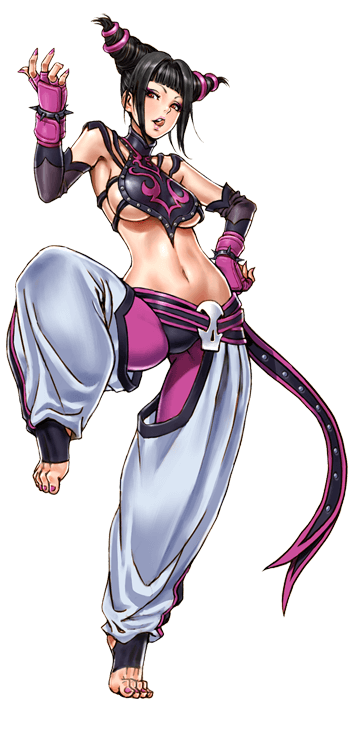 BISHOJO
SERIES

illustration by

Shunya Yamashita
© CAPCOM U.S.A., INC. ALL RIGHTS RESERVED.
CONCEPT
コンセプト
STREET FIGHTER美少女、Round 3!!
いよいよ3作目となる本作は、悪役キャラのジュリがラインナップ!
山下しゅんや氏の描き下ろしイラストを元に、口元から舌を覗かせた狡猾な表情でBISHOUJO化!
特徴的な髪型は捻じれた毛束感を表現。
露出度の高いコスチュームは蜘蛛を模しており、踊るように相手を挑発するポーズや表情と相まってまるで毒蜘蛛のよう!
対照的に下半身を包む衣服は余裕のあるシルエットで、躍動感を生んでいます。
既発売の「春麗」や「キャミィ」の宿敵!!
対峙させて飾る事でより一層世界観を楽しみ頂けます。
※画像は試作品です。実際の商品とは多少異なる場合がございます。また、ベースは開発中のものです。
※再生産:2018年7月
A KOTOBUKIYA Japanese import! Kotobukiya continues its new line of incredible Street Fighter Bishoujo statues, bringing the beautiful and provocative JURI to join previously released Chun-Li and Cammy! One of the bestselling video game franchises of all time, Street Fighter first debuted in 1987 with its unique blend of one on one combat and international characters (and fighting styles). After visiting the Chinese and British ladies, we travel to South Korea for the tae kwon do expert and member of S.I.N. who is well known for her impressive kick attacks as well as her Feng Shui Engine eye. Juri has never looked better than in this new Bishoujo presentation based on an all new illustration by Shunya Yamashita!

The quick and powerful fighter stands balanced gracefully on one foot, her other leg raised and ready to unleash a devastating, lightning fast kick! Juri looks incredible in a pose that really shows off her physique as well as her unique fighting outfit. That consists of billowing pants with cutout sections, a wide sash belt, unattached sleeves with fingerless gloves, and her distinctive chest harness. All of the clothing matches her iconic color scheme in black and bright purple with white on the pants and skull belt buckle. The detailing on Juri is incredible, with small notes like the threading of the sash, the rivets on her chest piece, the padding and spikes on her gloves, and of course her hair wrapped up into twin cones. Raising one hand to beckon you while the other rests on her hip, Juri looks at you teasingly while sticking out her tongue!

Sculpted by Masahiro Takahashi (Gill Gill), Juri stands over 9 ½ inches tall (1/7 scale) on a specially designed display base. Display Juri on her own or alongside other Street Fighter Bishoujo statues like Cammy or Chun-Li!
PROTOTYPES SHOWN, PENDING LICENSOR APPROVAL. FINAL PRODUCT MAY VARY. CONCEPT ART SHOWN PENDING LICENSOR APPROVAL.
*Reproduction:Jul,2018
SPEC
製品情報
Product Name

STREET FIGHTER JURI BISHOUJO STATUE

商品名

STREET FIGHTER美少女 ジュリ

Price

8,250 JPY

価格

8,250 円(税込)

SERIES

作品

STREET FIGHTER

Month of Release

Mar. 2015

発売月

2015年03月

Scale

スケール

1/7

Product Size

Total Height 245mm

製品サイズ

全高 約245mm

Specification

Pre-Painted PVC Figure

製品仕様

PVC塗装済み完成品フィギュア

Material

PVC(Phthalate ester-free), ABS

素材

PVC(非フタル酸)・ABS

Sculptor

Masahiro Takahashi(GILL GILL)

原型製作

高橋昌宏(GILL GILL)