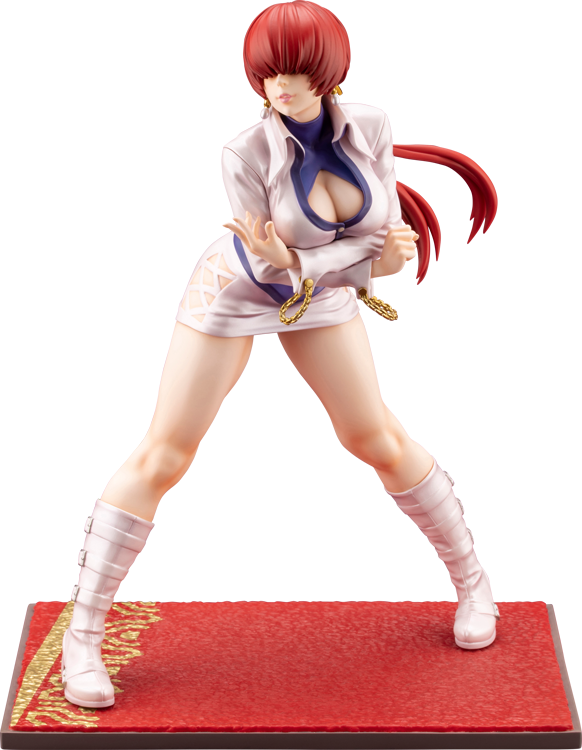 BISHOJO
SERIES

illustration by

Shunya Yamashita
©SNK CORPORATION ALL RIGHTS RESERVED.
CONCEPT
コンセプト
「んふふふふ……焦らしちゃイヤよ?」
対戦格闘ゲーム『SNKヒロインズ Tag Team Frenzy』より、「シェルミー」が、BISHOUJOシリーズへ参戦!
その大胆不敵なアクロバティックな動きと、人を魅惑する仕草がファンの心を掴んで離さない彼女をイラストレーター山下しゅんや氏が描きおろし。
投げ技「Fカップチュード」発動する際の挑発的ポージングで原型師 ke(小抹香)氏が艶やかに立体化しました。
彼女自身がデザインした長袖のスーツにミニスカートのお馴染みのいで立ちで、むっちりとしてパツンパツンな造形にこだわって制作。
台座は、『SNKヒロインズ』のゲーム内1stステージである「広間ステージ」の特徴的な紋様の入ったカーペットを再現しています。
本フィギュアをはじめ、コンソール機、スマートフォン、そしてPCと、幅広い展開を有するKOFワールドに飛び込んでその魅力に浸ってください。
※画像は試作品です。実際の商品とは多少異なる場合がございます。
Joining the BISHOUJO series is Shermie from the fighting game SNK Heroines: Tag Team Frenzy!

Winning the hearts of fans with her fearless acrobatic moves and seductive poses, Shermie has received an all-new illustrated design by Shunya Yamashita.
Based on the design, ke (comaccow) has created a gorgeous sculpt that captures the provocative pose she takes when initiating the move, F. Captured.
She dons a tight-fitting, long sleeve suit jacket and mini-skirt combo that accentuates her curves, both of which she designed herself.
The base is a recreation of the patterned carpet from the first stage in the SNK Heroines game, the Grand Hall.

Immerse yourself in The King of Fighters world available on nearly all platforms, including consoles, smartphones, and PC, together with this statue!
PROTOTYPES SHOWN,FINAL PRODUCT MAY VARY.
SPEC
製品情報
Product Name

SNK SNK HEROINES: Tag Team Frenzy SHERMIE BISHOUJO STATUE

商品名

SNK美少女 シェルミー ​—SNK ヒロインズ Tag Team Frenzy—

Price

16,500 JPY

価格

16,500 円(税込)

SERIES

SNK HEROINES Tag Team Frenzy

作品

SNKヒロインズ Tag Team Frenzy

Month of Release

Feb. 2024

発売月

2024年02月

Scale

スケール

1/7

Product Size

Total Height 205mm

製品サイズ

全高 約205mm(台座込)

Specification

Pre-Painted PVC Figure

製品仕様

PVC塗装済み完成品フィギュア

Material

PVC(phthalate ester-free)・ABS

素材

PVC(非フタル酸)・ABS

Sculptor

ke (comaccow)

原型製作

ke(小抹香)