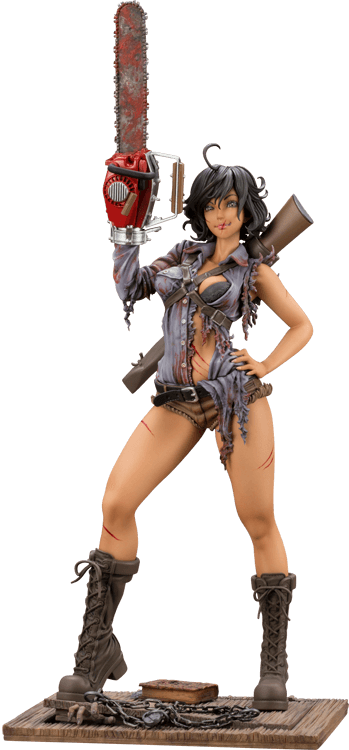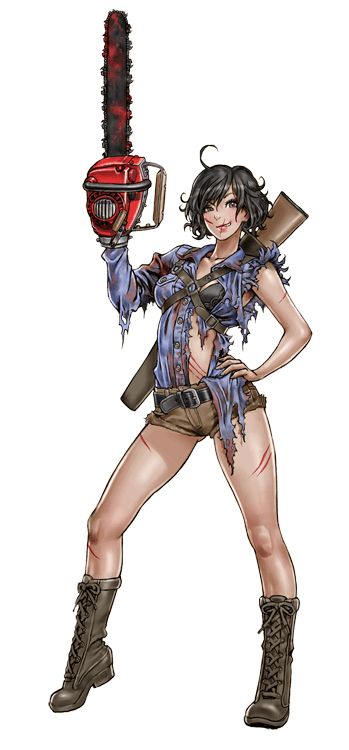 BISHOJO
SERIES

illustration by

Shunya Yamashita
EVIL DEAD 2: DEAD BY DAWN™ is a trademark of Studiocanal S.A.S. All Rights Reserved. © 2020 Studiocanal S.A.S. ® All Rights Reserved.
CONCEPT
コンセプト
「HORROR美少女」待望の新作に、「死霊のはらわた2」からアッシュ・ウィリアムズがラインナップ!!
シリーズを手掛ける山下しゅんや氏によるデザインでセクシーかつ快活なBISHOUJOに生まれ変わりました。
本編でのダメージを参考にアレンジした、ボロボロの衣装から露わになった健康的な肉体美は必見!!
豪快なイメージとは対照的に、繊細に再現されたシャツの造形やチェーンソーは、ぜひお手元でじっくりご覧いただきたい造形です。
物語のキーアイテムである「死者の書」が無造作に置かれた地下室への扉をモチーフにしたベースにもご注目下さい。
※画像は試作品です。実際の商品とは多少異なる場合がございます。
The latest entry in Kotobukiya's Horror BISHOUJO series is the long-awaited Ash Williams from Evil Dead 2: Dead by Dawn! Ash's appearance is expertly translated into the BISHOUJO style by series illustrator Shunya Yamashita.

Reflecting the violent nature of the film, Ash's clothes are tattered, exposing her robust form. Ash stands on an exquisitely detailed base modeled after the floor of the cabin from the film, with a decomposing hand peeking out from the cellar door. The Necronomicon Ex-Mortis is detached, allowing you to display it wherever you like. The contrast between the bold, Chainsaw-Brandishing hero and the intricate details in the craftsmanship make this BISHOUJO one you won't want to miss!
PROTOTYPES SHOWN, PENDING LICENSOR APPROVAL. FINAL PRODUCT MAY VARY. CONCEPT ART SHOWN PENDING LICENSOR APPROVAL.
SPEC
製品情報
Product Name

Evil Dead 2: Dead by Dawn ASH WILLIAMS BISHOUJO STATUE

商品名

HORROR美少女 アッシュ・ウィリアムズ

Price

9,900 JPY

価格

9,900 円(税込)

SERIES

EVIL DEAD 2

作品

死霊のはらわた2

Month of Release

Sep. 2018

発売月

2018年09月

Scale

スケール

1/7

Product Size

Total Height 270mm

製品サイズ

全高 約270mm

Specification

Pre-Painted PVC Figure

製品仕様

PVC塗装済み完成品フィギュア

Material

PVC(Phthalate ester-free), ABS

素材

PVC(非フタル酸)・ABS

Sculptor

Takaboku Busujima (BUSUJIMAX)

原型製作

毒島孝牧(ブスジマックス)