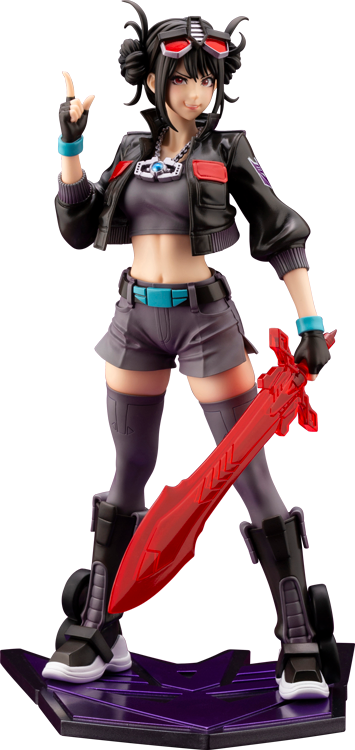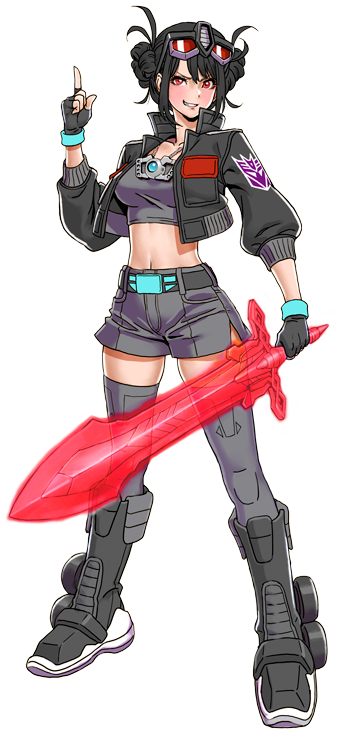 BISHOJO
SERIES

illustration by

Shunya Yamashita
TRANSFORMERS and all related characters are trademarks of Hasbro and are used with permission. © 2023 Hasbro. All Rights Reserved. Licensed by Hasbro.
© TOMY  「トランスフォーマー」、「TRANSFORMERS」は株式会社タカラトミーの登録商標です。
CONCEPT
コンセプト
海外流通限定商品が、コトブキヤショップ限定で発売決定!
「身近に存在するものがロボット生命体へと変形する」という魅力的な玩具から、アニメ、映画などで人気を博した「トランスフォーマー」シリーズ!
1984年から現在に至るまで、全世界で幅広いファン層に愛される本作品から、
Hasbro・タカラトミー、コトブキヤのタッグで送る新シリーズ「トランスフォーマー美少女」が誕生しました!
現在まで愛される基盤となった初代作品「戦え!超ロボット生命体トランスフォーマー」(通称G1)をベースに、山下しゅんや氏がBISHOUJO姿にアレンジ!
漆黒のボディの「ブラックコンボイ」もBISHOUJOに!
大胆なカラーチェンジに加えて、不敵な笑みと湛えた顔とディテール「エナジーソード」は新規造形で再現!パッケージも新規デザインで、通常版の「コンボイ」を購入した方も違いを楽しめる仕様です。
発売中の「コンボイ」や「メガトロン」、どちらと並べてもかっこいい!
ファン必携の限定品を、ぜひコレクションに加えてください。
※画像は試作品です。実際の商品とは多少異なる場合がございます。
The TRANSFORMERS series was originally a line of toys that stood out for having familiar objects that could transform into robotic lifeforms, and became widely known through the anime and movies!

In a collaboration between Hasbro, Takara Tomy, and Kotobukiya, this series which has been loved by fans around the world since 1984 will be released as a new line as TRANSFORMERS BISHOUJO!

The statue was made into the BISHOUJO style by Shunya Yamashita based on the first ever, core series that is still beloved to this very day, THE TRANSFORMERS!

The jet black NEMESIS PRIME has now also joined the BISHOUJO series!

Besides the bold change in coloration, her face with that daring smile and the Energy Sword are fully recreated with newly sculpted parts!

The packaging is also newly designed, so fans who have purchased the standard Optimus Prime BISHOUJO statue can enjoy the differences between the two figures.

Be sure to add this must-have limited edition figure to your collection!

Lining up this figure alongside the now available Optimus Prime and Megatron will thus create an awesome display as well!
PROTOTYPES SHOWN, PENDING LICENSOR APPROVAL. FINAL PRODUCT MAY VARY. CONCEPT ART SHOWN PENDING LICENSOR APPROVAL.
SPEC
製品情報
Product Name

TRANSFORMERS NEMESIS PRIME LIMITED EDITION BISHOUJO STATUE

商品名

TRANSFORMERS美少女 ブラックコンボイ 限定版

Price

17,600 JPY

価格

17,600 円(税込)

SERIES

TRANSFORMERS

作品

トランスフォーマー

Month of Release

Jul. 2023

発売月

2023年07月

Scale

スケール

1/7

Product Size

Total Height 235mm

製品サイズ

全高 約235mm(台座込)

Specification

Pre-Painted PVC Figure

製品仕様

PVC塗装済み完成品フィギュア

Material

PVC(phthalate ester-free)・ABS

素材

PVC(非フタル酸)・ABS

Sculptor

TSUBAME

原型製作

燕