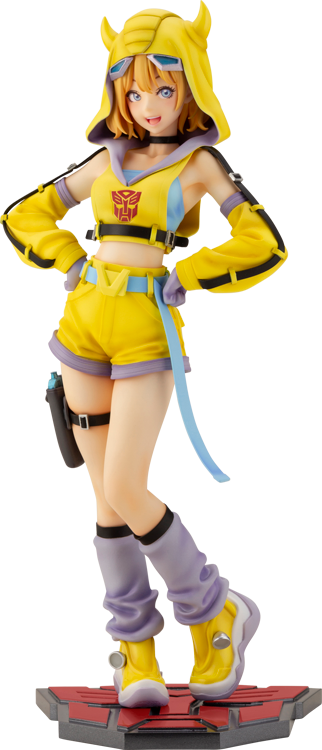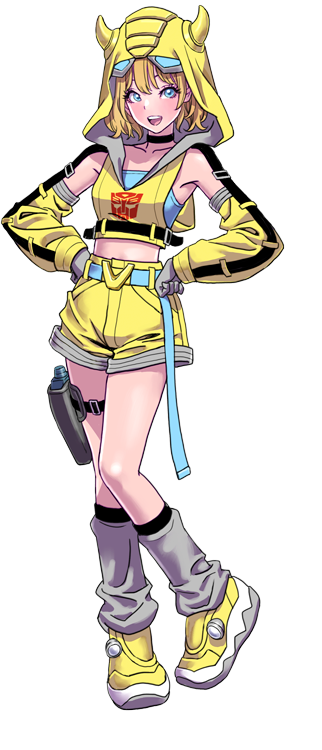 BISHOJO
SERIES

illustration by

Shunya Yamashita
TRANSFORMERS and all related characters are trademarks of Hasbro and are used with permission.
© 2023 Hasbro. All Rights Reserved. Licensed by Hasbro.
© TOMY  「トランスフォーマー」、「TRANSFORMERS」は株式会社タカラトミーの登録商標です。
CONCEPT
コンセプト
トランスフォーマーが美少女に!?
Hasbro・タカラトミー、コトブキヤのタッグで送る新シリーズ第3弾!
現在まで愛される基盤となった初代作品「戦え!超ロボット生命体トランスフォーマー」(通称G1)をベースに、山下しゅんや氏がBISHOUJO姿にアレンジ!
第3弾は、平和を愛するサイバトロン(オートボット)の「バンブル」。
ツノつきの黄色いパーカーの下に水色のインナーやベルトを組み合わせ、ロボットモードの配色を再現!小柄で可愛いバンブルらしい着こなし。ボディのモールドが取り入れられたアームカバーやショートパンツの裾のデザインにも注目です!
ベースはメタリック塗装がまぶしい「サイバトロン」のロゴマーク。
TRANSFORMERS美少女第4弾も制作決定!!
さあ、たたかいの時間だ!
※画像は試作品です。実際の商品とは多少異なる場合がございます。
troducing the third addition to the new series featuring a collaboration between Hasbro, Takara Tomy, and Kotobukiya! The statue was made into the BISHOUJO style by Shunya Yamashita based on the first ever, core series that is still beloved to this very day, THE TRANSFORMERS!

Third in the series comes one who loves peace, the AUTOBOT BUMBLEBEE.

Bumblebee's robot mode color scheme is recreated through the yellow hoodie with horns and the inner light blue outfit and belt! A perfect outfit for the cute and petite Bumblebee.

Be sure to also check out the designs of the hems of the arm covers and shorts that were integrated in the mold for the body!

The base is designed with the AUTOBOT logo in metallic paint.

The fourth TRANSFORMERS BISHOUJO is currently under development!!
Roll out!
PROTOTYPES SHOWN, PENDING LICENSOR APPROVAL. FINAL PRODUCT MAY VARY. CONCEPT ART SHOWN PENDING LICENSOR APPROVAL.
SPEC
製品情報
Product Name

TRANSFORMERS BUMBLEBEE BISHOUJO STATUE

商品名

TRANSFORMERS美少女 バンブル

Price

17,600 JPY

価格

17,600 円(税込)

SERIES

TRANSFORMERS

作品

トランスフォーマー

Month of Release

Aug. 2023

発売月

2023年08月

Scale

スケール

1/7

Product Size

Total Height 217mm

製品サイズ

全高約217mm(台座込み)

Specification

Pre-Painted PVC Figure

製品仕様

PVC塗装済み完成品フィギュア

Material

PVC(phthalate ester-free)・ABS

素材

PVC(非フタル酸)・ABS

Sculptor

TSUBAME

原型製作

燕