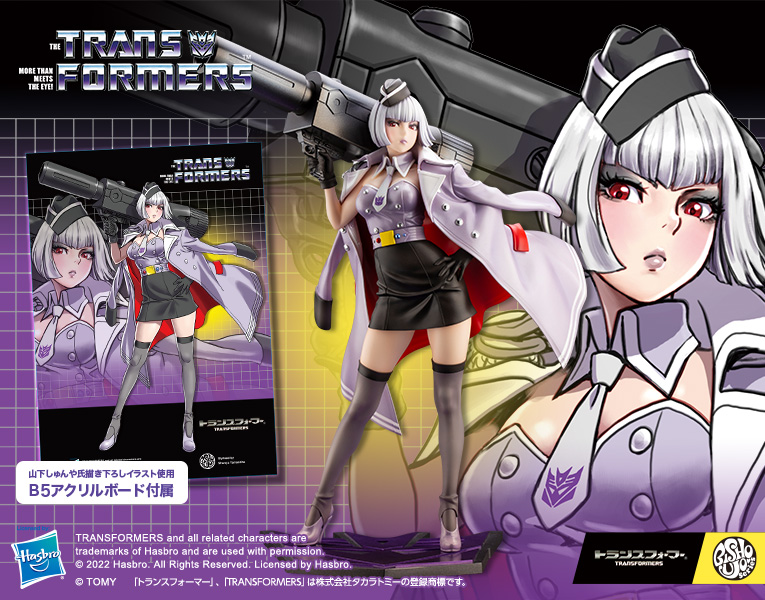 BISHOJO
SERIES

BISHOJO SERIES

illustration by Shunya Yamashita
TRANSFORMERS and all related characters are trademarks of Hasbro and are used with permission.
© 2022 Hasbro. All Rights Reserved. Licensed by Hasbro.
© TOMY  「トランスフォーマー」、「TRANSFORMERS」は株式会社タカラトミーの登録商標です。
CONCEPT
コンセプト
BISHOUJOシリーズの新ライン、「TRANSFORMERS美少女 メガトロン」に、描き下ろしイラストを使用したグッズ付きの豪華版が登場。日本国内では、コトブキヤショップ限定品となります。
本フィギュアの元となった山下しゅんや氏による描き下ろしイラストを使用したアクリルボードが付属。
サイズは飾りやすさとボリューム感を兼ね備えB5サイズ。
フィギュアとともに、あなたの部屋を美麗に彩ります。
シリーズ第1弾の「TRANSFORMERS美少女 コンボイ 豪華版」と並べて飾れば、より一層トランスフォーマー美少女の世界観をお楽しみいただけます。
※画像は試作品です。実際の商品とは多少異なる場合がございます。
A new addition to the BISHOUJO series, TRANSFORMERS MEGATRON BISHOUJO STATUE, is now available in a deluxe edition with merchandise featuring the original concept art. This product will be available in overseas regions, but will be a Kotobukiya shop exclusive within Japan.

Included is an acrylic board with the original concept art by Shunya Yamashita, the artist behind the statue.
The size of the board is B5, making it both stand out and easy to display.
The board and statue will beautifully decorate the room.

Display this statue alongside the initial release in the series, TRANSFORMERS OPTIMUS PRIME DELUXE EDITION BISHOUJO STATUE, to further enjoy the TRANSFORMERS BISHOUJO world!
PROTOTYPES SHOWN, PENDING LICENSOR APPROVAL. FINAL PRODUCT MAY VARY. CONCEPT ART SHOWN PENDING LICENSOR APPROVAL.
SPEC
製品情報
Product Name

TRANSFORMERS MEGATRON
DELUXE EDITION BISHOUJO STATUE

商品名

TRANSFORMERS美少女 メガトロン 豪華版

Price

20,900 JPY

価格

20,900 円(税込)

SERIES

TRANSFORMERS

作品

トランスフォーマー

Month of Release

Feb. 2023

発売月

2023年02月

Scale

スケール

1/7

Product Size

Total Height 253mm

製品サイズ

全高 約253mm(台座込)

Specification

Pre-Painted PVC Figure

製品仕様

PVC塗装済み完成品フィギュア

Material

PVC(phthalate ester-free)・ABS・Acrylic・PET・Iron

素材

PVC(非フタル酸)・ABS・アクリル・PET・鉄

Sculptor

TSUBAME

原型製作

燕