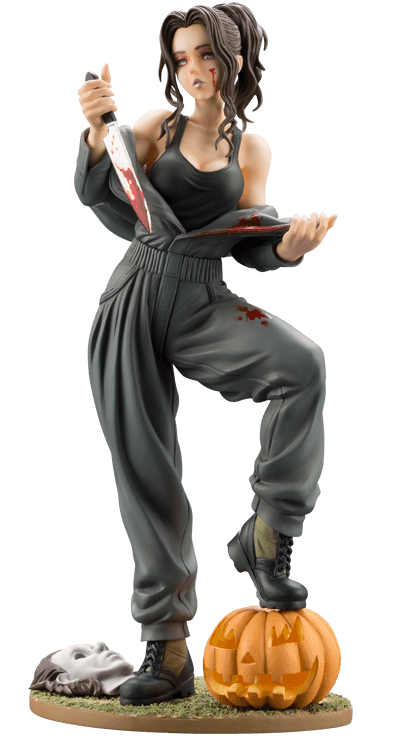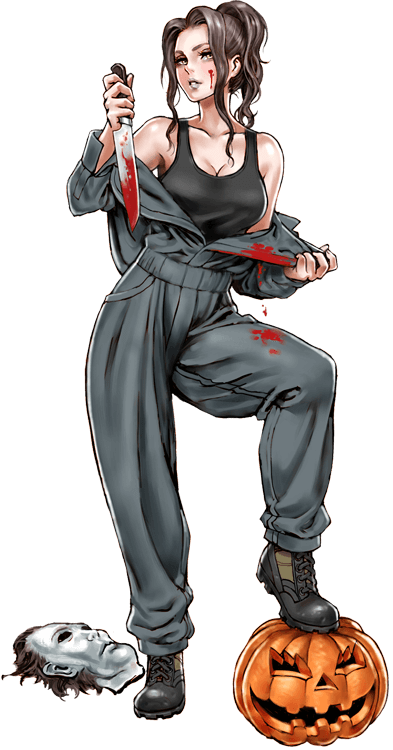 BISHOJO
SERIES

illustration by

Shunya Yamashita
Halloween ® Michael Myers ®; © 2020 Compass Intl Pictures, Inc., All Rights Reserved.
CONCEPT
コンセプト
HORROR美少女シリーズ第8弾!
「限りなく純粋な邪悪さ」を持つ、「善悪を判断できない危険な存在」として、ハロウィンの夜を恐怖に染めた、あの殺人鬼が山下しゅんや氏によるデザインでBISHOUJO化!
無骨な衣装と、艶っぽいボディラインとの対比に注目です。
返り血のついたつなぎをはだけ、こちらを冷たく見下す姿は、誰かに似ているような・・・?
※画像は試作品です。実際の商品とは多少異なる場合がございます。
Kotobukiya's popular HORROR BISHOUJO line continues!

The embodiment of pure, limitless darkness, a dangerous force that lacks the ability to distinguish good and evil, and a famed killer who strikes fear into the hearts of his victims on Halloween, Michael Myers is joining the HORROR BISHOUJO line.

The villainous killer is expertly transformed into the BISHOUJO style by talented illustrator Shunya Yamashita. The simple design of the mechanic's uniform show off the BISHOUJO's curves, and the details of her unique base evoke the atmosphere of the film. An exquisitely crafted beauty, this BISHOUJO's blood-splattered coveralls and cold, disdainful expression are sure to remind you of the classic villain!
PROTOTYPES SHOWN, PENDING LICENSOR APPROVAL. FINAL PRODUCT MAY VARY. CONCEPT ART SHOWN PENDING LICENSOR APPROVAL.
SPEC
製品情報
Product Name

HALLOWEEN MICHAEL MYERS BISHOUJO STATUE

商品名

HORROR美少女 マイケル・マイヤーズ

Price

9,900 JPY

価格

9,900 円(税込)

SERIES

HALLOWEEN

作品

ハロウィン

Month of Release

Apr. 2019

発売月

2019年04月

Scale

スケール

1/7

Product Size

Total Height 235mm

製品サイズ

全高 約235mm(台座込)

Specification

Pre-Painted PVC Figure

製品仕様

PVC塗装済み完成品フィギュア

Material

PVC(Phthalate ester-free), ABS

素材

PVC(非フタル酸)・ABS

Sculptor

Masahiro Takahashi (GILL GILL)

原型製作

高橋昌宏(GILL GILL)