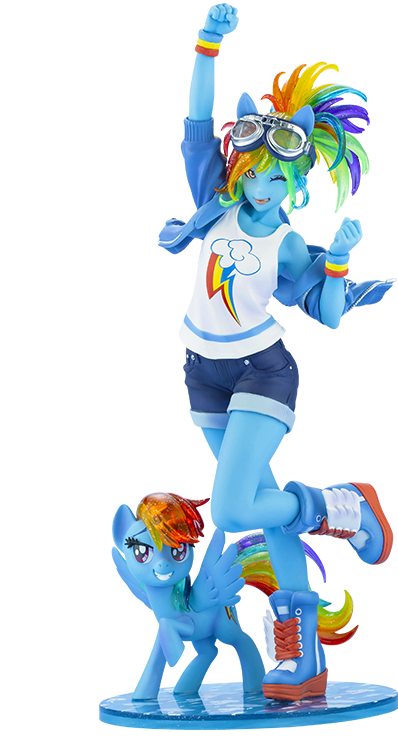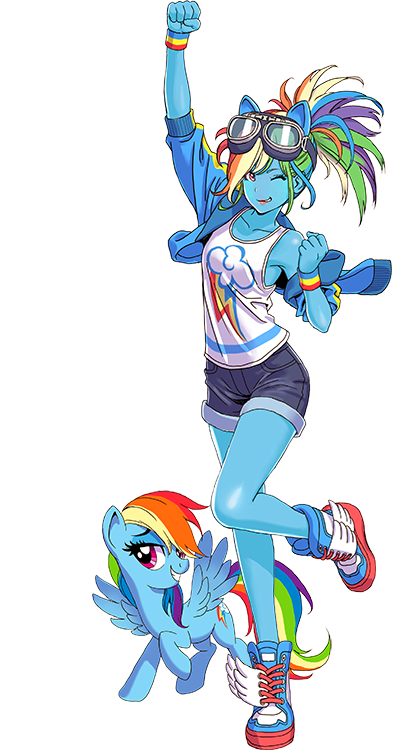 BISHOJO
SERIES

illustration by

Shunya Yamashita
MY LITTLE PONY and all related characters are trademarks of Hasbro and are used with permission. © 2022 Hasbro. All Rights Reserved. Licensed by Hasbro.
CONCEPT
コンセプト
レインボーダッシュがスペシャル仕様の限定版に!
海外流通限定商品が、コトブキヤショップ限定で発売決定!
クリア素材になった髪やベースには、ラメがたっぷり入って抜群の存在感♪
甘い香りが漂ってきそうな、キャンディのような質感に目が離せません。
肌の色は、「エクエストリア・ガールズ」でのデザインと同様にポニーのボディカラーにチェンジ!パッケージはホログラム加工のスペシャル仕様。通常版をお持ちの方も、違いを楽しめる仕上がりです。
特別なポニーたちを、ぜひあなたのそばに・・・!
※画像は試作品です。実際の商品とは多少異なる場合がございます。
Rainbow Dash!

Rainbow Dash 's hair and base is now made of clear plastic material full of glitter all over! Her sparkling presence comes across even more clearly! ♪

The candy-like look and texture of this figure make it seem like she might be giving off a sweet scent. Fans will not be able to keep their eyes off of this statue!

The skin tone now matches her appearance in "My Little Pony: Equestria Girls"!

The packaging for this figure has also been upgraded with a hologram design to add a completely different finish from the regular Rainbow Dash BISHOUJO for fans to enjoy.

Be sure to add these special ponies to your collection!
PROTOTYPES SHOWN, PENDING LICENSOR APPROVAL. FINAL PRODUCT MAY VARY. CONCEPT ART SHOWN PENDING LICENSOR APPROVAL.
SPEC
製品情報
Product Name

MY LITTLE PONY RAINBOW DASH LIMITED EDITION BISHOUJO STATUE

商品名

MY LITTLE PONY美少女 レインボーダッシュ 限定版

Price

13,200 JPY

価格

13,200 円(税込)

SERIES

作品

MY LITTLE PONY

Month of Release

Oct. 2022

発売月

2022年10月

Scale

スケール

1/7

Product Size

Total Height 237mm

製品サイズ

全高 約237mm(台座込)

Specification

Pre-Painted PVC Figure

製品仕様

PVC塗装済み完成品フィギュア

Material

PVC(Phthalate ester-free), ABS

素材

PVC(非フタル酸)・ABS

Sculptor

TSUBAME,Takahi

原型製作

BISHOUJO姿:燕、ポニー姿:タカヒ