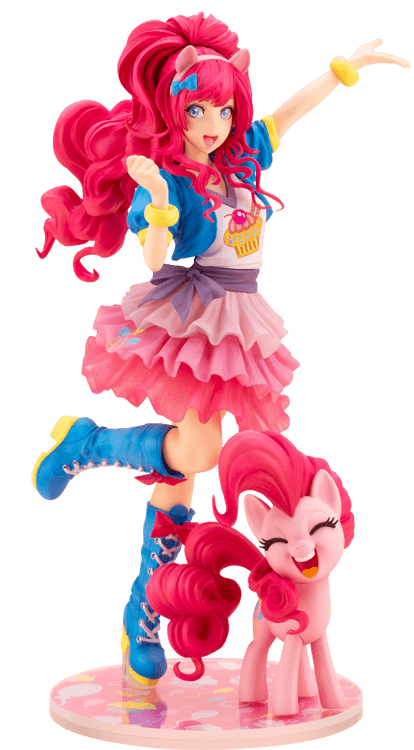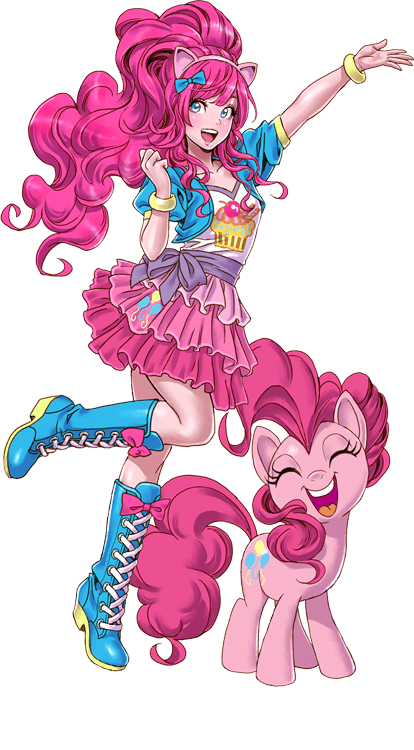 BISHOJO
SERIES

illustration by

Shunya Yamashita
MY LITTLE PONY and all related characters are trademarks of Hasbro and are used with permission.
© 2020 Hasbro. All Rights Reserved. Licensed by Hasbro.
CONCEPT
コンセプト
アメリカで社会現象を巻き起こしたあの「MY LITTLE PONY」がBISHOUJOシリーズにラインナップ!
第1弾は、おしゃべりとパーティが大好きなピンキーパイ!
山下しゅんや氏によるアレンジで可愛く元気に登場です♪
ピンキーパイが大好きなカップケーキがプリントされたシャツに、ふわふわのフリルスカートは
ボリューミーかつ軽やかに再現♪
「エクエストリア・ガールズ」での姿をベースに、日本の「KAWAII」要素がたっぷり詰まった女の子になりました。
ポニー姿での長い睫は立体造形!にっこり笑顔で、見ていると元気をもらえそう。2つの姿のピンキーパイで、笑顔をもらってくださいね。
※画像は試作品です。実際の商品とは多少異なる場合がございます。
Characters from the American cultural phenomenon MY LITTLE PONY are joining the BISHOUJO series!

First up in this new series is the talkative party girl, Pinkie Pie!
The original pony has been transformed into an adorable BISHOUJO by famous illustrator Shunya Yamashita.

Pinkie Pie wears a pink shirt decorated with her favorite sweet treat and a frilly skirt that simultaneously gives the statue a sense of volume and lightness. Based on her appearance in Equestria Girls, this original BISHOUJO statue is packed with details that embody Japan's unique "KAWAII" street fashion.

The included pony version of Pinkie Pie is recreated in precise detail, from her long eyelashes to her signature smile, which is sure to bring a smile to your face. With two smiling Pinkie Pies in one beautifully crafted product, let this duo into your heart to bring joy and laughter into your life!
PROTOTYPES SHOWN, PENDING LICENSOR APPROVAL. FINAL PRODUCT MAY VARY. CONCEPT ART SHOWN PENDING LICENSOR APPROVAL.
SPEC
製品情報
Product Name

MY LITTLE PONY PINKIE PIE BISHOUJO SATUE

商品名

MY LITTLE PONY美少女 ピンキーパイ

Price

12,100 JPY

価格

12,100 円(税込)

SERIES

作品

MY LITTLE PONY

Month of Release

May. 2019

発売月

2019年05月

Scale

スケール

1/7

Product Size

Total Height 235mm

製品サイズ

全高 約225mm(台座込)

Specification

Pre-Painted PVC Figure

製品仕様

PVC塗装済み完成品フィギュア

Material

PVC(Phthalate ester-free), ABS

素材

PVC(非フタル酸)・ABS

Sculptor

ke(comaccow), Wataru Orita

原型製作

BISHOUJO姿:ke(小抹香) ポニー姿:折田航