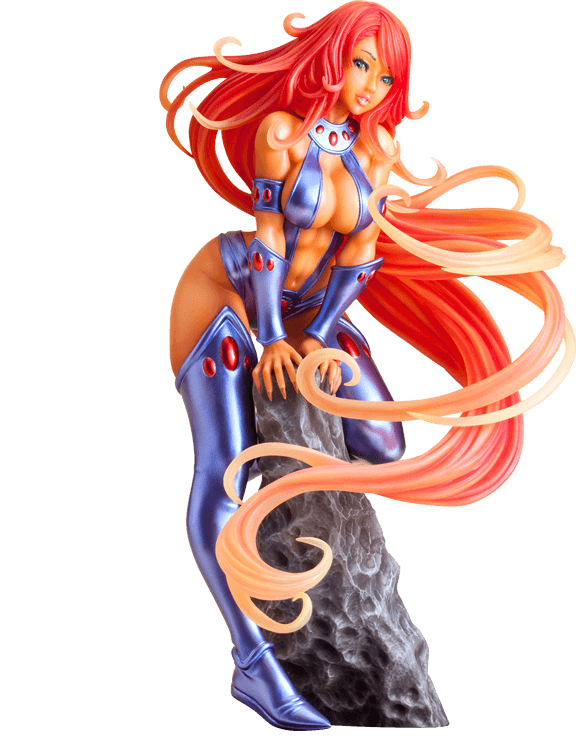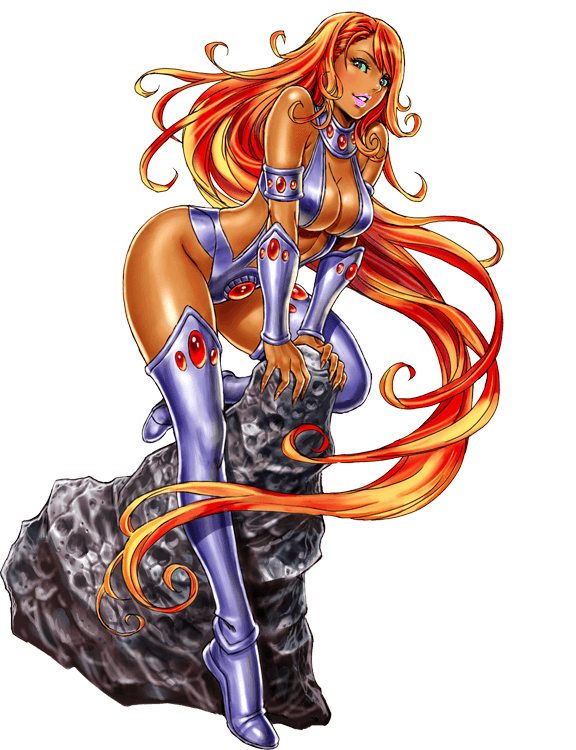 BISHOJO
SERIES

illustration by

Shunya Yamashita
TEEN TITANS and all related characters and elements © & ™ DC Comics. (s20)
CONCEPT
コンセプト
地球に亡命してきた惑星タマランのプリンセス「スターファイア」!
ティーン・タイタンズに助けられた彼女は、持ち前の飛行能力や必殺技エネルギーボルトを活かしてチームの一員に!
そんな彼女のチャーミングな魅力が、山下しゅんや氏によるアレンジで更にパワーアップ!
タマラン星の意匠をあしらった大胆な紫のコスチュームは、メタリック塗装仕上げで異星人のオレンジ色の肌をより引き立てます。その特徴的な髪は、クリア素材でボリューミーながらも軽やかに再現しました。
シリーズ最大級のボリューム感の大迫力で彼女の魅力をご堪能ください!
※本商品は、2014年の初回発売から、パッケージデザイン、ベースカラーを変更した再生産です。
※画像は試作品です。実際の商品とは多少異なる場合がございます。
A KOTOBUKIYA Japanese import! Coming up next in the DC Comics Bishoujo Collection (combining DC's superheroines and villains with traditional Japanese stylings) is one of the "hottest" characters in the DC Universe, STARFIRE! An alien from the planet Tamaran, Princess Koriand'r was exiled by her wicked sister and ended up on Earth where she used her powers of flight and energy beams as a hero. Taking the name Starfire, she would defend her adopted planet and its people as a member of the Teen Titans with allies like Nightwing and Raven. Based on original artwork from master illustrator Shunya Yamashita, Starfire looks better than ever in the Japanese Bishoujo (pretty girl) style!
Starfire is captured here as she rests after battle, her enemies defeated and no longer a threat. The fiery alien perches atop a rocky outcropping, leaning forward to gaze at you while her incredible hair flows dynamically around her! Starfire wears her classic (pre-New 52) garb, a unique revealing outfit consisting of an intricate bikini-like torso harness, arm bands, and thigh high boots. The former Teen Titan is perfectly sculpted with soft lines and lots of details like the jewels, seams, and hems on her clothing and of course her heartbreakingly beautiful Bishoujo-styled face... and that's all in addition to her fantastic hair! Meanwhile, Starfire seems to glow from within through her orange skin while her outfit and boots shines with a reflective metallic purple finish.
Sculpted by Toshiaki Hogari, Starfire stands 8 ½ inches tall (in the perfect 1/7 Bishoujo scale) as she leans on her unique georama display base. While she may outshine the others with her alien beauty, Koriand'r is the perfect addition to your DC Bishoujo statue collection!
PROTOTYPES SHOWN, PENDING LICENSOR APPROVAL. FINAL PRODUCT MAY VARY. CONCEPT ART SHOWN PENDING LICENSOR APPROVAL.
SPEC
製品情報
Product Name

DC COMICS STARFIRE BISHOUJO STATUE 2nd Edition

商品名

DC COMICS美少女 スターファイア 2nd Edition

Price

8,800 JPY

価格

8,800 円(税込)

SERIES

作品

DC UNIVERSE

Month of Release

Apr. 2019

発売月

2019年04月

Scale

スケール

1/7

Product Size

Total Height 215mm

製品サイズ

全高 約215mm

Specification

Pre-Painted PVC Figure

製品仕様

PVC塗装済み完成品フィギュア

Material

PVC(Phthalate ester-free), ABS

素材

PVC(非フタル酸)・ABS

Sculptor

Hogarii (Jetstream)

原型製作

ホガリー (ジェットストリーム)