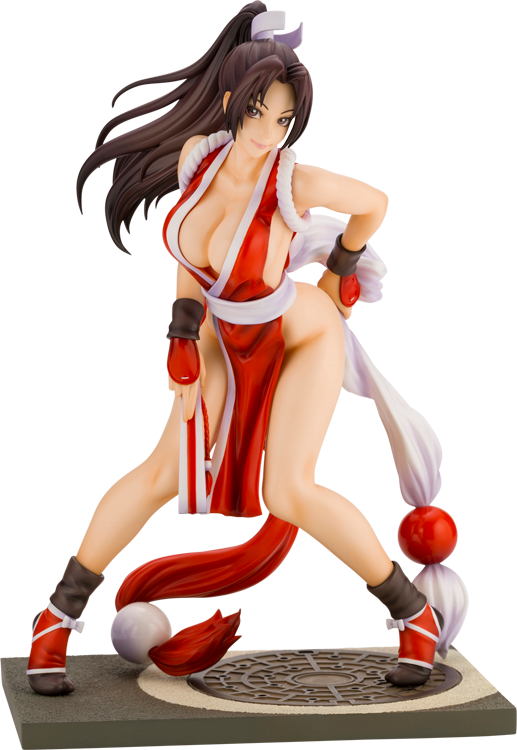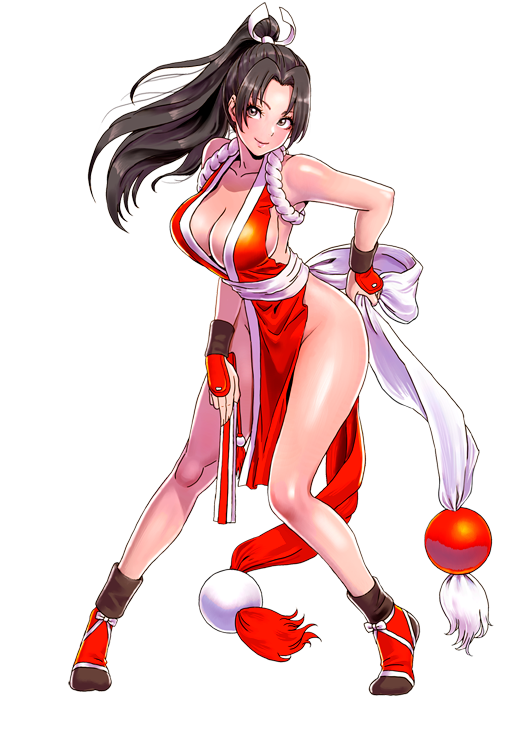 BISHOJO
SERIES

illustration by

Shunya Yamashita
©SNK CORPORATION ALL RIGHTS RESERVED.
CONCEPT
コンセプト
​​対戦格闘ゲーム『ザ・キング・オブ・ファイターズ』シリーズの最高傑作との呼び声も高いドリームマッチ『KOF'98』より女性格闘家チームの不知火舞がBISHOUJOシリーズへ初参戦!
イラストレーター 山下しゅんや氏がこのフィギュアの為だけに描き上げた魅惑のくのいちが、原型師 藤本圭紀氏の手により立体化されました。
紅白の​くのいちの​装束​に包まれた、は​ちきれんばかりの健康的な上半身に始まり、
背後の帯と臀部の​絶妙な​バランス感​、そして​​露になった太ももからひざ裏にかけての​身体の美しい​ラインなど​、
​あらゆる角度からじっくり見て欲しい造形物となってあなたのお部屋に炸裂します。
台座は、日本の大阪は江坂にかつて存在したSNK本社前を再現したと​いう逸話もあるJAPAN STREETステージの高架下の路面を再現。
本フィギュアをはじめ、今やほぼすべてのコンソール、スマートフォン、パソコンでコンテンツを楽しむことができるKOFワールドに、
ぜひ足を踏み入れその魅力に浸ってください。
※画像は試作品です。実際の商品とは多少異なる場合がございます。
Mai Shiranui from the female fighter team of THE KING OF FIGHTERS '98, a game often praised as the best masterpiece of the "The King of Fighters" series, joins the BISHOUJO series for the very first time!

This gorgeous kunoichi drawn by illustrator Shunya Yamashita just for this figure has been made into a figure by sculptor, Yoshiki Fujimoto.

Starting with a healthy upper body, a back belt well balanced with her hips, and her beautiful bodyline down to her thighs and the back of her knees, are all wrapped in a red and white kunoichi costume. It's a statue that will definitely stand out in your room and can be enjoyed from any angle!

The base is designed after the road under an overpass in a stage from the game called JAPAN STREET. This stage is said to be the view of Esaka of Osaka, Japan, where SNK headquarters used to be.

Take a step and immerse yourself in the KOF world, where you can enjoy content on almost all consoles, smartphones, and PC, starting with this figure.
PROTOTYPES SHOWN, PENDING LICENSOR APPROVAL. FINAL PRODUCT MAY VARY. CONCEPT ART SHOWN PENDING LICENSOR APPROVAL.
SPEC
製品情報
Product Name

SNK THE KING OF FIGHTERS '98 MAI SHIRANUI BISHOUJO STATUE

商品名

SNK美少女 不知火舞 —THE KING OF FIGHTERS '98—

Price

14,300 JPY

価格

14,300 円(税込)

SERIES

作品

THE KING OF FIGHTERS '98

Month of Release

Aug. 2022

発売月

2022年08月

Scale

スケール

1/7

Product Size

Total Height 210mm

製品サイズ

全高約210mm(台座込)

Specification

Pre-Painted PVC Figure

製品仕様

PVC塗装済み完成品フィギュア

Material

PVC(phthalate ester-free)・ABS

素材

PVC(非フタル酸)・ABS

Sculptor

Yoshiki Fujimoto

原型製作

藤本圭紀