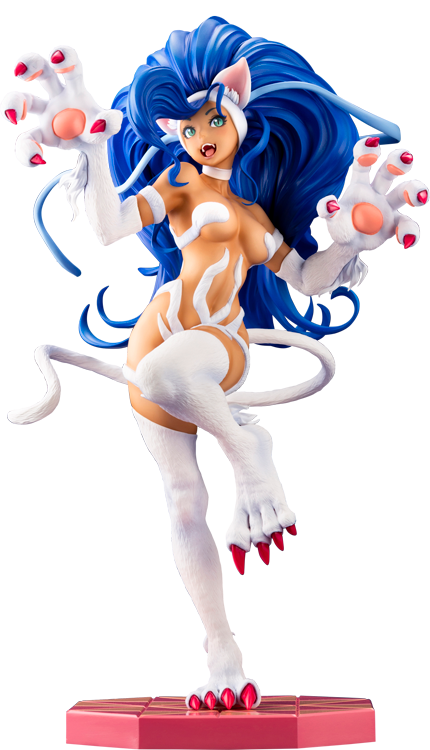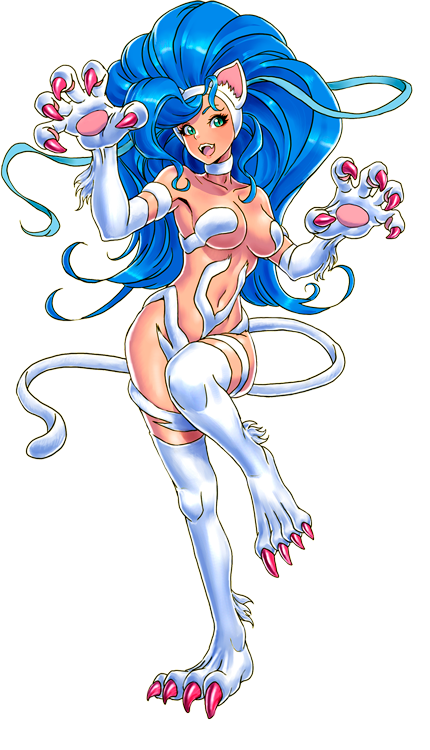 BISHOJO
SERIES

illustration by

Shunya Yamashita
©CAPCOM CO., LTD. ALL RIGHTS RESERVED. "Vampire" is a registered trademark of TEZUKA PRODUCTION CO., LTD. This trademark is licensed by TEZUKA PRODUCTION CO., LTD.
CONCEPT
コンセプト
BISHOUJOシリーズに待望の「ヴァンパイア」シリーズがラインナップ!!
天真爛漫、底抜けに明るいキャットウーマン、フェリシアを山下しゅんや氏が描き下ろし!
元気いっぱいの無邪気なポーズでBISHOUJOシリーズに仲間入りです。
ぷにぷに肉球にふわふわな毛といった「可愛らしさ」、筋肉質なボディに、鋭い爪が光る大きな手足から覗く「凶暴さ」!対称的な魅力が共存した逸品です。ピンク色の可愛いベースは、ゲーム中のステージをイメージ。BISHOUJOシリーズならではのアレンジを加えた、キュートで危険な魅力たっぷりなアイテムです。続くシリーズ第3弾は「リリス」!どうぞご期待ください。
※画像は試作品です。実際の商品とは多少異なる場合がございます。 ※髪を支える支柱が付属します。支柱がなくても本体は安定しますが、長期展示の際等にお好みでご利用ください。
Based on an original illustration by Shunya Yamashita, the innocent and overwhelmingly cheerful catwoman from Darkstalkers, Felicia is here!

With an energetic and playful pose, Felicia is now joining the BISHOUJO series.
Her squishy toe beans and fluffy fur show off the catwoman's cute side, while her toned muscles and the sharp claws extending from her hands and feet give you a glimpse into her ferocious side. This detailed statue perfectly captures the character's duality.
The statue's cute pink base also resembles a game stage.
In addition to the usual BISHOUJO charm, this statue is a unique piece that is both adorable and deadly. Be sure to look forward to the next character coming to the series, Lilith!
PROTOTYPES SHOWN, PENDING LICENSOR APPROVAL. FINAL PRODUCT MAY VARY. CONCEPT ART SHOWN PENDING LICENSOR APPROVAL. A supporting prop for the hair is included. While the model can stand alone, the prop is recommended when displaying for long periods of time.
SPEC
製品情報
Product Name

DARKSTALKERS FELICIA BISHOUJO STATUE

商品名

ヴァンパイア美少女 フェリシア

Price

15,400 JPY

価格

15,400 円(税込)

SERIES

DARKSTALKERS

作品

ヴァンパイア

Month of Release

Sep. 2022

発売月

2022年09月

Scale

スケール

1/7

Product Size

Total Height 260mm

製品サイズ

全高約260mm(台座込み)

Specification

Pre-Painted PVC Figure

製品仕様

PVC塗装済み完成品フィギュア

Material

PVC(phthalate ester-free)・ABS

素材

PVC(非フタル酸)・ABS

Sculptor

ke(comaccow)

原型製作

ke(小抹香)