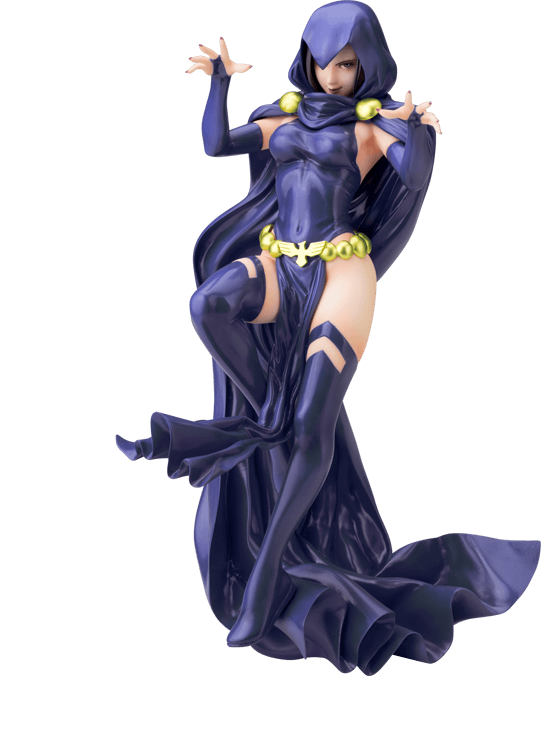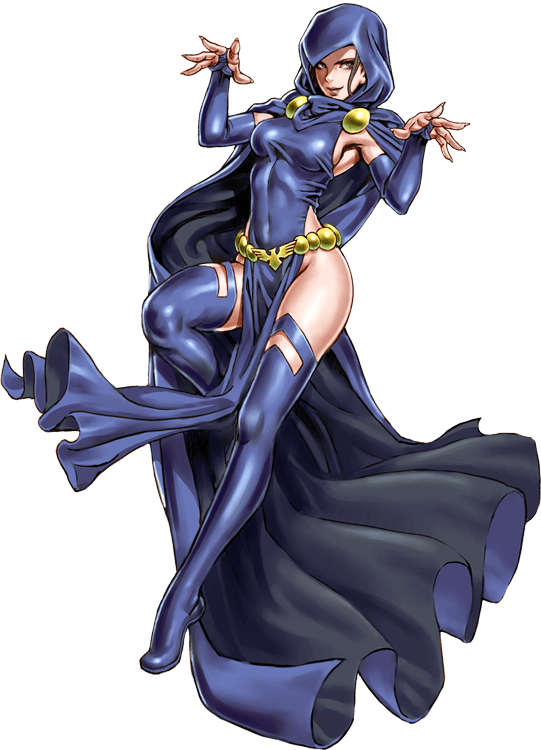 BISHOJO
SERIES

illustration by

Shunya Yamashita
TEEN TITANS and all related characters and ements © & ™ DC Comics. (s20)
CONCEPT
コンセプト
DCコミックス「ティーン・タイタンズ」よりレイブンが装いも新たに再登場!
レイブンは異世界アザラス出身の魔法使い。呪文を唱えて地球を守るス―パーヒロイン!
謎多き彼女が、山下しゅんや氏の手によってより妖艶な魅力を兼ね備えた姿となりました。
ふわりと浮かぶ姿を原型師ホガリー(ジェットストリーム)氏の手により立体化!繊細なマントの表情や、しなやかな指先までこだわった造形に注目です。
発売中の「DC COMICS美少女 スターファイア」と並べれば、「ティーン・タイタンズ」がチームアップ!
※本商品は、2015年の初回発売から、パッケージデザイン、フィギュア本体カラーを変更した再生産です。
※画像は試作品です。実際の商品とは多少異なる場合がございます。
This 2015 BISHOUJO statue is back by popular demand!

Demons and evil doers beware! Raven is ready for action as she floats in the air, hands outstretched before her to conjure eldritch energies. The Teen Titan wears her classic costume with thigh high boots, bodysuit with long tabard, detached sleeves anchored at the middle finger, and a massive swirling cloak with pointed hood. The updated 2nd edition of the statue features a deep purple costume, which highlights the gold accents on her shoulders and her detailed belt. Sculpted by Hogarii (Jetstream), the flowing movement of the demonic heroine's clothing gives the statue a life of its own as well as making it look like Raven is floating above your shelf.

With a new color scheme and package design, this updated BISHOUJO statue is perfect for displaying alongside the original or 2nd edition of the DC COMICS STARFIRE BISHOUJO STATUE!
PROTOTYPES SHOWN, PENDING LICENSOR APPROVAL. FINAL PRODUCT MAY VARY. CONCEPT ART SHOWN PENDING LICENSOR APPROVAL.
SPEC
製品情報
Product Name

DC COMICS RAVEN BISHOUJO STATUE 2nd Edition

商品名

DC COMICS美少女 レイブン 2nd Edition

Price

9,350 JPY

価格

9,350 円(税込)

SERIES

作品

DC UNIVERSE

Month of Release

May. 2019

発売月

2019年05月

Scale

スケール

1/7

Product Size

Total Height 235mm

製品サイズ

全高 約235mm

Specification

Pre-Painted PVC Figure

製品仕様

PVC塗装済み完成品フィギュア

Material

PVC(Phthalate ester-free), ABS

素材

PVC(非フタル酸)・ABS

Sculptor

Hogarii (Jetstream)

原型製作

ホガリー (ジェットストリーム)