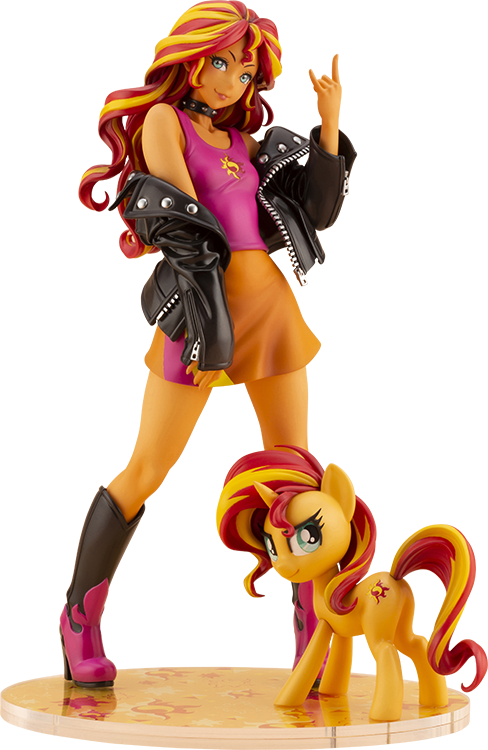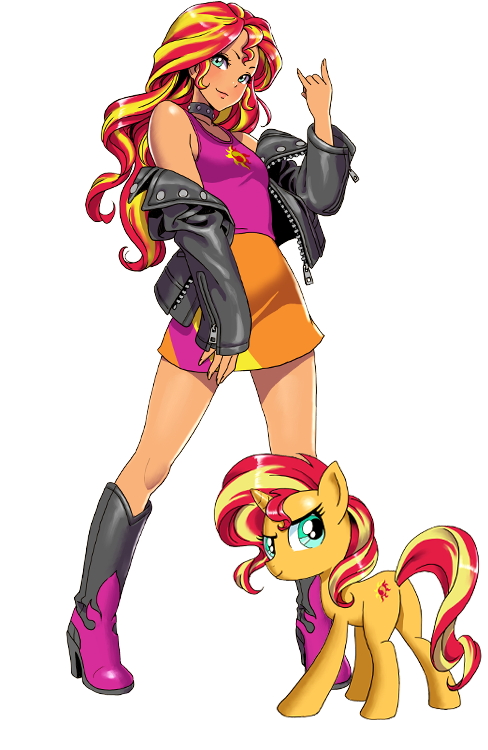 BISHOJO
SERIES

illustration by

Shunya Yamashita
MY LITTLE PONY and all related characters are trademarks of Hasbro and are used with permission. © 2020 Hasbro. All Rights Reserved. Licensed by Hasbro.
CONCEPT
コンセプト
自分の道を追い求め、キャンタロットを去ったトワイライトスパークルの姉弟子、サンセットシマー!!
劇場版「マイリトルポニー:エクエストリア・ガールズ」での衝撃的な登場から、ポニーファンの心をつかんだ大人気キャラクター!
特徴的なカラーリングと、シルエットの再現にこだわったヘアスタイルは圧巻。
シリーズおなじみ、ポニー姿での目元を彩る立体造形された睫毛も健在です。
無骨なライダースを着崩し、不敵にほほ笑む姿は「トモダチの魔法」を知る前、それとも・・・・?
発売済の「トワイライトスパークル」これから発売される「プリンセスセレスティア」とも関係の深いキャラクター。集めれば「MY LITTLE PONY美少女」の世界観が広がります。
※画像は試作品です。実際の商品とは多少異なる場合がございます。
Princess Celestia's former student, Sunset Shimmer, who fled Canterlot to pursue her own path will now be joining the MY LITTLE PONY BISHOUJO lineup!

Sunset Shimmer is a very popular character who has captured the hearts of MY LITTLE PONY fans since her appearance in the My Little Pony: Equestria Girls film. From the distinctively colored hair and attention to detail in reproducing her silhouette, this statue stays true to the original character design.

Like the previous MY LITTLE PONY BISHOUJO statues that were previously released, the pony's eyelashes add a lot of life to the overall statue.

Sunset Shimmer can be seen donning her rider jacket with a fearless smile across her face. Is this the rendition of Sunset Shimmer before she learned about the magic of friendship? Or maybe this shows Sunset Shimmer after she has learned about "friendship". We leave that up to your imagination!

Be sure to line this statue up Twilight Sparkle and Princess Celestia to expand the world of MY LITTLE PONY.

PROTOTYPES SHOWN, PENDING LICENSOR APPROVAL. FINAL PRODUCT MAY VARY. CONCEPT ART SHOWN PENDING LICENSOR APPROVAL.
SPEC
製品情報
Product Name

MY LITTLE PONY SUNSET SHIMMER BISHOUJO STATUE

商品名

MY LITTLE PONY美少女 サンセットシマー

Price

13,200 JPY

価格

13,200 円(税込)

SERIES

作品

MY LITTLE PONY

Month of Release

Mar. 2021

発売月

2021年03月

Scale

スケール

1/7

Product Size

Total Height 215mm

製品サイズ

全高 約215mm(台座込)

Specification

Pre-Painted PVC Figure

製品仕様

PVC塗装済み完成品フィギュア

Material

PVC(Phthalate ester-free), ABS,IRON

素材

PVC(非フタル酸)・ABS・鉄

Sculptor

TSUBAME,KOTOBUKIYA

原型製作

BISHOUJO姿:燕 ポニー姿:コトブキヤ