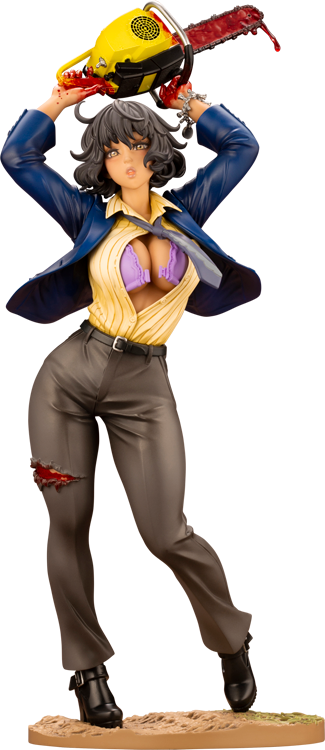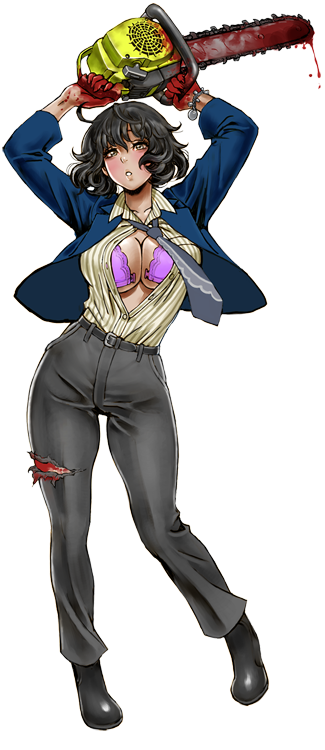 BISHOJO
SERIES

illustration by

Shunya Yamashita
The Texas Chainsaw Massacre TM & © 1974 VORTEX, INC./KIM HENKEL/TOBE HOOPER
CONCEPT
コンセプト
HORROR美少女史上初!「悪魔のいけにえ」から2作連続リリース!
ホラー映画の伝説的名作「悪魔のいけにえ」より、チェーンソーを振り回す印象的なシーン「チェーンソーダンス」をモチーフにBISHOJO化!
ボタンがはじけ飛び露わになった胸元や、ぴちぴちのパンツからはボリューム感たっぷりのボディが包まれている事が感じられます。
大きく振りかぶったチェーンソーは、先に発売される「HORROR美少女 レザーフェイス」と同様に劇中のモデルを解析し忠実に再現。
お尻や右脚太ももの衣装ダメージなど劇中の細かい設定をフィギュアでも踏襲しました。
さらに、彼女の狂気と不気味さを更に引き立たせる「プリティ・ウーマンマスク」を身に着けた頭部パーツも付属し、大きなタイヤ後が残る広大なテキサスの道路を模したベースと相まって作中クライマックスを想起させます。
黄色いエプロン姿の「HORROR美少女 レザーフェイス」と並べて「悪魔のいけにえ」の世界観をお楽しみください。
※画像は試作品です。実際の商品とは多少異なる場合がございます。
For the first time ever in the HORROR BISHOUJO lineup, two statues from "The Texas Chainsaw Massacre" will be released!

Leatherface from "The Texas Chainsaw Massacre" joins the Horror BISHOUJO lineup with the infamous "chainsaw dance" scene used as a motif!

From the bosoms that are exposed due to the bursting buttons, to the tight pants exposing the roundness of her bottom; you can practically see the sheer volume of her body being enveloped by articles of clothing.

The sculpt of the large chainsaw Leatherface can be seen swinging around uses the same sculpt data that was used in the previously released Leatherface BISHOUJO statue. The original bloody chainsaw design has been analyzed and faithfully reproduced as shown in the film.

The statue also follows the minute settings of the film, such as the damage that can be seen on the outfit around the buttock and the right thigh area.

The 'Pretty Woman Mask' face part is included with this statue, further enhancing her madness and eeriness. This statue comes with a base that exemplifies the vast Texas roads covered in large tire tracks, reminding fans of the climax of the film.

Line this statue up with the Leatherface BISHOUJO statue that comes complete with a yellow apron, and recreate the story of "The Texas Chainsaw Massacre" in your very own home.

PROTOTYPES SHOWN, PENDING LICENSOR APPROVAL. FINAL PRODUCT MAY VARY. CONCEPT ART SHOWN PENDING LICENSOR APPROVAL.
SPEC
製品情報
Product Name

THE TEXAS CHAIN SAW MASSACRE LEATHERFACE CHAINSAW DANCE BISHOUJO STATUE

商品名

HORROR美少女 レザーフェイス CHAINSAW DANCE

Price

14,080 JPY

価格

14,080 円(税込)

SERIES

THE TEXAS CHAIN SAW MASSACRE

作品

悪魔のいけにえ

Month of Release

Jan. 2021

発売月

2021年01月

Scale

スケール

1/7

Product Size

Total Height 250mm

製品サイズ

全高 約250mm

Specification

Pre-Painted PVC Figure

製品仕様

PVC塗装済み完成品フィギュア

Material

PVC(phthalate ester-free)・ABS

素材

PVC(非フタル酸)・ABS

Sculptor

TSUBAME

原型製作

燕