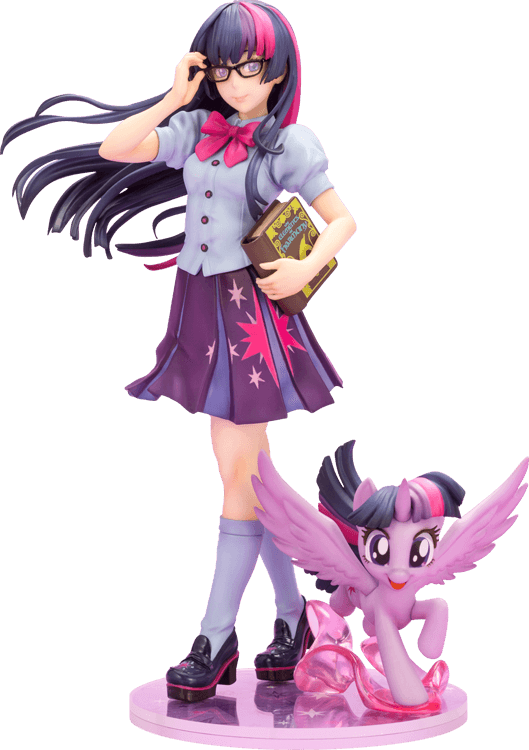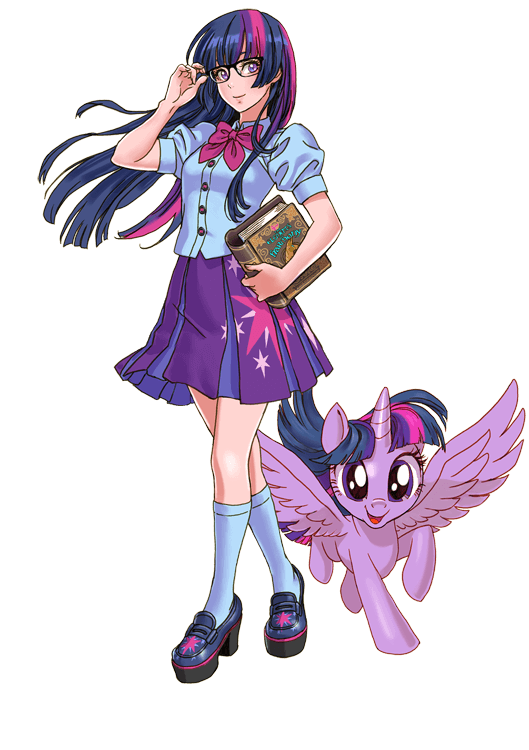 BISHOJO
SERIES

illustration by

Shunya Yamashita
MY LITTLE PONY and all related characters are trademarks of Hasbro and are used with permission.
© 2020 Hasbro. All Rights Reserved. Licensed by Hasbro.
CONCEPT
コンセプト
第2弾は主人公のトワイライトスパークル!
アメリカで社会現象を巻き起こしたあの「MY LITTLE PONY」のBISHOUJOシリーズにラインナップ!
真面目で優等生な主人公、トワイライトスパークルが、シリーズおなじみ山下しゅんや氏による描き下ろしイラストでBISHOUJOになりました。
「エクエストリアガールズ」での姿をベースに、スクールガール風のコーディネートでアレンジ!
特徴的なロングヘアも軽やかに再現。
メガネにかけた指先からも、彼女の優しさや繊細さが伝わってきます。
ふわりと降り立つポニー姿の愛らしさからも目が離せません!
シルエットこだわり造形しました。
立体造形で再現された、長い睫毛は必見です!
第3弾は「フラッターシャイ」!個性豊かなポニー達を、ぜひ集めて下さいね♪
※画像は試作品です。実際の商品とは多少異なる場合がございます。
Characters from the American cultural phenomenon MY LITTLE PONY are joining the BISHOUJO series!

The next character to join the lineup is the serious and studious protagonist of the series. Twilight Sparkle has been beautifully rendered into the BISHOUJO style by BISHOUJO series illustrator Shunya Yamashita. Based on her human appearance in Equestria Girls, the BISHOUJO rendition of Twilight Sparkle wears a stylish school girl inspired outfit. The BISHOUJO's iconic long straight hair is recreated flowing lightly around her. Twilight Sparkle's kindness and delicacy are expertly translated into statue form, down to the tips of the fingers perched lightly on the frame of her glasses.


The statue also includes a pony version of Twilight Sparkle, who is floating lightly at the BISHOUJO's feet. You won't be able to take your eyes off this adorable pony! The pony statue was sculpted with the utmost attention to detail, and her long eyelashes are a site to behold!
PROTOTYPES SHOWN, PENDING LICENSOR APPROVAL. FINAL PRODUCT MAY VARY. CONCEPT ART SHOWN PENDING LICENSOR APPROVAL.
SPEC
製品情報
Product Name

MY LITTLE PONY TWILIGHT SPARKLE BISHOUJO STATUE

商品名

MY LITTLE PONY美少女 トワイライトスパークル

Price

12,100 JPY

価格

12,100 円(税込)

SERIES

作品

MY LITTLE PONY

Month of Release

Aug. 2019

発売月

2019年08月

Scale

スケール

1/7

Product Size

Total Height 215mm

製品サイズ

全高 約215mm(台座込)

Specification

Pre-Painted PVC Figure

製品仕様

PVC塗装済み完成品フィギュア

Material

PVC(Phthalate ester-free), ABS

素材

PVC(非フタル酸)・ABS

Sculptor

ke(comaccow), Wataru Orita

原型製作

BISHOUJO姿:ke(小抹香) ポニー姿:折田航