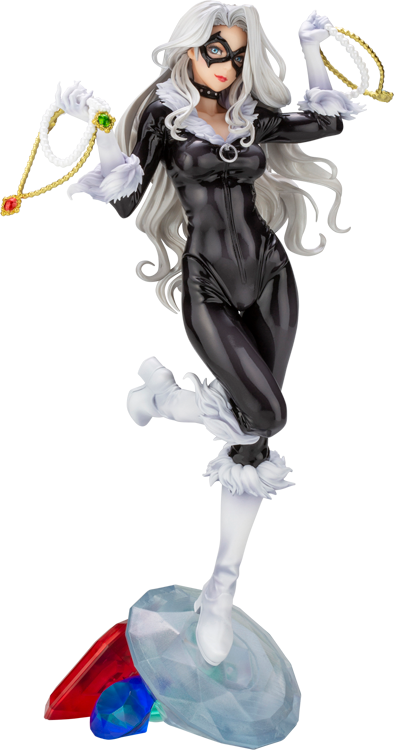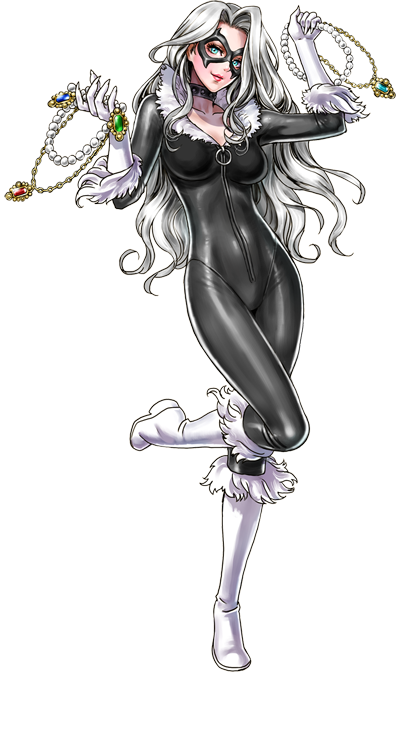 BISHOJO
SERIES

illustration by

Shunya Yamashita
© 2020 MARVEL
CONCEPT
コンセプト
ブラックキャットにご用心!
あのスパイダーマンの心も盗んだ怪盗、ブラックキャットが9年ぶりにBISHOUJOシリーズに登場!
山下しゅんや氏が描き下した新たなアートをke(小抹香)氏による緻密な造形で立体化しました。
美しい銀髪にはパール塗装、ボディスーツにはグロス塗装、そして足元のひときわ大きな宝石はメッキ加工を用いることで、一見シンプルなカラーリングながらもメリハリを持たせています。
獲物である宝石を両手にご満悦な表情でこちらを見つめる小悪魔な雰囲気に、あなたのハートも盗まれちゃうかも!
※画像は試作品です。実際の商品とは多少異なる場合がございます。
The thief who has even stolen Spiderman's heart, Black Cat, returns to the BISHOUJO series for the first time in 9 years!

Black Cat is reborn in a brand new illustration stylized by the beloved Shunya Yamashita and brought to life in stunning detail thanks to the craftsmanship of sculptor ke (comaccow).

Black Cat arrives with her beautiful silver hair painted in pearl and wearing a bodysuit that has been painted with a glossy coating. Extraordinarily large diamonds and jewels painted with special polish coat lie by her feet, giving off a simple yet vibrant finish.

As this little devil glances this way with her spoils of jewels in both hands and a look of satisfaction on her face, be careful not have your heart stolen away!
PROTOTYPES SHOWN, PENDING LICENSOR APPROVAL. FINAL PRODUCT MAY VARY. CONCEPT ART SHOWN PENDING LICENSOR APPROVAL.
SPEC
製品情報
Product Name

MARVEL BLACK CAT Steals Your Heart BISHOUJO STATUE

商品名

MARVEL美少女 ブラックキャット Steals Your Heart

Price

14,080 JPY

価格

14,080 円(税込)

SERIES

作品

MARVEL UNIVERSE

Month of Release

Dec. 2020

発売月

2020年12月

Scale

スケール

1/7

Product Size

Total Height 255mm

製品サイズ

全高 約255mm

Specification

Pre-Painted PVC Figure

製品仕様

PVC塗装済み完成品フィギュア

Material

PVC(phthalate ester-free)・ABS

素材

PVC(非フタル酸)・ABS

Sculptor

ke(comaccow)

原型製作

ke(小抹香)