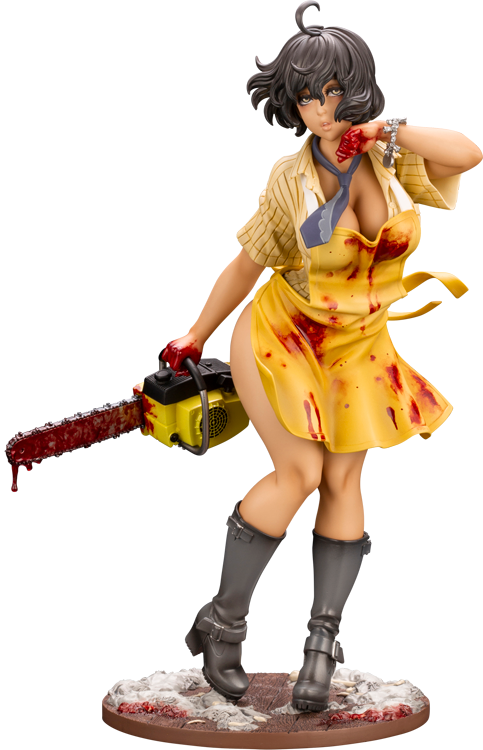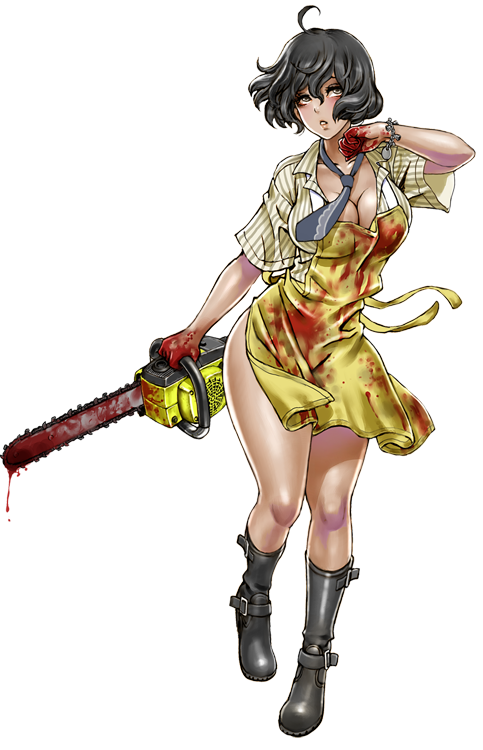 BISHOJO
SERIES

illustration by

Shunya Yamashita
The Texas Chainsaw Massacre TM & © 1974 VORTEX, INC./KIM HENKEL/TOBE HOOPER
CONCEPT
コンセプト
ホラー映画の金字塔より、ついに登場!
「悪魔のいけにえ」のレザーフェイスが山下しゅんや氏デザインによるBISHOUJOシリーズにラインナップ。
シャツだけを羽織ったボリューム感たっぷりの体躯はオリジナルのババ・ソーヤーの巨体を思わせ、ぼんやりと虚ろな目、赤く上気した目元や僅かに開いた口元の表情からは、彼女にはもう常識が通じないことを覗かせます。
黄色いエプロンに飛び散った血はツヤ塗装で血のぬめりを再現。同じく血に染まった、作品の象徴であるチェーンソーは劇中のモデルを解析しフィギュアに落とし込みました。
埃や羽毛が積もり、骨や歯が散らばるジオラマ風ベースがソーヤ―家の不気味な雰囲気を盛り立てます。
人皮で作ったマスクを着用した頭部パーツも付属し、本来の姿に近づいた状態も再現可能。静かな狂気をあなたのお手元に。
※画像は試作品です。実際の商品とは多少異なる場合がございます。
The highly anticipated character from the gold standard of horror movies finally joins the lineup!

Leatherface from "The Texas Chainsaw Massacre" joins the Horror BISHOUJO lineup! With beloved illustrator Shunya Yamashita's expert design, Leatherface's appearance has been fully revamped while retaining its original look!

This BISHOUJO rendition of Leatherface can be seen wearing only a shirt, pulling attention to Bubba Sawyer's large body which has been adapted into a voluptuous physique. Leatherface's hollow expression along with her reddened face and slightly open mouth show that she has lost all sense of control.

The blood splatters on the yellow apron have been painted with a glossy paint in order to reproduce the look of slimy blood. The original bloody chainsaw designーa symbolic weapon in "The Texas Chainsaw Massacre"ーwas perfectly turned into 3D data, and was then adjusted to the size of the BISHOUJO statue in order to retain the authenticity.

The base has been designed in a diorama-style with dust, feathers, and a scattering of bones and teeth which add to the eerie atmosphere of the Sawyer home.

A human skin masked face part is also included, allowing you to recreate Leatherface as close to the original form as possible.

Quiet madness is now at your fingertips.
PROTOTYPES SHOWN, PENDING LICENSOR APPROVAL. FINAL PRODUCT MAY VARY. CONCEPT ART SHOWN PENDING LICENSOR APPROVAL.
SPEC
製品情報
Product Name

THE TEXAS CHAINSAW MASSACRE LEATHERFACE BISHOUJO STATUE

商品名

HORROR美少女 レザーフェイス

Price

14,080 JPY

価格

14,080 円(税込)

SERIES

THE TEXAS CHAIN SAW MASSACRE

作品

悪魔のいけにえ

Month of Release

Nov. 2020

発売月

2020年11月

Scale

スケール

1/7

Product Size

Total Height 220mm

製品サイズ

全高 約220mm

Specification

Pre-Painted PVC Figure

製品仕様

PVC塗装済み完成品フィギュア

Material

PVC(phthalate ester-free)・ABS

素材

PVC(非フタル酸)・ABS

Sculptor

TSUBAME

原型製作

燕