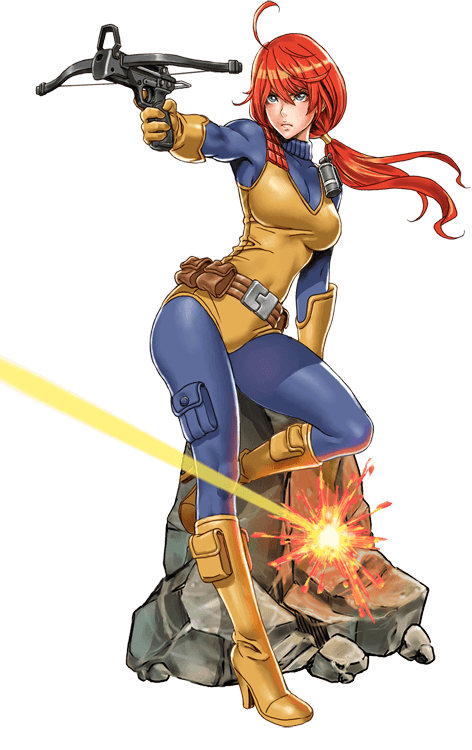 BISHOJO
SERIES

illustration by

Shunya Yamashita
G.I. JOE and all related characters are trademarks of Hasbro and are used with permission. © 2020 Hasbro. All Rights Reserved. Licensed by Hasbro.
CONCEPT
コンセプト
ハズブロの世界初のアクションフィギュアシリーズの「G.I.JOE」のヒーロー達と世界征服を企む
悪の軍団「コブラ」の多彩なキャラクターがコトブキヤのBISHOUJOアレンジで生まれ変わる!
第一弾は、世界各地のエキスパートからなる特別部隊、チーム「G.I.JOE」から、エージェント「スカーレット」をラインナップ。
本商品は、山下しゅんや氏がこのフィギュア化の為だけにコンセプトアートを描き下ろし!
敵の謀略活動から味方を防衛する役割のカウンターインテリジェンスを得意とし、
様々な武器の扱いに長けた彼女を、その特徴的な赤毛や、二重構造の特殊スーツはそのままに、
多数の最先端技術を保有するG.I.JOEとは何かを考え、特殊ボディスーツのディテールを追加するという独自解釈で更なるディテールアップを行いました。
また、オリジナルのアクションフィギュアと同じく、「XK-1 パワークロスボウ」が付属します。
原型は、その高い造形力とセンスで注目を集め続ける毒島孝牧(BUSUJIMAX)氏が手掛け、デジタル・スカルプティングによる美しい仕上がりで決定版を実現しました。
この後も、予定されている数多くのキャラクターが展開されるG.I.JOE美少女にご期待ください。Go!G.I.ジョー!!
※画像は試作品です。実際の商品とは多少異なる場合がございます。
The world's first series of action figures created by Hasbro, G.I. Joe follows a group of heroes in their fight against Cobra, an evil organization plotting to take over the world. In this new line of 1/7 scale statues, the colorful characters of G.I. JOE reborn in the style of Kotobukiya's BISHOUJO line!
The first character to join the series is an agent from the global elite special unit known as the G.I. JOE team, Scarlett! The statue is based on original art by Shunya Yamashita, which was specially created as concept art for the BISHOUJO statue!
A counter-intelligence expert who protects her allies from enemy schemes, Scarlett is proficient with a variety of weapons. Scarlett's signature red hair and two-piece bodysuit are recreated in stunning detail. While remaining faithful to the original G.I. JOE series, Scarlett's suit has also been upgraded to represent the advanced, high-tech equipment available to the elite G.I. JOE team, as is evident in the suit's unique and highly detailed texture. Additionally, like the original action figure, Scarlett comes with an XK-1 power crossbow.
Created through the power of technology, this high quality digitally sculpted statue leaves no detail untouched thanks to the expert hand of sculptor Takaboku Busujima (BUSUJIMAX).
The G.I. JOE BISHOUJO series will continue to grow with an extensive lineup of characters, so stay tuned for more updates! Yo JOE!!
PROTOTYPES SHOWN, PENDING LICENSOR APPROVAL. FINAL PRODUCT MAY VARY. CONCEPT ART SHOWN PENDING LICENSOR APPROVAL.
SPEC
製品情報
Product Name

G.I. JOE SCARLETT BISHOUJO STATUE

商品名

G.I. JOE美少女 スカーレット

Price

13,200 JPY

価格

13,200 円(税込)

SERIES

作品

G.I. JOE

Month of Release

Jul. 2019

発売月

2019年07月

Scale

スケール

1/7

Product Size

Total Height 220mm

製品サイズ

全高 約220mm(台座込)

Specification

Pre-Painted PVC Figure

製品仕様

PVC塗装済み完成品フィギュア

Material

PVC(Phthalate ester-free), ABS

素材

PVC(非フタル酸)・ABS

Sculptor

Takaboku Busujima (BUSUJIMAX)

原型製作

毒島孝牧(ブスジマックス)