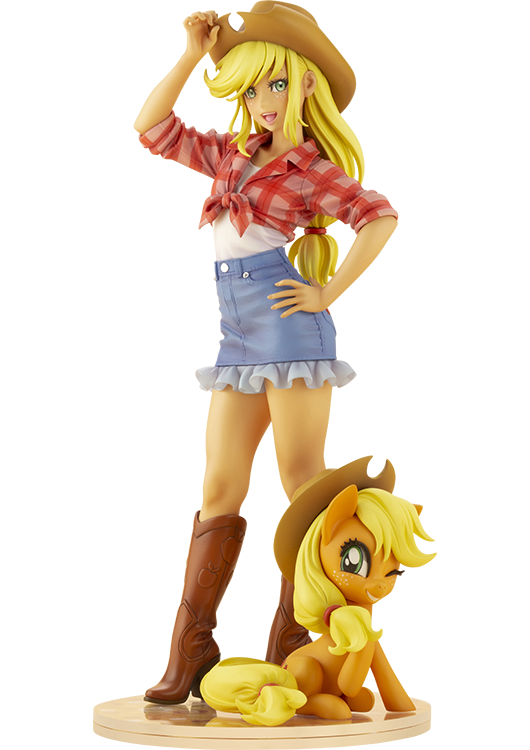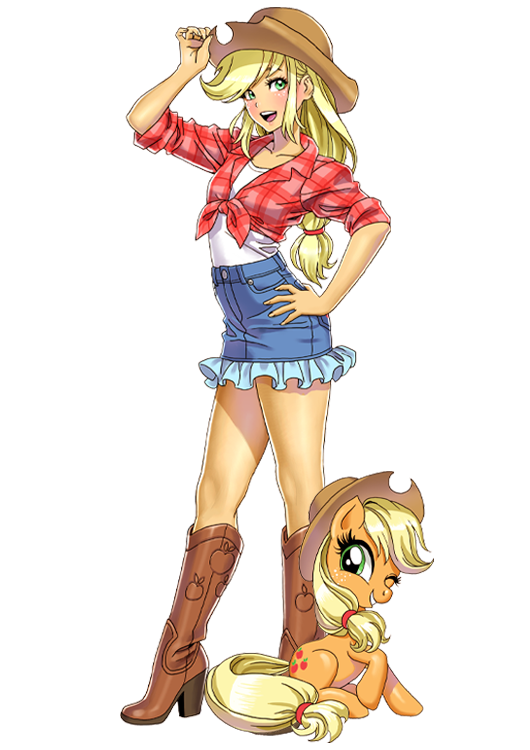 BISHOJO
SERIES

illustration by

Shunya Yamashita
MY LITTLE PONY and all related characters are trademarks of Hasbro and are used with permission. © 2020 Hasbro. All Rights Reserved. Licensed by Hasbro.
CONCEPT
コンセプト
ついにMY LITTLE PONY、MANE6が勢ぞろい!
コトブキヤ「MY LITTLE PONY美少女」シリーズ、MANE6の最後を飾るのはアップルジャック!
リンゴ農園をお手伝いするカントリーガールらしいデザイン満載のBISHOUJO姿は、
シリーズおなじみイラストレーター山下しゅんや氏の手により生まれました。
カウボーイハットに手をかけて得意げに笑いかけてくる姿は頼もしく、しっかり者で家族思いな彼女の優しさと強さを感じさせます。
チェックシャツ、デニムスカートやフリルは素材の違いを感じさせる造形。布の柔らかさや厚みが伝わってきます。ブーツに浮かび上がるリンゴの革彫刻がワンポイント♪
愛らしいシルエットにこだわったポニー姿にも注目!元気いっぱいなウィンクを、立体造形された睫毛が彩ります。
シリーズはMANE6で終わりではなく「サンセットシマ―」のラインナップが決定!今後の展開にもご期待下さい。
※画像は試作品です。実際の商品とは多少異なる場合がございます。
Characters from the American cultural phenomenon MY LITTLE PONY are joining the BISHOUJO series!

The last character to join the lineup is the lively Earth pony who works at Sweet Apple Acres: Applejack! Applejack has been beautifully rendered into the BISHOUJO style by BISHOUJO series illustrator Shunya Yamashita.

From the way she displays her cowgirl hat proudly to the world, to the way she flashes her warm smile, her kind, and family-oriented nature clearly shines through. Applejack's checkered shirt and denim skirt have been sculpted to look like they have been made with different materials. Her clothing, despite being made of harder material, almost looks like they are soft to the touch. Also, check out the adorable apple mark carved into her boots! ♪

This statue comes complete with a beautifully detailed pony that stays true to the original character design; look at the detail in Applejack's expression as she happily winks at everybody admiring her.

The MY LITTLE PONY BISHOUJO series does not end with just the Mane 6 ponies. Sunset Shimmer joins the popular MY LITTLE PONY BISHOUJO lineup! Stay tuned for more updates.


PROTOTYPES SHOWN, PENDING LICENSOR APPROVAL. FINAL PRODUCT MAY VARY. CONCEPT ART SHOWN PENDING LICENSOR APPROVAL.
SPEC
製品情報
Product Name

MY LITTLE PONY APPLEJACK BISHOUJO STATUE

商品名

MY LITTLE PONY美少女 アップルジャック

Price

13,200 JPY

価格

13,200 円(税込)

SERIES

作品

MY LITTLE PONY

Month of Release

Nov. 2020

発売月

2020年11月

Scale

スケール

1/7

Product Size

Total Height 220mm

製品サイズ

全高 約220mm(台座込)

Specification

Pre-Painted PVC Figure

製品仕様

PVC塗装済み完成品フィギュア

Material

PVC(phthalate ester-free)・ABS

素材

PVC(非フタル酸)・ABS

Sculptor

Yuzo,Takahi

原型製作

BISHOUJO姿:右藏 ポニー姿:タカヒ