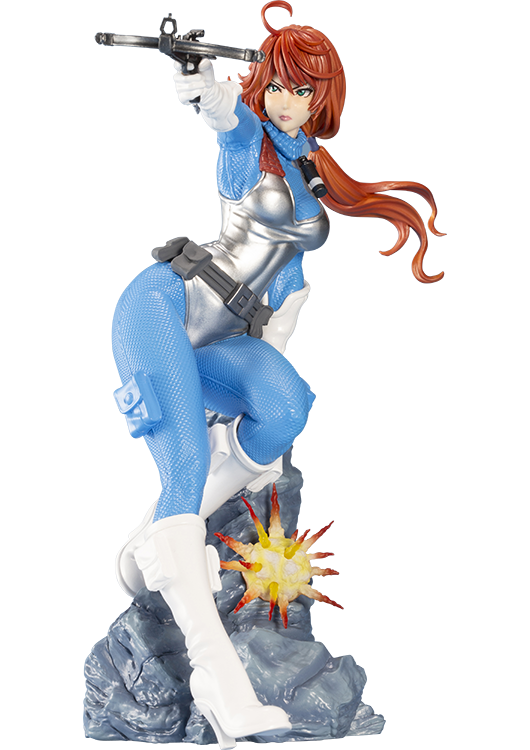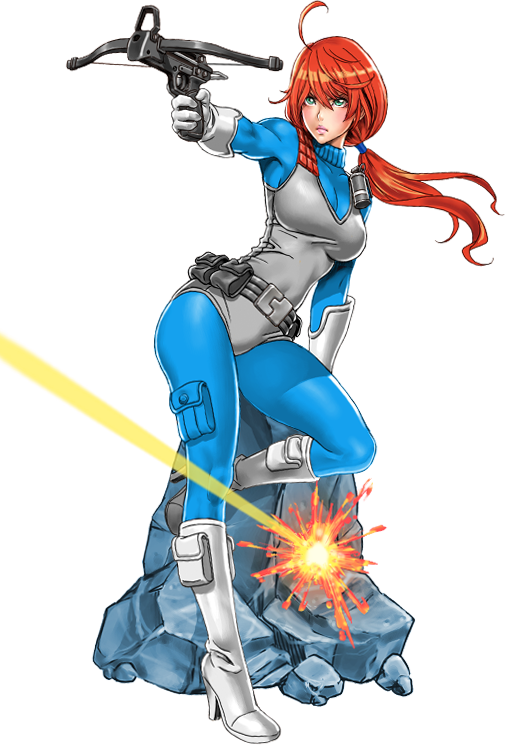 BISHOJO
SERIES

illustration by

Shunya Yamashita
G.I. JOE and all related characters are trademarks of Hasbro and are used with permission. © 2020 Hasbro. All Rights Reserved. Licensed by Hasbro.
CONCEPT
コンセプト
ハズブロの世界初のアクションフィギュアシリーズの「G.I. JOE」のヒーロー達と世界征服を企む悪の軍団「コブラ」の多彩なキャラクターがコトブキヤのBISHOUJOアレンジで生まれ変わる!
本限定版は、2008年に発売されたエージェント「スカーレット」のフライトジャケット姿のOGフィギュアにインスパイアを受け制作されたもので、ベースとなる爽やかなスカイブルーのスーツにひと際映えるボディスーツ部のシルバー、それを挟み込むように配置されたグローブとブーツのホワイトの配色で構築された空挺潜入任務Ver.としてドロップ。
同時発売の「バロネス25thアニバーサリーブルー限定版」の蒼いバロネスと並べてディスプレイすると一層引き立つカラーリングになります。
原型は、その高い造形力とセンスで注目を集める毒島孝牧(BUSUJIMAX)氏のデジタル・スカルプティング。美しい仕上がりとなった決定版です。
※画像は試作品です。実際の商品とは多少異なる場合がございます。
The world's first series of action figures created by Hasbro, G.I. JOE follows a group of heroes in their fight against Cobra, an evil organization plotting to take over the world.

An exclusive 2008 variant of Agent Scarlett that dropped into the G.I. JOE action figure line in a special aerial assault version joins the licensed Kotobukiya G.I. JOE BISHOUJO line! The base and suit are a refreshing sky-blue, and a conspicuous silver lining adorns her body suit. Her white fitted gloves and boots also perfectly compliment her suit.

Display Scarlett alongside the exclusive Baroness 25th Anniversary Blue Color Bishoujo Statue for a uniform colored-look.

Created through the power of technology, this high quality digitally sculpted limited edition statue leaves no detail untouched thanks to the expert hand of sculptor Takaboku Busujima (BUSUJIMAX).

PROTOTYPES SHOWN, PENDING LICENSOR APPROVAL. FINAL PRODUCT MAY VARY. CONCEPT ART SHOWN PENDING LICENSOR APPROVAL.
SPEC
製品情報
Product Name

G.I. JOE SCARLETT SKY-BLUE COLOR BISHOUJO STATUE

商品名

G.I.JOE美少女 スカーレット スカイブルー 限定版

Price

13,200 JPY

価格

13,200 円(税込)

SERIES

作品

G.I.JOE

Month of Release

Jul. 2020

発売月

2020年07月

Scale

スケール

1/7

Product Size

Total Height 220mm

製品サイズ

全高 約220mm(台座込)

Specification

Pre-Painted PVC Figure

製品仕様

PVC塗装済み完成品フィギュア

Material

PVC(Phthalate ester-free), ABS

素材

PVC(非フタル酸)・ABS

Sculptor

Takaboku Busujima(BUSUJIMAX)

原型製作

毒島 孝牧(ブスジマックス)