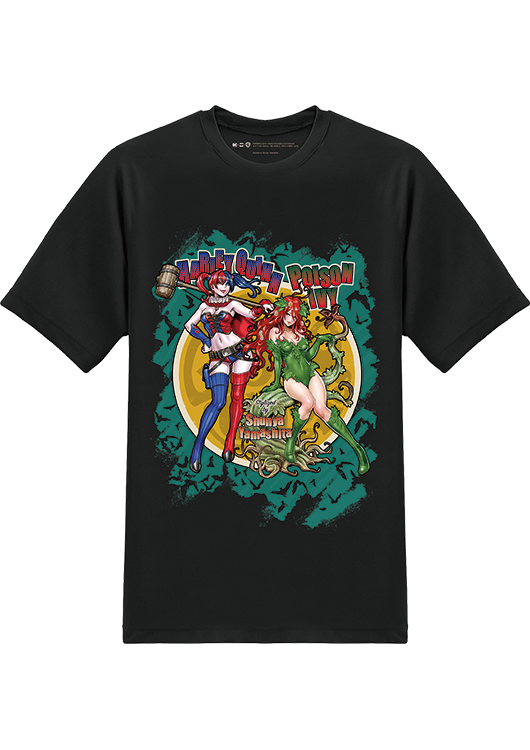 BISHOJO
SERIES

BISHOJO SERIES

illustration by Shunya Yamashita
BATMAN and all related characters and elements © & ™ DC Comics. (s​20​)
CONCEPT
コンセプト
2019年に10周年を迎えたBISHOUJOシリーズからTシャツが登場!
BISHOUJO化されたDC COMICSの人気ヴィラン、ハーレイ・クインとポイズン・アイビーがクールにデザインされた着やすいデザイン。サイズ展開はUSサイズでKIDS、S、M、L、XLサイズの展開となります。
※海外イベント限定商品です。日本国内での販売は未定です。
2019 marks the 10th anniversary of the BISHOUJO series. To commemorate this special occasion, BISHOUJO t-shirts are now available for purchase!

MY LITTLE PONY BISHOUJO series t-shirts are available now at select events outside of Japan! ♪ The t-shirt's design showcases the BISHOUJO versions of two popular DC COMICS villains: Harley Quinn and Poison Ivy. This fashionable t-shirt comes in US size S, M, L, and XL.
*This product is only available at select events outside of Japan. This product is not currently available to purchase within Japan.
SPEC
製品情報
Product Name

DC COMICS HARLEY QUINN & POISON IVY T-SHIRT BLACK

商品名

DC COMICS美少女 ハーレイ・クイン&ポイズン・アイビー Tシャツ BLACK

Price

S,M,L,XL:$29.99 KIDS:$19.99

価格

SERIES

作品

DC UNIVERSE

Month of Release

Oct. 2019

発売月

2019年10月

Scale

スケール

NON

Product Size

KIDS,S,M,L,XL

製品サイズ

KIDS,S,M,L,XL

Specification

Other goods

製品仕様

その他グッズ

素材

原型製作