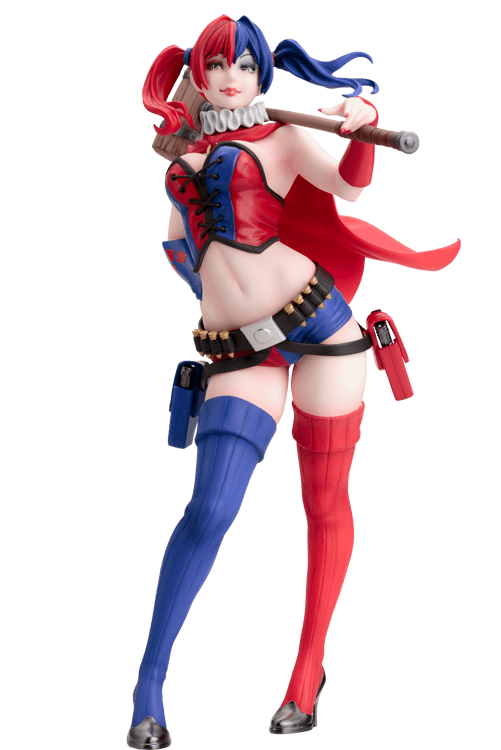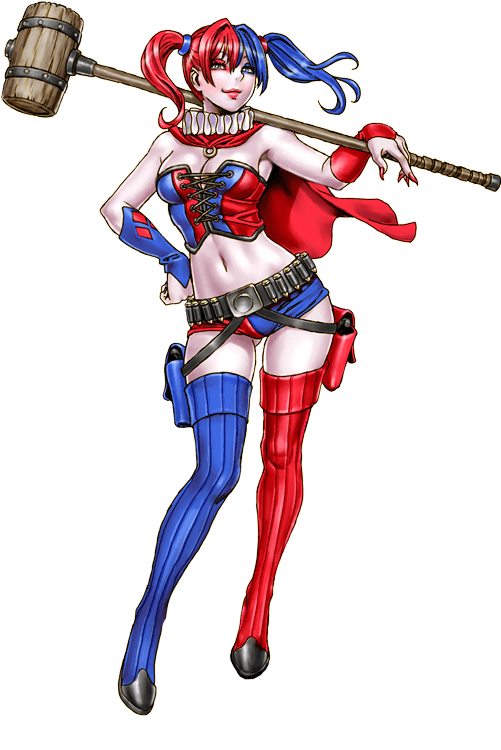 BISHOJO
SERIES

illustration by

Shunya Yamashita
BATMAN and all related characters and elements © & ™ DC Comics.(s20)
CONCEPT
コンセプト
「ハーレイ・クインの華麗なる覚醒 BIRDS OF PREY」に登場!!公開に合わせてリニューアル再生産!!
DC COMICS屈指の人気ヴィラン、ハーレイ・クインが装い新たに再登場!
個人誌スタートに続き、実写映画「スーサイド・スクワッド」への登場で更に人気が高まったハーレイ・クイン!
2度目のBISHOUJO化となる本作は、NEW52!版赤×青2トーンのコスチュームでのフィギュア化です!
山下しゅんや氏によるデザインで、狂気とイタズラ心に満ちた彼女がより危険に、よりセクシーになりました。
巨大ハンマーをかついだ自信満々なポーズはどこから見て迫力満点!ぜひお手元でお楽しみ下さい。
※画像は試作品です。実際の商品とは多少異なる場合がございます。
※本製品は今回の再生産に伴い、台座とパッケージのリニューアルおよび、JAN、品番、価格が変更となっております。
Growing in popularity with her own comic series and appearing in the live-action movie "Suicide Squad," the DC Comics villain, Harley Quinn, has returned to the Kotobukiya BISHOUJO line!

For her second design within the BISHOUJO series, Harley appears in her The New 52 red and blue costume. As designed by the BISHOUJO series illustrator Shunya Yamashita, Harley Quinn appears even more dangerous and sexy with her heart full of madness and mischief in her pose of confidence shouldering her oversized hammer. Be sure to add this flamboyant super-villain to your collection!

While this is a reproduction item, you can look forward to seeing a renewed base and package.

PROTOTYPES SHOWN, PENDING LICENSOR APPROVAL. FINAL PRODUCT MAY VARY. CONCEPT ART SHOWN PENDING LICENSOR APPROVAL.
SPEC
製品情報
Product Name

DC COMICS HARLEY QUINN NEW52 ver. 2nd Edition BISHOUJO STATUE

商品名

DC COMICS美少女 ハーレイ・クイン NEW52 ver. 2nd Edition

Price

10,780 JPY

価格

10,780 円(税込)

SERIES

作品

DC UNIVERSE

Month of Release

Aug. 2020

発売月

2020年08月

Scale

スケール

1/7

Product Size

Total Height 225mm

製品サイズ

全高 約225mm(台座込)

Specification

Pre-Painted PVC Figure

製品仕様

PVC塗装済み完成品フィギュア

Material

PVC(Phthalate ester-free), ABS

素材

PVC(非フタル酸)・ABS

Sculptor

M.I.C.

原型製作

株式会社エムアイシー