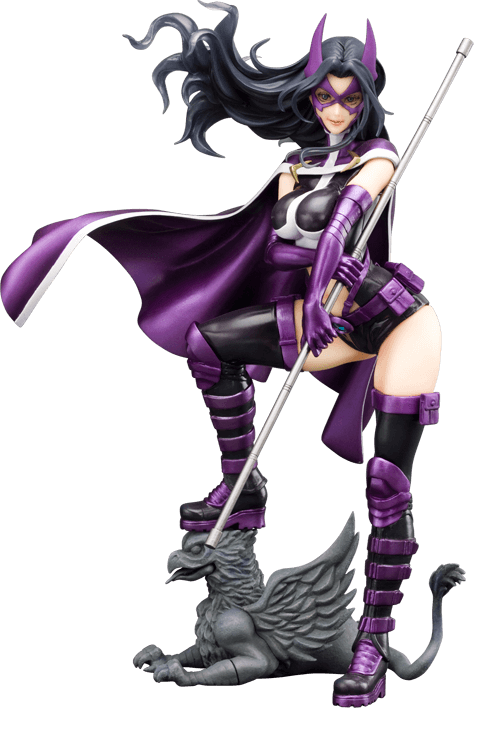 BISHOJO
SERIES

illustration by

Shunya Yamashita
BATMAN and all related characters and elements © & ™ DC Comics.(s20)
CONCEPT
コンセプト
「ハーレイ・クインの華麗なる覚醒 BIRDS OF PREY」に登場!!公開に合わせてリニューアル再生産!!
幼い頃に両親を殺され、悪人どもに復讐を誓うゴッサムを守るビジランテ(自警団)の一人、ヘレナ・ベルティネリが、奇しくも同じ境遇を秘めるバットマンをモチーフに制作したコスチュームに身を包み変身。
生まれたのがダークナイトウーマンこと、ハントレス!
NEW52シリーズではアース2のバットマンの娘というオリジンで再始動、更なる人気を獲得するであろう彼女を今回は90年代の名作「BATMAN: HUSH」に登場したコスチューム姿を元にアレンジ、イラストレーター山下しゅんや氏による美少女化のテイストを加えて生まれ変わらせました。
彼女が得意とするスタッフアーツ(棒術)の構えのポージングで、悪は絶対に許さない妥協なき性格を凛とした表情で再現しました。
また、ハントレスと同じ討伐部隊「バードオブプレイ」所属でチームメイトの「バットガール(オラクル)」とは対となるようなポージングになっており、同シリーズ「DC COMICS美少女 バットガール」を並べてゴッサムを彩る闇の騎士の共演を楽しめます。
※画像は試作品です。実際の商品とは多少異なる場合がございます。
※本製品は今回の再生産に伴い、台座とパッケージのリニューアルおよび、JAN、品番、価格が変更となっております。
After seeing her parents murdered as a young child, Helena Rosa Bertinelli swore to exact revenge and protect Gotham from its villains. Donning a costume with a similar motif as Batman, the vigilante Dark Knight Daughter, Huntress is born!

With Huntress's reappearance in the DC Universe in The New 52 with the origin as the daughter of Earth 2's Batman, she has since been gaining notice and popularity. Huntress is now reborn in an all-new BISHOUJO taste illustrated and stylized by the beloved illustrator, Shunya Yamashita. Huntress can be seen wearing her costume from the 2000's famous comic book story arc, "Batman: Hush".

In a pose showing off her ease in the bo staff arts (bojutsu), Huntress stands at the ready with a dignified expression showing that there is no compromise towards evil. Huntress has been sculpted to look perfect next to her teammate, Batgirl (Oracle) of the superhero team "Birds of Prey," so be sure to create a display with these two characters looking down and watching over Gotham.

You can also look forward to more major and minor characters from the series coming to the DC COMICS BISHOUJO series.

While this is a reproduction item, you can look forward to seeing a renewed base and package.

PROTOTYPES SHOWN, PENDING LICENSOR APPROVAL. FINAL PRODUCT MAY VARY. CONCEPT ART SHOWN PENDING LICENSOR APPROVAL.
SPEC
製品情報
Product Name

DC COMICS HUNTRESS 2nd Edition BISHOUJO STATUE

商品名

DC COMICS美少女 ハントレス 2nd Edition

Price

9,350 JPY

価格

9,350 円(税込)

SERIES

作品

DC UNIVERSE

Month of Release

Aug. 2020

発売月

2020年08月

Scale

スケール

1/7

Product Size

Total Height 250mm

製品サイズ

全高 約250mm

Specification

Pre-Painted PVC Figure

製品仕様

PVC塗装済み完成品フィギュア

Material

PVC(Phthalate ester-free), ABS

素材

PVC(非フタル酸)・ABS

Sculptor

Masahiro Takahashi(GILL GILL)

原型製作

高橋昌宏(GILL GILL)