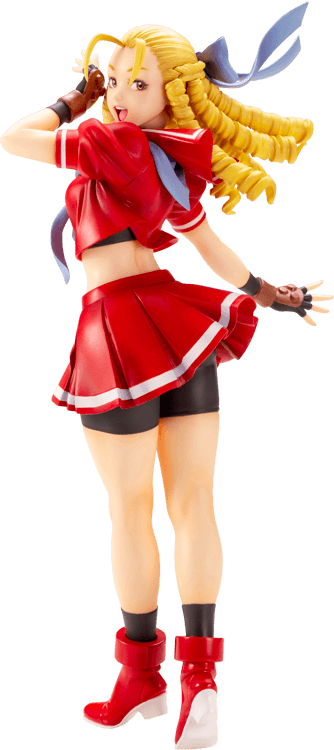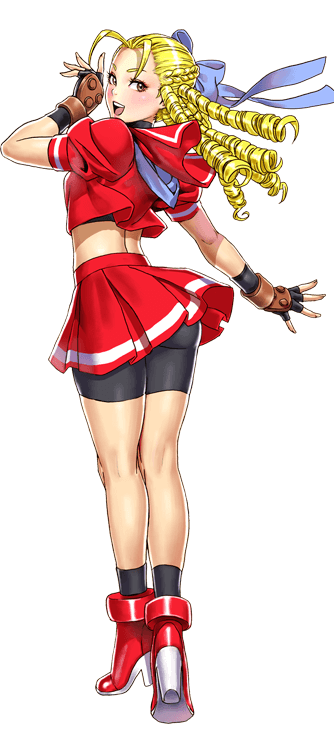 BISHOJO
SERIES

illustration by

Shunya Yamashita
© CAPCOM U.S.A., INC. ALL RIGHTS RESERVED.
CONCEPT
コンセプト
「この私、神月かりんこそ、真の強者ですわ!」
生まれながらのウルトラお嬢様である彼女を、朗らかな高笑いが聞こえてきそうなポーズでBISHOUJO化!
特徴的な縦ロールにしっかり編みこんだ金髪、指先まで美しい立ち姿では、彼女の淑女である一面、
柔らかくも筋肉の存在を感じさせる造形では、誇り高い格闘家である一面と、彼女の豊かなキャラクター性をフィギュアの中で表現しました。
今にも「神月流格闘術」を繰り出されてきそうな迫力があります。
2019年10月に発売される「STREET FIGHTER美少女 さくら -ROUND 2-」と並べれば、
良きライバルである二人の世界観を更にお楽しみ頂けます。
※画像は試作品です。実際の商品とは多少異なる場合がございます。また、ベースは開発中のものです。
Karin dons the BISHOUJO statue line with her "ojousama" (snobbish rich girl) presence, depicted in her signature haughtily laughing pose!
This figure perfectly depicts Karin's notable characteristics from the detail in the curls of her always-perfect hair, to the sophistication and confidence in her stance and pose that can be seen all the way down to her fingertips. Karin is sculpted to showcase her muscular yet soft physique which depict her high combat abilities, while also staying true to her unique personality and physical attributes.
You can almost see her "Kanzuki-ryuu martial arts" fighting style that she had performed on her opponents prior to her ensuing laughter.
Line her up next to STREET FIGHTER BISHOUJO Sakura -ROUND 2- that will be released in December, 2019 to display both of the rivals!
"I, Karin Kanzuki, am the one with the real power!"
PROTOTYPES SHOWN, PENDING LICENSOR APPROVAL. FINAL PRODUCT MAY VARY. CONCEPT ART SHOWN PENDING LICENSOR APPROVAL.
SPEC
製品情報
Product Name

STREET FIGHTER KARIN BISHOUJO STATUE

商品名

STREET FIGHTER美少女 かりん

Price

10,780 JPY

価格

10,780 円(税込)

SERIES

作品

STREET FIGHTER

Month of Release

Nov. 2019

発売月

2019年11月

Scale

スケール

1/7

Product Size

Total Height 230mm

製品サイズ

全高 約230mm(台座込)

Specification

Pre-Painted PVC Figure

製品仕様

PVC塗装済み完成品フィギュア

Material

PVC(Phthalate ester-free), ABS

素材

PVC(非フタル酸)・ABS

Sculptor

Hogarii (Jetstream), KOTOBUKIYA

原型製作

ホガリー(ジェットストリーム)、製作協力:コトブキヤ