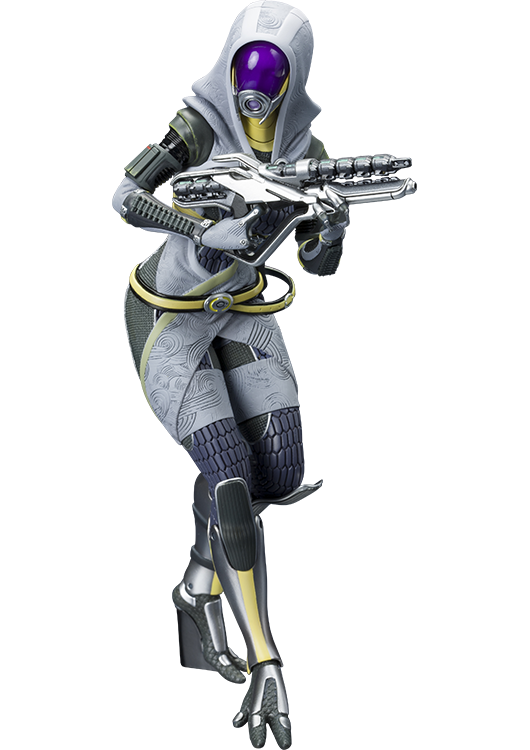 BISHOJO
SERIES

BISHOJO SERIES

illustration by Shunya Yamashita
© 2015 EA International (Studio and Publishing) Ltd. Mass Effect, Mass Effect logo, BioWare and BioWare logo are trademarks of EA International (Studio and Publishing) Ltd. EA and the EA logo are trademarks of Electronic Arts Inc. All other trademarks are the property of their respective owners.
CONCEPT
コンセプト
~TAKE EARTH BACK! 第3弾は銀河の癒し タリ・ゾラ~
2012年にPS3/Xbox360用ソフトとして発売され、 舞台と年代設定を変更した完全新作が2016年ホリデーシーズン発売予定のSFシューティング/アクションRPG『マスエフェクト』シリーズ。 その旧3部作にわたる活躍により、伝説となったノルマンディー号クルーから、 ご期待にお答えする形で第三弾「タリ・ゾラ」の限定版が登場。 本商品は、山下しゅんや氏がこのフィギュア化の為にコンセプトアートを描き下ろし!特徴的な顔と頭全体を覆うフルマスクとフード、 それと一体化し外気に触れない状態を保つ種族特有のボディスーツのディテールに加え、マスクの中には今もなお非公開となっている彼女の素顔の輪郭が、うっすらと浮かぶミステリアスな雰囲気も再現。 また、携行する「クォリアン・リーガー・カービン」ショットガンも初立体化となります。 本商品はBIOWARE STORE限定2,000個のリミテッドエディションです。
※画像は試作品です。実際の商品とは多少異なる場合がございます。 ※一部画像はイメージです。実際の商品に「MASS EFFECT美少女 タリ・ゾラ BIOWARE STORE限定版」以外の商品は付属しません。
A KOTOBUKIYA Japanese import! Mass Effect took the video game world by storm in 2007, giving players the chance to explore the galaxy as Commander Shepherd. The BioWare hit featured great sci-fi characters and action, spawning two massively popular sequels. Kotobukiya continues its line of Bishoujo statues from the Mass Effect series (after the alluring Liara T'soni and the female version of Commander Shepard) with the hauntingly beautiful TALI'ZORAH! You've never seen the Quarian Machinist look quite like this, based on a fantastic new character interpretation by master illustrator Shunya Yamashita. A member of Shepard's team hunting down geth while on her Pilgrimage, Tali'Zorah nar Rayya uses her knowledge of and proficiency with machines as well as her skills with pistols and shotguns. She joins the Bishoujo lineup wearing her iconic Quarian garb with a purple, black, and yellow bodysuit complete with intricate layers and different textures, a skirt, belts, a hood, and complex boots fitted to her uniquely-shaped legs and feet. The color palette is really striking with the bright yellow accents, and the alien's face is covered by a semi-opaque pink faceshield and respirator. Tali is captured sinuously walking forward, leaning over gracefully as she wields her Quarian Reegar Carbine. Tali'Zorah stands just over 9 inches tall (1/7 scale) on a special display base. Add her to your Mass Effect collection and display her next to the previously released Liara T'soni and Commander Shepard Bishoujo statues!
PROTOTYPES SHOWN, PENDING LICENSOR APPROVAL. FINAL PRODUCT MAY VARY. CONCEPT ART SHOWN PENDING LICENSOR APPROVAL.
SPEC
製品情報
Product Name

MASS EFFECT TALI'ZORAH BIOWARE STORE Exclusive Edition BISHOUJO STATUE

商品名

MASS EFFECT美少女 タリ・ゾラ BIOWARE STORE限定版

Price

8,580 JPY

価格

8,580 円(税込)

SERIES

作品

MASS EFFECT3

Month of Release

Dec. 2016

発売月

2016年12月

Scale

スケール

1/7

Product Size

Total Height 220mm

製品サイズ

全高 約220mm(台座込)

Specification

Pre-Painted PVC Figure

製品仕様

PVC塗装済み完成品フィギュア

Material

PVC(Phthalate ester-free), ABS

素材

PVC(非フタル酸)・ABS

Sculptor

Takaboku Busujima(BUSUJIMAX)

原型製作

毒島 孝牧(ブスジマックス)