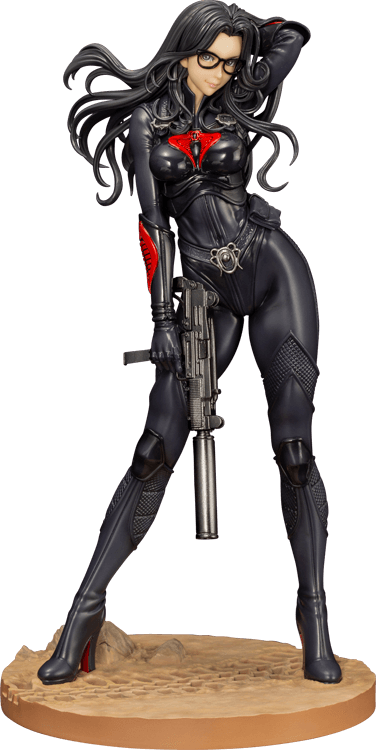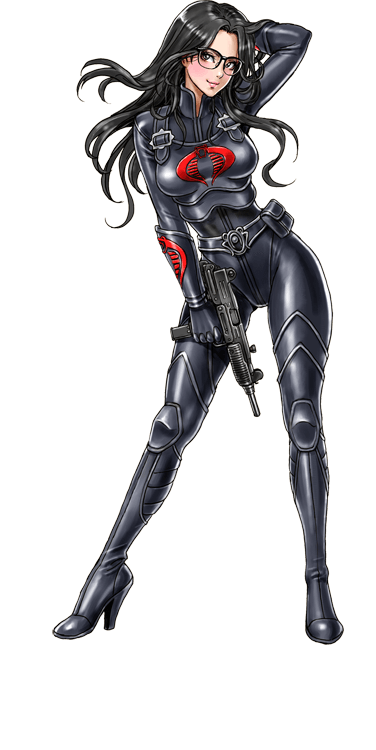 BISHOJO
SERIES

illustration by

Shunya Yamashita
G.I. JOE and all related characters are trademarks of Hasbro and are used with permission. © 2020 Hasbro. All Rights Reserved. Licensed by Hasbro.
CONCEPT
コンセプト
ハズブロの世界初のアクションフィギュアシリーズの「G.I. JOE」のヒーロー達と、世界征服を企む悪の軍団「コブラ」の多彩なキャラクターがコトブキヤのBISHOUJOアレンジで生まれ変わる!
ご好評いただいた第1弾エージェント「スカーレット」に続く第2弾は、悪の秘密組織「コブラ」から、スーパースパイ「バロネス」がラインナップ。本商品は、山下しゅんや氏がこのフィギュア化の為だけにコンセプトアートを描き下ろし!
過激なインテリジェンスを得意とし、多数の武器を使いこなし、様々なビークルを自在に駆る彼女を、その特徴的なロングヘアーをかき上げ幻惑するようなポージングで立体化。
武器商人「デストロ」が供給した秘密兵器を使用するコブラらしく、ボディスーツにはG.I. JOEチームとは、また異なる形状の表面ディテールを追加。独自解釈で更なるディテールアップが施されました。 さらに彼女の得意武器の一つであるサブマシンガンが付属します。
原型は、その高い造形力とセンスで注目を集め続ける毒島孝牧(BUSUJIMAX)氏が手掛け、デジタル・スカルプティングによる美しい仕上がりで決定版を実現しました。
この後も、複数キャラクターが展開されることが決定したG.I.JOE美少女にご期待ください。コブラァァァ!!
※画像は試作品です。実際の商品とは多少異なる場合がございます。
The world's first series of action figures created by Hasbro, G.I. Joe follows a group of heroes in their fight against Cobra, an evil organization plotting to take over the world. In this new line of 1/7 scale statues, the colorful characters of G.I. JOE reborn in the style of Kotobukiya's BISHOUJO line!
Following up the popular "Scarlett" statue, the second character to join this exciting new line is the super spy "Baroness" from the evil intelligence organization Cobra. The statue is based on a stylized rendering by BISHOUJO illustrator Shunya Yamashita!
Baroness is a fierce intelligence agent who is proficient with a variety of weapons and vehicles. The statue's pose shows off Baroness's long, flowing hair, as she stands poised and ready, outfitted with equipment from the weapon supplier Destro. The unique texture of Baroness's body suit also differentiates her from the agents of the G.I. Joe team. The statue also includes Baroness's signature sub-machine gun.
Created through the power of technology, this high quality digitally sculpted statue leaves no detail untouched thanks to the expert hand of sculptor Takaboku Busujima (BUSUJIMAX).
The G.I. JOE BISHOUJO series will continue to grow with an extensive lineup of characters, so stay tuned for more updates! Cobraaa!
PROTOTYPES SHOWN, PENDING LICENSOR APPROVAL. FINAL PRODUCT MAY VARY. CONCEPT ART SHOWN PENDING LICENSOR APPROVAL.
SPEC
製品情報
Product Name

G.I. JOE BARONESS BISHOUJO STATUE

商品名

G.I. JOE美少女 バロネス

Price

13,200 JPY

価格

13,200 円(税込)

SERIES

作品

G.I. JOE

Month of Release

Dec. 2019

発売月

2019年12月

Scale

スケール

1/7

Product Size

Total Height 230mm

製品サイズ

全高 約230mm(台座込)

Specification

Pre-Painted PVC Figure

製品仕様

PVC塗装済み完成品フィギュア

Material

PVC(Phthalate ester-free), ABS

素材

PVC(非フタル酸)・ABS

Sculptor

Takaboku Busujima(BUSUJIMAX)

原型製作

毒島孝牧(ブスジマックス)