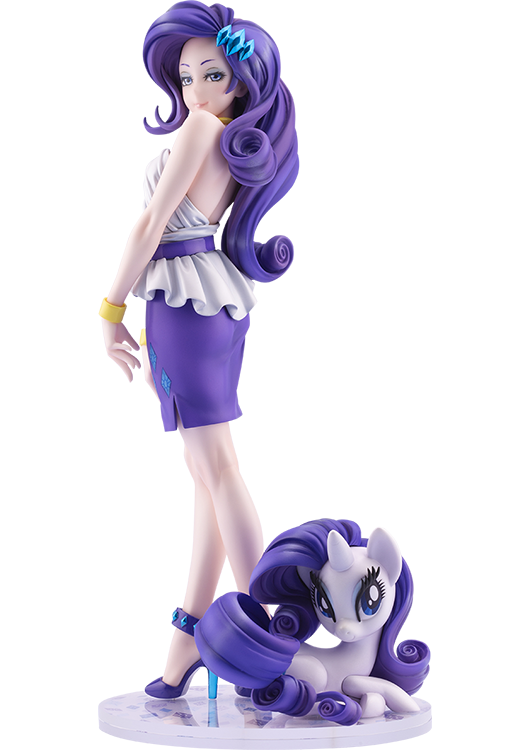 BISHOJO
SERIES

illustration by

Shunya Yamashita
MY LITTLE PONY and all related characters are trademarks of Hasbro and are used with permission.
© 2020 Hasbro. All Rights Reserved. Licensed by Hasbro.
CONCEPT
コンセプト
アメリカで社会現象を巻き起こしたあの「MY LITTLE PONY」のBISHOUJOシリーズ第4弾!
美容やオシャレが大好き!
他のポニーよりもちょっぴり大人びているラリティをシリーズおなじみ山下しゅんや氏による描き下ろしイラストでBISHOUJO化!
美しく手入れされた巻き毛は輝くようなグラデーション塗装で再現しました。
美脚を支えるハイヒールはクリアパーツで軽やかに。彼女を彩る装飾品の一つ一つの輝きにも注目です。
優雅な佇まいのポニー姿では、真っ白な毛並みをパール塗装再現。更にシリーズおなじみ立体造形のまつ毛は、
他のポニーよりもボリュームたっぷりに仕上げています。
続く第5弾は「レインボーダッシュ」!MANE6をそろえる為にも、ぜひご予約を!
※画像は試作品です。実際の商品とは多少異なる場合がございます。
Characters from the American cultural phenomenon MY LITTLE PONY are joining the BISHOUJO series!

The fourth character to join the lineup is the always-stylish Rarity! Rarity has been beautifully rendered into the BISHOUJO style by BISHOUJO series illustrator Shunya Yamashita.

Rarity's perfectly maintained hair almost seems to gleam in the light, with the way her hair has been specially painted with a gradient painting method. Her high heels are made with clear parts to showcase her beautifully slim legs. Be sure to pay close attention to all of the gem-like pieces that adorn this piece throughout the sculpt.

Rarity's pony form has been painted in a pearly color to add to the sophisticated nature of this pony. And most important of all, the eyelashes sculpted for Rarity are more voluminous than the other ponies.

The fifth Pony to join the series is Rainbow Dash! Make sure you collect each one of these charming and unique pony statues!
PROTOTYPES SHOWN, PENDING LICENSOR APPROVAL. FINAL PRODUCT MAY VARY. CONCEPT ART SHOWN PENDING LICENSOR APPROVAL.
SPEC
製品情報
Product Name

MY LITTLE PONY RARITY BISHOUJO STATUE

商品名

MY LITTLE PONY美少女 ラリティ

Price

12,100 JPY

価格

12,100 円(税込)

SERIES

作品

MY LITTLE PONY

Month of Release

Apr. 2020

発売月

2020年04月

Scale

スケール

1/7

Product Size

Total Height 220mm

製品サイズ

全高 約220mm(台座込)

Specification

Pre-Painted PVC Figure

製品仕様

PVC塗装済み完成品フィギュア

Material

PVC(Phthalate ester-free), ABS

素材

PVC(非フタル酸)・ABS

Sculptor

TSUBAME,NAKATA TAKAYUKI

原型製作

BISHOUJO姿: 燕、ポニー姿:中田 貴之