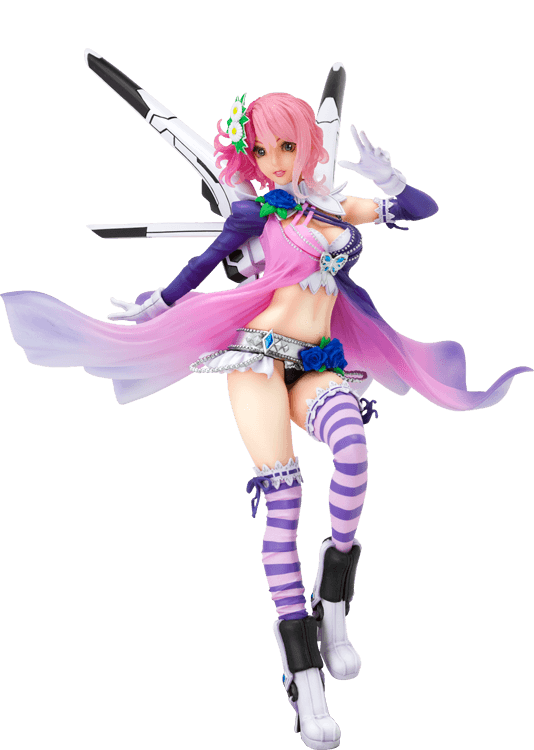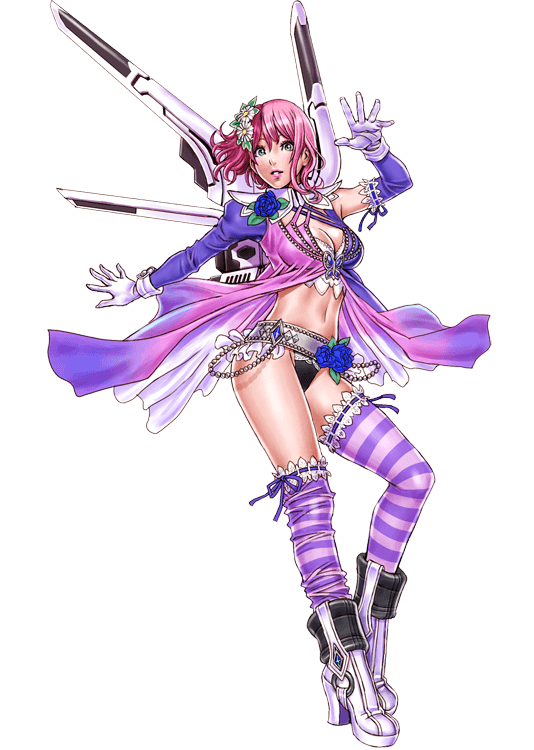 BISHOJO
SERIES

illustration by

Shunya Yamashita
TEKKEN™ TAG TOURNAMENT 2 & ©BANDAI NAMCO Entertainment Inc.
CONCEPT
コンセプト
2011年12月1日に『鉄拳ハイブリッド』としてゲームとの同梱リリースが決定したフルCG3Dアニメ「鉄拳ブラッド・ベンジェンス」でW主演を見事に務め人気上昇中のアンドロイド『アリサ・ボスコノビッチ』が美少女シリーズに登場します。
かの三島財閥で使用される兵装の研究開発を手掛ける重要施設ボスコノビッチ研究所の最重要保安区画のカプセルで眠っていた出自不明の機械系美少女のアリサを山下しゅんや氏により描き下ろされたイラストを元に立体化!
シリーズ第一弾商品のTEKKEN美少女「クリスティ・モンテイロ」と対になるポージングとしてデザインされ宙に颯爽と浮かんだポーズに、マシーンとは思えない温かな笑顔が彼女らしさを表現しています。
原型は、好評を博した第一弾のクリスティに引き続き毒島孝牧(ブスジマックス)氏が登板!山下しゅんや氏によりちょっぴり過激にアレンジされた特徴的なコスチュームや2トーンに分かれた髪の毛もクリアパーツで丁寧に再現されています。
今後も続々登場するコトブキヤ「鉄拳」フィギュアシリーズにご期待下さい!
TEKKENシリーズオフィシャルHPはこちら!
※画像は試作品です。実際の商品とは多少異なる場合がございます。また、ベースは開発中のものです。
※再生産:2012年8月
A KOTOBUKIYA Japanese import! With its thrilling martial arts action, the Tekken series of video games from Namco has been a huge hit with players since the original arcade game in 1994. In the games, fighters compete in the King of Iron Fist tournament for control of the Mishima Zaibatsu corporation, using their unique talents against their opponents. Following up on the capoeira master Christie Monteiro is the second Tekken Bishoujo Statue, ALISA BOSCONOVICH! An android with detachable limbs, this elite and beautiful fighter came onto the scene first in Tekken 6 Bloodline Rebellion and appears here based on an illustration by renowned Japanese artist Shunya Yamashita, known for his video game character designs and beautiful illustrations.

Artificial but stunningly attractive, Alisa fights in a flowing manner that seemingly incorporates dance moves. The android is captured in a unique pose, leaning back on one foot with one arm outstretched behind her and the other held up as though prepared to ward off an enemy attack. Her fighting outfit is recreated with special attention to detail and is complete with purple striped thigh high stockings, tall white shoes, white belt, black panties, a flowing blue and purple jacket/bra combination that covers her right arm, a left arm sleeve, and gloves. Alisa is further accented with four mechanical jets protruding from her back, intricate designs on her belt and bra, and flowers decorating her waist, chest, and hair. Like Christie before her, Alisa embodies the fierce movement of the fight through her clothes and wind-swept two-tone hair modeled in clear pvc.

Standing nearly 8 inches tall (1/7 scale) on a special display base, Alisa was sculpted by Busujimax (Takaboku Busujima) who also crafted Christie before her. In fact, the two battling women are designed to be posed together to create an integrated fight scene so make sure to pick up both of them!
PROTOTYPES SHOWN, PENDING LICENSOR APPROVAL. FINAL PRODUCT MAY VARY. CONCEPT ART SHOWN PENDING LICENSOR APPROVAL.
*Reproduction:Aug,2012
SPEC
製品情報
Product Name

TEKKEN ALISA BOSCONOVITCH BISHOUJO STATUE

商品名

TEKKEN美少女 アリサ・ボスコノビッチ

Price

7,480 JPY

価格

7,480 円(税込)

SERIES

TEKKEN

作品

鉄拳タッグトーナメント2

Month of Release

Apr. 2012

発売月

2012年04月

Scale

スケール

1/7

Product Size

Total Height 220mm

製品サイズ

全高 約220mm(台座込)

Specification

Pre-Painted PVC Figure

製品仕様

PVC塗装済み完成品フィギュア

Material

PVC(Phthalate ester-free), ABS

素材

PVC(非フタル酸)・ABS

Sculptor

Takaboku Busujima(BUSUJIMAX)

原型製作

毒島 孝牧(ブスジマックス)