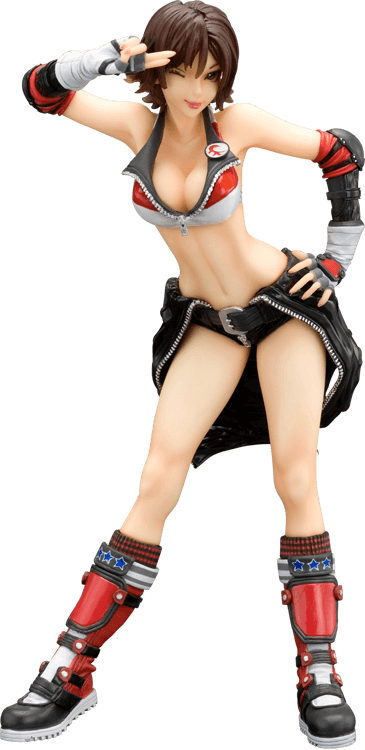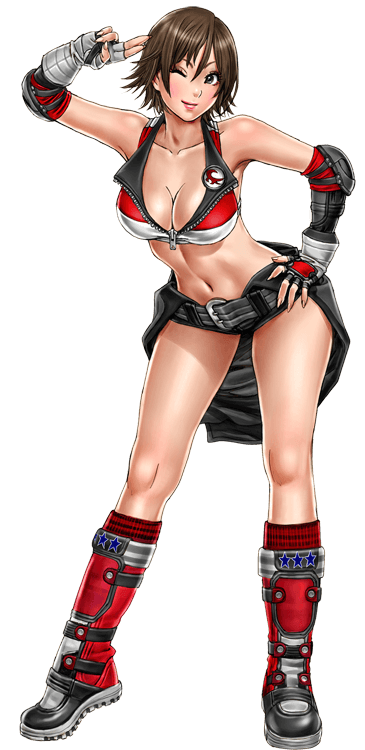 BISHOJO
SERIES

illustration by

Shunya Yamashita
TEKKEN™ TAG TOURNAMENT 2 & ©BANDAI NAMCO Entertainment Inc.
CONCEPT
コンセプト
浪速の喧嘩仲裁屋"「風間飛鳥」のカラーバリエーションがコトブキヤショップ限定版としてラインナップ!『鉄拳5 DARK RESURRECTION』に登場したコスチュームを元にカラーアレンジしました。
原型は、今回も毒島孝牧(ブスジマックス)氏が担当!全世界1500個限定。
今後も1/7の統一スケールで、謎の覆面レスラー「JC」や、ファイティングお嬢様「リリ」が登場予定!コトブキヤ『鉄拳』フィギュアシリーズにご期待下さい!
※画像は試作品です。実際の商品とは多少異なる場合がございます。また、ベースは開発中のものです。
Limited Edition to be color variations stole the show "Kazama Asuka" is also known as being a "nosy kid" who likes to solve other people's problems, "usually by knockout".

The color arrangement on the basis of the costume that appeared in "Tekken 5 DARK RESURRECTION" this time. Modeling healthy flooding the entire and other large chest bursting from Fighting suit Sculptor-Takaboku Busujima (BUSUJIMAX) said the same, and pull out the charm of her chic impression of black gangs were different .

In the unified scale of 1/7, and is scheduled for release this winter masked wrestler of mystery and "JC", Fighting young lady also "Lili" in the future!
Please look forward to Kotobukiya "Tekken" figure series! It becomes (including the WEB mail order) to limited product Kotobukiya shop.

Limited to 1,500 pieces!
PROTOTYPES SHOWN, PENDING LICENSOR APPROVAL. FINAL PRODUCT MAY VARY. CONCEPT ART SHOWN PENDING LICENSOR APPROVAL.
SPEC
製品情報
Product Name

TEKKEN ASUKA KAZAMA LIMITED EDITION BISHOUJO STATUE

商品名

TEKKEN美少女 風間飛鳥 LIMITED EDITION

Price

6,820 JPY

価格

6,820 円(税込)

SERIES

TEKKEN

作品

鉄拳タッグトーナメント2

Month of Release

Dec. 2012

発売月

2012年12月

Scale

スケール

1/7

Product Size

Total Height 210mm

製品サイズ

全高 約210mm

Specification

Pre-Painted PVC Figure

製品仕様

PVC塗装済み完成品フィギュア

Material

PVC(Phthalate ester-free), ABS

素材

PVC(非フタル酸)・ABS

Sculptor

Takaboku Busujima(BUSUJIMAX)

原型製作

毒島 孝牧(ブスジマックス)