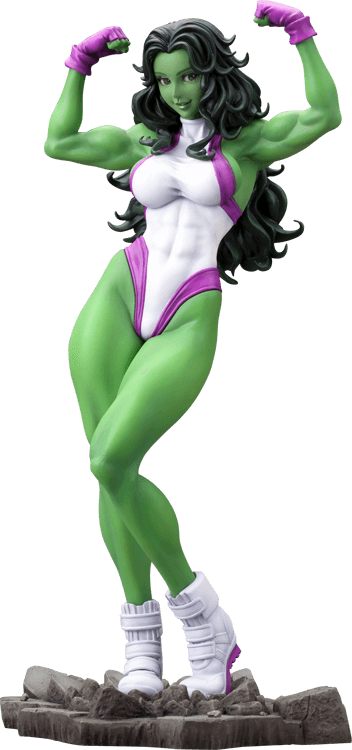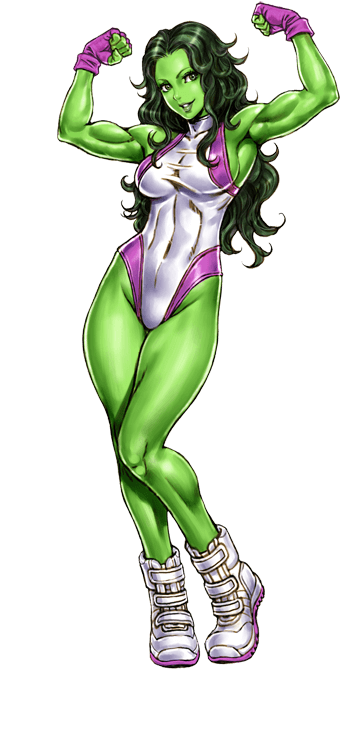 BISHOJO
SERIES

illustration by

Shunya Yamashita
© 2020 MARVEL
CONCEPT
コンセプト
彼女は正義の力持ち!
従兄である ハルクことブルースの血液を輸血することで、ハルク同様に緑色の皮膚と並はずれた怪力を手に入れたシーハルク! そんなオリジンを持つ彼女を、おなじみ山下しゅんや氏による描き下ろし。 大柄でパワフルな彼女のイメージそのままに、ボリュームたっぷりにBISHOUJOスタチュー化! 外交的な性格の彼女らしく、自らの怪力を誇る様なポーズと、自信に満ちた微笑みが印象的です。 また、見事に割れた腹筋や、レオタードから覗く四肢では豊かな筋肉造形が楽しめます。 足元はひび割れた地面を模したジオラマ風ベース。隅々までこだわった造形にご注目下さい。
▼マーベル公式サイトはコチラ▼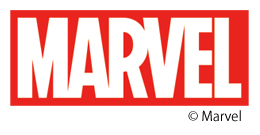 ※画像は試作品です。実際の商品とは多少異なる場合がございます。
A KOTOBUKIYA Japanese import! The Marvel Bishoujo collection, bringing you new interpretations of familiar superheroes and villains, adds a new member with the lawyer by day and gamma-irradiated heroine by night, SHE-HULK! Jennifer Walters, cousin to Bruce Banner, first appeared in Savage She-Hulk #1 in 1980. In that issue she was shot and subsequently received a radioactive blood transfusion from Bruce... which caused her to become a unique variant of the Hulk. Possessed of her normal intellect as well as immense strength and durability, She-Hulk was a natural hero and continues to pursue truth and justice in the pages of Marvel comics. Mean and green, Jennifer's famous alter ego appears here as a knockout Bishoujo statue based on a new illustration by Shunya Yamashita!

Taking a moment to pose after a hard-fought victory, She-Hulk stands on a battered street flexing her considerable muscles. The green machine wears her iconic outfit, a form-fitting purple and white body suit (that only accentuates her out of this world physique) with matching boots and fingerless gloves. Nearly as powerful as her cousin, She-Hulk is heavily muscled but still feminine and beautiful, a look perfected by this Bishoujo presentation. As a Hulk this version of Jennifer is green all over, a light shade on her skin and much darker hair. The Savage She-Hulk smiles at you with the full knowledge of her attorney's mind, confident that she's going to be a star in your collection!

She-Hulk stands just over 9 inches tall (1/7 scale) as she poses just for you on her smashed street terrain base. There's nothing to fear with this powerful green beauty on your shelf!
PROTOTYPES SHOWN, PENDING LICENSOR APPROVAL. FINAL PRODUCT MAY VARY. CONCEPT ART SHOWN PENDING LICENSOR APPROVAL.
SPEC
製品情報
Product Name

MARVEL COMICS SHE-HULK BISHOUJO STATUE

商品名

MARVEL美少女 シーハルク

Price

8,250 JPY

価格

8,250 円(税込)

SERIES

MARVEL BISHOUJO

作品

MARVEL美少女

Month of Release

Apr. 2015

発売月

2015年04月

Scale

スケール

1/7

Product Size

Total Height 240mm

製品サイズ

全高 約240mm(台座込)

Specification

Pre-Painted PVC Figure

製品仕様

PVC塗装済み完成品フィギュア

Material

PVC(Phthalate ester-free), ABS

素材

PVC(非フタル酸)・ABS

Sculptor

Masahiro Takahashi(GILL GILL)

原型製作

高橋昌宏(GILL GILL)