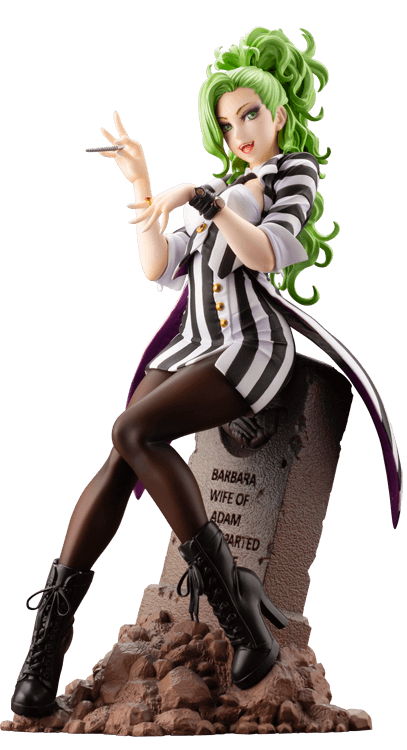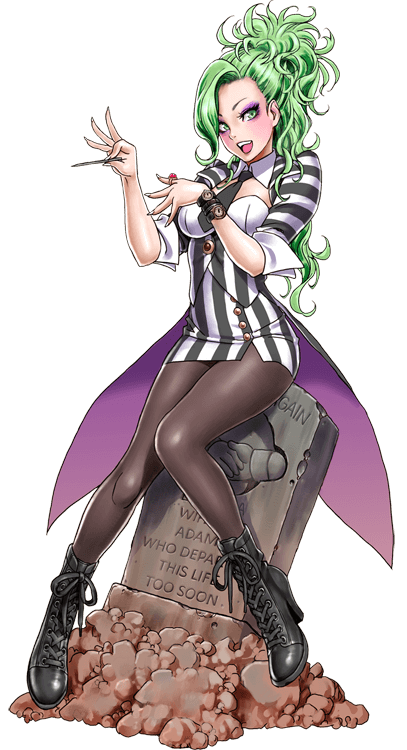 BISHOJO
SERIES

illustration by

Shunya Yamashita
BEETLEJUICE and all related characters and elements © & ™ Warner Bros. Entertainment Inc. (s19)
CONCEPT
コンセプト
ビートルジュース!ビートルジュース!!ビートルジュース!!
HORROR美少女にまさかのビートルジュースがラインナップ!
派手なメイクやハーフアップになった盛り髪から、自由奔放なビートルジュースらしさがにじみ出る、山下しゅんや氏による大胆なアレンジに注目です。
お墓に腰かけ、ツメやすりでネイル整えるシチュエーションは、劇中でも印象的登場シーンからインスパイア!
燕尾服にアレンジされた白黒ストライプのジャケットは、裏時の布まで繊細な造形が施されています。幾重にも重ね付けされた腕時計、大きな宝石の指輪と、細部まで個性的なファッションにも目が離せません!
ぜひあなたのお部屋にもキュートでセクシーなビートルジュースを呼び出して下さいね。
※画像は試作品です。実際の商品とは多少異なる場合がございます。
Much to the surprise of many fans, Beetlejuice joins the Kotobukiya HORROR BISHOUJO series featuring the art of Shunya Yamashita!
The strong makeup and half-up ponytail bring out the free spirited personality and energy exuding from Shunya Yamashita's unique design.
Beetlejuice can be seen filing her nails while leaning against the tombstone as could be seen in the film that inspired this statue.
The black and white striped jacket is sculpted as a tailcoat, and is finely sculpted down to the tip of the coat. Beetlejuice's fashionable looks can also be seen from the multiple watches on Beetlejuice's wrist to the ring decorated with a large stone in the center!
Add this cute yet sexy statue to your collection today.
PROTOTYPES SHOWN, PENDING LICENSOR APPROVAL. FINAL PRODUCT MAY VARY. CONCEPT ART SHOWN PENDING LICENSOR APPROVAL.
SPEC
製品情報
Product Name

BEETLEJUICE BISHOUJO STATUE

商品名

HORROR美少女 ビートルジュース

Price

13,200 JPY

価格

13,200 円(税込)

SERIES

作品

BEETLEJUICE

Month of Release

Jun. 2020

発売月

2020年06月

Scale

スケール

1/7

Product Size

Total Height 215mm

製品サイズ

全高 約215mm

Specification

Pre-Painted PVC Figure

製品仕様

PVC塗装済み完成品フィギュア

Material

PVC(Phthalate ester-free), ABS

素材

PVC(非フタル酸)・ABS

Sculptor

MASATO OHATA

原型製作

大畠雅人