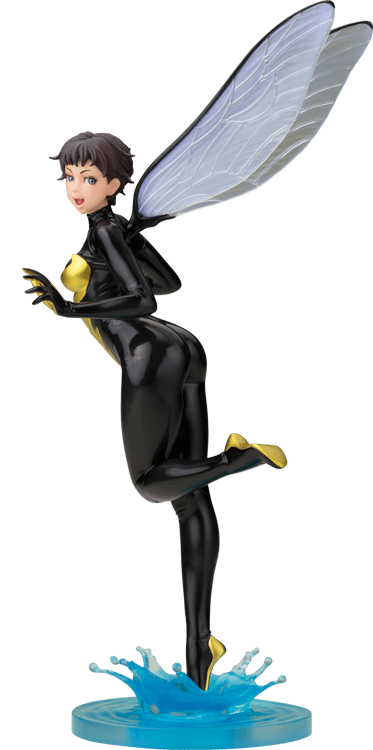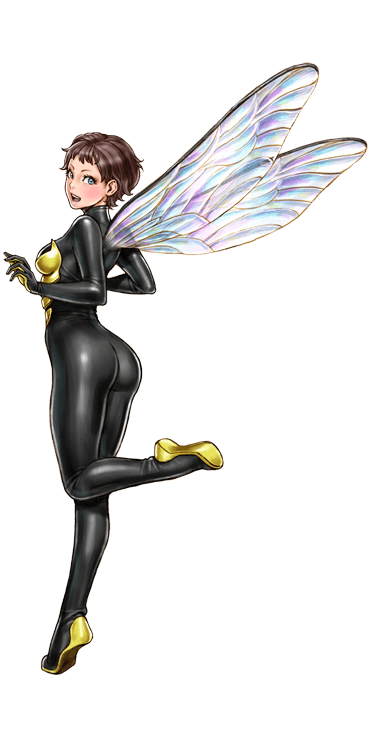 BISHOJO
SERIES

illustration by

Shunya Yamashita
© 2020 MARVEL
CONCEPT
コンセプト
あのワスプが、あなたの手の平に降り立つ!アベンジャーズの一員のワスプを、おなじみ山下しゅんや氏の描き下ろしイラストを元に、水面に優しく降り立ちこちらに微笑む可憐なポーズでBISHOUJO化!シンプルな衣装だからこそ引き立つ、柔らかなボディラインに注目です!ワスプの象徴とも言える背中の翅は、製品では特殊な塗装により、観る角度で変化する虫の翅のような特徴的な輝きを再現予定です。実写映画が待たれる「アントマン」の良きパートナーでもある女性。彼女の能力を考えると1/1スケールともいえるリアルな存在感を、ぜひお手元でお楽しみください!
▼マーベル公式サイトはコチラ▼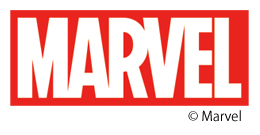 ※画像は試作品です。実際の商品とは多少異なる場合がございます。
A KOTOBUKIYA Japanese import! The Marvel Bishoujo collection, bringing you new interpretations of familiar superheroes and villains, adds a new member with the Avenger who should never be judged by her size, WASP! Daughter to one of Dr. Hank Pym's colleagues, Janet Van Dyne was created by Stan Lee and Jack Kirby in the pages of Tales to Astonish in 1963. While seeking revenge for her father's death Janet partners with Hank who gives her a supply of his Pym Particles to change size and a procedure that lets her grow wings at a small stature and fire energy blasts. Thus armed she became the superheroine Wasp and would later be one of the founding members of the Avengers. One of the few ladies able to be presented in larger than life size, the Wasp Bishoujo statue is based on a new character interpretation and illustration by master Japanese artist Shunya Yamashita.

Fully embracing the beauty and fun of the Marvel Bishoujo series, the Wasp is captured in a candid moment as she frolics and enjoys her tiny size. The Avenger wears one of her most famous costumes, a nearly full body lustrous black suit with beautiful golden accents on her torso, hands, and feet. Janet is posed in a playful scene as she alights in water, one long leg extended beneath her and the other tucked as her gossamer wings settle from flight. Her arms splay out to the sides as she twists to look behind her, giving you a huge smile. There are so many great visual elements to the Wasp from her sleek pose to the incredible sculpted details of her hair and wings, and much more.

Sculpted by MIC, Wasp stands over 10 ½ inches tall (1/7 scale) as she lightly touches down on a special display base designed to look like a splash of water. Display her alone or alongside other Marvel-inspired Bishoujo statues from Kotobukiya!
PROTOTYPES SHOWN, PENDING LICENSOR APPROVAL. FINAL PRODUCT MAY VARY. CONCEPT ART SHOWN PENDING LICENSOR APPROVAL.
SPEC
製品情報
Product Name

MARVEL COMICS WASP BISHOUJO STATUE

商品名

MARVEL美少女 ワスプ

Price

7,920 JPY

価格

7,920 円(税込)

SERIES

作品

MARVEL UNIVERSE

Month of Release

Aug. 2015

発売月

2015年08月

Scale

スケール

1/7

Product Size

Total Height 270mm

製品サイズ

全高 約270mm(台座込)

Specification

Pre-Painted PVC Figure

製品仕様

PVC塗装済み完成品フィギュア

Material

PVC(Phthalate ester-free), ABS

素材

PVC(非フタル酸)・ABS

Sculptor

M.I.C.

原型製作

株式会社エムアイシー