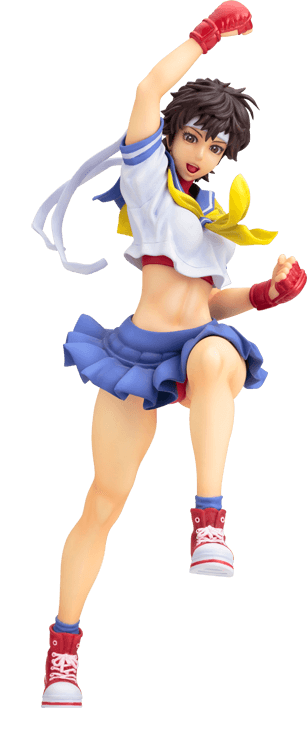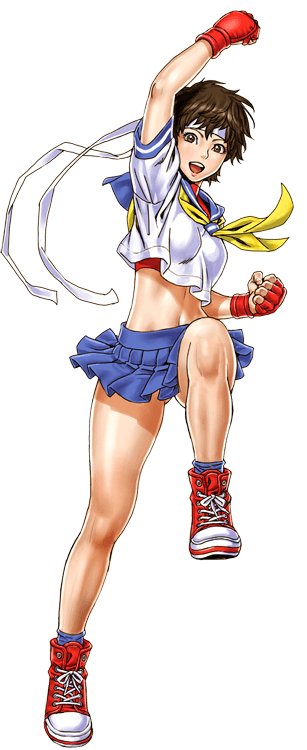 BISHOJO
SERIES

illustration by

Shunya Yamashita
© CAPCOM U.S.A., INC. ALL RIGHTS RESERVED.
CONCEPT
コンセプト
「よーし、いくぞ!」
おなじみ山下しゅんや氏の描き下ろしイラストを元に、女子高生FIGHTERの春日野さくらが元気なポーズでBISHOUJO化!原型師:高橋昌宏(GILL GILL)氏の手によって、躍動感あふれる爽やかなフィギュアに仕上がりました!さくららしい溌剌とした表情と、健康的な魅力に注目です。
次回作には「ポイズン」がラインナップ!ますます広がるSTREET FIGHTER美少女達のステージをぜひお手元でお楽しみ下さい。
※画像は試作品です。実際の商品とは多少異なる場合がございます。また、ベースは開発中のものです。
A KOTOBUKIYA Japanese import! Kotobukiya continues its hit line of incredible Street Fighter Bishoujo statues, adding another beautiful lady to the current collection of Juri, Cammy, and Chun-Li. Up next is the schoolgirl who wants to be just like her hero Ryu, SAKURA! One of the bestselling video game franchises of all time, Street Fighter first debuted in 1987 with its unique blend of one on one combat and international characters (and fighting styles). Sakura Kasugano first began her training after seeing Ryu in the World Warrior tournament and sought him out to teach her, learning his moves and practicing his Ansatsuken techniques. Now the feisty young fighter joins the Bishoujo statue lineup based on an all new illustration by Shunya Yamashita!

Sakura explodes into action, leaping into the air to deliver a powerful attack! The young martial artist looks fierce yet adorable in her modified schoolgirl sailor outfit with blue and white blouse, blue skirt, blue socks, and red shoes. Sakura's fantastic pose shows off her athletic physique and reveals some of her red undergarments; the girl also accessorizes with a yellow necktie, white headband with long ties, and red fingerless fighting gloves. Fantastic sculpted details include her expressive face and the intricate flowing of her clothing and short hair; in fact, there's so much movement in this presentation you'll swear Sakura is leaping right off of your shelf!

Sculpted by Masahiro Takahashi, Sakura stands 9 ½ inches tall (1/7 scale) as she leaps off of her specially designed display base. The schoolgirl and Ryu fan looks amazing on her own and even better alongside other Street Fighter Bishoujo statues like Cammy, Chun-Li, and Juri.
PROTOTYPES SHOWN, PENDING LICENSOR APPROVAL. FINAL PRODUCT MAY VARY. CONCEPT ART SHOWN PENDING LICENSOR APPROVAL.
SPEC
製品情報
Product Name

STREET FIGHTER SAKURA BISHOUJO STATUE

商品名

STREET FIGHTER美少女 さくら

Price

7,920 JPY

価格

7,920 円(税込)

SERIES

作品

STREET FIGHTER

Month of Release

Aug. 2015

発売月

2015年08月

Scale

スケール

1/7

Product Size

Total Height 240mm

製品サイズ

全高 約240mm

Specification

Pre-Painted PVC Figure

製品仕様

PVC塗装済み完成品フィギュア

Material

PVC(Phthalate ester-free), ABS

素材

PVC(非フタル酸)・ABS

Sculptor

Masahiro Takahashi(GILL GILL)

原型製作

高橋昌宏(GILL GILL)