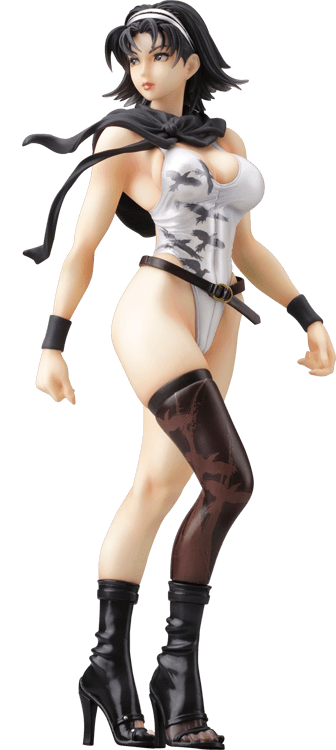 BISHOJO
SERIES

illustration by

Shunya Yamashita
TEKKEN™ TAG TOURNAMENT 2 & ©BANDAI NAMCO Entertainment Inc.
CONCEPT
コンセプト
「鉄拳」のストーリーを語るうえで外すことのできない、風間 準が「TEKKEN美少女シリーズ」に参戦!!
流れるような動きが特徴の風間流古武術を操る彼女は、多くの謎を秘めた神秘的なキャラクターです。
特徴的な「カラス」をあしらったモノトーンの衣装は、山下しゅんや氏により大胆にアレンジ!他キャラクターとは一味違った大人の色気を漂わせます。
原型を手掛けたのは、お馴染みの毒島孝牧(ブスジマックス)氏。柔らかくも凛とした雰囲気をそのままに、繊細に立体化しました。
TEKKENシリーズオフィシャルHPはこちら!
※画像は試作品です。実際の商品とは多少異なる場合がございます。
A new fighter enters the ring! Next up in Kotobukiya's Tekken Tag Tournament 2 Bishoujo lineup is Jun Kazama! Based on an illustration by Shunya Yamashita, master Japanese illustrator.
Jun looks great in her high heeled boots, stockings, white bodysuit with black bird print (echoed in her stocking), and scarf.
Display alone or alongside other Tekken Bishoujo Statues from Kotobukiya!

Jun Kazama was introduced in Tekken 2. She portrayed as a mysterious and fearless woman, a fighter for peace. With her insight, she was able to come to the unique realisation that Kazuya's power stemmed from Devil. Pure in spirit and mission, she stands as a stark opposite to the dark going ons in the Mishima family. Living in the fear of Jin's dark heritage, she travelled to the mountains of Japan and raised her son with a strong moral standard. The strength of her spirit, even after she is declared missing, is still evident for she shows herself in a vision to Jin in Tekken 4, to dissuade him from killing his Grandfather. She was obviously a strong fighter, being able to best Devil and save her unborn son.
PROTOTYPES SHOWN, PENDING LICENSOR APPROVAL. FINAL PRODUCT MAY VARY. CONCEPT ART SHOWN PENDING LICENSOR APPROVAL.
SPEC
製品情報
Product Name

TEKKEN TAG TOURNAMENT 2 JUN KAZAMA BISHOUJO STATUE

商品名

TEKKEN美少女 風間 準

Price

7,480 JPY

価格

7,480 円(税込)

SERIES

TEKKEN

作品

鉄拳タッグトーナメント2

Month of Release

Feb. 2014

発売月

2014年02月

Scale

スケール

1/7

Product Size

Total Height 220mm

製品サイズ

全高 約220mm

Specification

Pre-Painted PVC Figure

製品仕様

PVC塗装済み完成品フィギュア

Material

PVC(Phthalate ester-free), ABS

素材

PVC(非フタル酸)・ABS

Sculptor

Takaboku Busujima(BUSUJIMAX)

原型製作

毒島 孝牧(ブスジマックス)