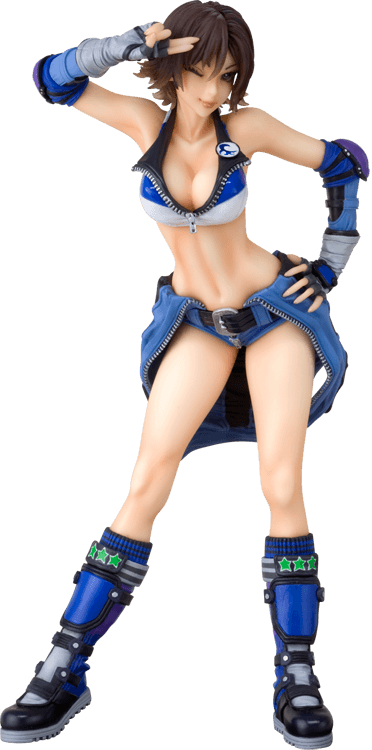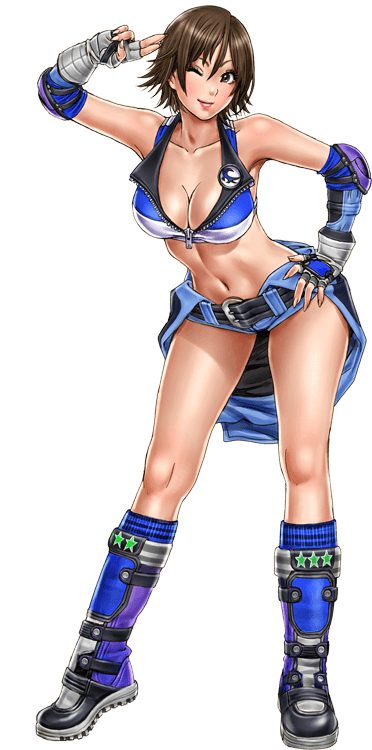 BISHOJO
SERIES

illustration by

Shunya Yamashita
TEKKEN™ TAG TOURNAMENT 2 & ©BANDAI NAMCO Entertainment Inc.
CONCEPT
コンセプト
「今日はこんぐらいで許したるわ!」
風間流古武術の伝承者で"浪速の喧嘩仲裁屋"こと「風間飛鳥」(かざまあすか)が山下しゅんや氏の手によって元気ハツラツに美少女化!ファイティングスーツからはち切れんばかりの大きな胸元、豊満な太ももが、爽やかで健康的な彼女の性格をもあらわす味付けとなっており、勝気にウィンクした目元もチャーミングです!
原型は、今回も毒島孝牧(ブスジマックス)氏が担当!
今後も1/7の統一スケールで、謎の覆面レスラー「JC」や、ファイティングお嬢様「リリ」が登場予定!コトブキヤ『鉄拳』フィギュアシリーズにご期待下さい!
TEKKENシリーズオフィシャルHPはこちら!
※画像は試作品です。実際の商品とは多少異なる場合がございます。また、ベースは開発中のものです。
A Kotobukiya Japanese import! The hit new line of Tekken Tag Tournament 2 bishoujo statues continues! With its thrilling martial arts action, the Tekken series of video games from Namco has been a huge hit with players since the original arcade game in 1994. In the games, fighters compete in the King of Iron Fist tournament for control of the Mishima Zaibatsu Corporation, using their unique talents against their opponents.

Next up after Christie Monteiro and Alisa Bosconovich is the Japanese fighter who first fought in the fifth tournament, Asuka Kazama! A firm believer in the power of justice, the beautiful combatant is presented here based on a new interpretation of the character by master Japanese illustrator Shunya Yamashita.

Standing triumphant after a hard-fought match, Asuka offers a saucy salute to her fallen foe. The Japanese fighter leans forward with her legs spread wide for balance, one hand at her waist with the other at her forehead. The buxom beauty wears a blue and white combo uniform with the jacket stripped off and hanging down behind her, exposing her tiny cleavage-baring top. The rest of Asuka's hot outfit consists of a belt and matching padded boots and gloves, leaving very little to the imagination. Her costume features great sculpting details like the multitude of zippers, seams, and reinforced pads while her beautiful bishoujo-inspired face winks at you from under her fringe of short brown hair.

Standing 9 1/2 inches tall (1/7 scale) on a special display base, Asuka was sculpted by Busujimax (Takaboku Busujima), the same artist who crafted Alisa and Christie before her. All three Tekken Tag Tournament 2 bishoujo statues look great displayed together!
PROTOTYPES SHOWN, PENDING LICENSOR APPROVAL. FINAL PRODUCT MAY VARY. CONCEPT ART SHOWN PENDING LICENSOR APPROVAL.
SPEC
製品情報
Product Name

TEKKEN ASUKA KAZAMA BISHOUJO STATUE

商品名

TEKKEN美少女 風間飛鳥

Price

6,820 JPY

価格

6,820 円(税込)

SERIES

TEKKEN

作品

鉄拳タッグトーナメント2

Month of Release

Aug. 2012

発売月

2012年08月

Scale

スケール

1/7

Product Size

Total Height 210mm

製品サイズ

全高 約210mm

Specification

Pre-Painted PVC Figure

製品仕様

PVC塗装済み完成品フィギュア

Material

PVC(Phthalate ester-free), ABS

素材

PVC(非フタル酸)・ABS

Sculptor

Takaboku Busujima(BUSUJIMAX)

原型製作

毒島 孝牧(ブスジマックス)